Quattro
Un robot parallelo a quattro assi raggiunge una velocità e una precisione estremamente elevate
Funzionalità Ethernet per il controllo del robot attraverso il familiare linguaggio di programmazione (IEC 61131-3) del machine controller NX/NJ
La presenza di quattro braccia garantisce una distribuzione dei carichi sempre uniforme
Convogliamento e montaggio veloci e ad alta precisione
Progettato con un elevato carico utile per il supporto multi-mano (prelievo multiplo)
Il modello 650HS è approvato dal Ministero dell'Agricoltura degli Stati Uniti (USDA) per il trattamento primario degli alimenti
Modelli con area di lavoro di 1.300 e 1.600 mm
Fino a 15 kg di portata massima
Grado di protezione IP65 (IP66 per il modello HS)
Caratteristiche ed info per ordinare
| Prodotto | Degree of protection (IP) | Payload | Reach | Z-Stroke | Rotation -/+ | Platform type | Description |
| --- | --- | --- | --- | --- | --- | --- | --- |
| | IP20 | 15 kg | 650 mm | 500 mm | 0 ° | P30 | Quattro 650H, Add-On, 15 kg payload, 1300mm diameter reach, P30, 0º rotation, 4 axis, 500mm Zaxis, IP20 Base, IP67 Tooling, ePLC |
| | IP20 | 6 kg | 650 mm | 500 mm | 46.25 ° | P31 | Quattro 650H, Add-On, 6 kg payload, 1300mm diameter reach, P31, 46.25º rotation, 4 axis, 500mm Zaxis, IP20 Base, IP67 Tooling, ePLC |
| | IP20 | 6 kg | 650 mm | 500 mm | 92.5 ° | P32 | Quattro 650H, Add-On, 6 kg payload, 1300mm diameter reach, P32, 92.5º rotation, 4 axis, 500mm Zaxis, IP20 Base, IP67 Tooling, ePLC |
| | IP20 | 6 kg | 650 mm | 500 mm | 185 ° | P34 | Quattro 650H, Add-On, 6 kg payload, 1300mm diameter reach, P34, 185º rotation, 4 axis, 500mm Zaxis, IP20 Base, IP67 Tooling, ePLC |
| | IP67 | 8 kg | 650 mm | 500 mm | 0 ° | P30 | Quattro 650HS, Add-On, 8 kg payload, 1300mm diameter reach, P30, 0º rotation, 4 axis, 500mm Zaxis, IP67 Base, IP67 Tooling, ePLC, USDA |
| | IP67 | 3 kg | 650 mm | 500 mm | 46.25 ° | P31 | Quattro 650HS, Add-On, 3 kg payload, 1300mm diameter reach, P31, 46.25º rotation, 4 axis, 500mm Zaxis, IP67 Base, IP67 Tooling, ePLC, USDA |
| | IP67 | 3 kg | 650 mm | 500 mm | 92.5 ° | P32 | Quattro 650HS, Add-On, 3 kg payload, 1300mm diameter reach, P32, 92.5º rotation, 4 axis, 500mm Zaxis, IP67 Base, IP67 Tooling, ePLC, USDA |
| | IP67 | 3 kg | 650 mm | 500 mm | 185 ° | P34 | Quattro 650HS, Add-On, 3 kg payload, 1300mm diameter reach, P34, 185º rotation, 4 axis, 500mm Zaxis, IP67 Base, IP67 Tooling, ePLC, USDA |
| | IP65 | 15 kg | 650 mm | 500 mm | 0 ° | P30 | Quattro 650H, Add-On, 15 kg payload, 1300mm diameter reach, P30, 0º rotation, 4 axis, 500mm Zaxis, IP65 Base, IP67 Tooling, ePLC |
| | IP65 | 6 kg | 650 mm | 500 mm | 46.25 ° | P31 | Quattro 650H, Add-On, 6 kg payload, 1300mm diameter reach, P31, 46.25º rotation, 4 axis, 500mm Zaxis, IP65 Base, IP67 Tooling, ePLC |
| | IP65 | 6 kg | 650 mm | 500 mm | 92.5 ° | P32 | Quattro 650H, Add-On, 6 kg payload, 1300mm diameter reach, P32, 92.5º rotation, 4 axis, 500mm Zaxis, IP65 Base, IP67 Tooling, ePLC |
| | IP65 | 6 kg | 650 mm | 500 mm | 185 ° | P34 | Quattro 650H, Add-On, 6 kg payload, 1300mm diameter reach, P34, 185º rotation, 4 axis, 500mm Zaxis, IP65 Base, IP67 Tooling, ePLC |
| | IP20 | 10 kg | 800 mm | 500 mm | 0 ° | P30 | Quattro 800H, Add-On, 10 kg payload, 1600mm diameter reach, P30, 0º rotation, 4 axis, 500mm Zaxis, IP20 Base, IP67 Tooling, ePLC |
| | IP20 | 4 kg | 800 mm | 500 mm | 46.25 ° | P31 | Quattro 800H, Add-On, 4 kg payload, 1600mm diameter reach, P31, 46.25º rotation, 4 axis, 500mm Zaxis, IP20 Base, IP67 Tooling, ePLC |
| | IP20 | 4 kg | 800 mm | 500 mm | 92.5 ° | P32 | Quattro 800H, Add-On, 4 kg payload, 1600mm diameter reach, P32, 92.5º rotation, 4 axis, 500mm Zaxis, IP20 Base, IP67 Tooling, ePLC |
| | IP20 | 4 kg | 800 mm | 500 mm | 185 ° | P34 | Quattro 800H, Add-On, 4 kg payload, 1600mm diameter reach, P34, 185º rotation, 4 axis, 500mm Zaxis, IP20 Base, IP67 Tooling, ePLC |
| | IP67 | 7 kg | 800 mm | 500 mm | 0 ° | P30 | Quattro 800HS, Add-On, 7 kg payload, 1600mm diameter reach, P30, 0º rotation, 4 axis, 500mm Zaxis, IP67 Base, IP67 Tooling, ePLC, USDA |
| | IP67 | 1 kg | 800 mm | 500 mm | 46.25 ° | P31 | Quattro 800HS, Add-On, 1 kg payload, 1600mm diameter reach, P31, 46.25º rotation, 4 axis, 500mm Zaxis, IP67 Base, IP67 Tooling, ePLC, USDA |
| | IP67 | 1 kg | 800 mm | 500 mm | 92.5 ° | P32 | Quattro 800HS, Add-On, 1 kg payload, 1600mm diameter reach, P32, 92.5º rotation, 4 axis, 500mm Zaxis, IP67 Base, IP67 Tooling, ePLC, USDA |
| | IP67 | 1 kg | 800 mm | 500 mm | 185 ° | P34 | Quattro 800HS, Add-On, 1 kg payload, 1600mm diameter reach, P34, 185º rotation, 4 axis, 500mm Zaxis, IP67 Base, IP67 Tooling, ePLC, USDA |
| | IP65 | 10 kg | 800 mm | 500 mm | 0 ° | P30 | Quattro 800H, Add-On, 10 kg payload, 1600mm diameter reach, P30, 0º rotation, 4 axis, 500mm Zaxis, IP65 Base, IP67 Tooling, ePLC |
| | IP65 | 4 kg | 800 mm | 500 mm | 46.25 ° | P31 | Quattro 800H, Add-On, 4 kg payload, 1600mm diameter reach, P31, 46.25º rotation, 4 axis, 500mm Zaxis, IP65 Base, IP67 Tooling, ePLC |
| | IP65 | 4 kg | 800 mm | 500 mm | 92.5 ° | P32 | Quattro 800H, Add-On, 4 kg payload, 1600mm diameter reach, P32, 92.5º rotation, 4 axis, 500mm Zaxis, IP65 Base, IP67 Tooling, ePLC |
| | IP65 | 4 kg | 800 mm | 500 mm | 185 ° | P34 | Quattro 800H, Add-On, 4 kg payload, 1600mm diameter reach, P34, 185º rotation, 4 axis, 500mm Zaxis, IP65 Base, IP67 Tooling, ePLC |
| | IP20 | 15 kg | 650 mm | 500 mm | 0 ° | P30 | Quattro 650H, 15 kg payload, 1300mm diameter reach, P30, 0º rotation, 4 axis, 500mm Zaxis, IP20 Base, IP67 Tooling, ePLC |
| | IP20 | 6 kg | 650 mm | 500 mm | 46.25 ° | P31 | Quattro 650H, 6 kg payload, 1300mm diameter reach, P31, 46.25º rotation, 4 axis, 500mm Zaxis, IP20 Base, IP67 Tooling, ePLC |
| | IP20 | 6 kg | 650 mm | 500 mm | 92.5 ° | P32 | Quattro 650H, 6 kg payload, 1300mm diameter reach, P32, 92.5º rotation, 4 axis, 500mm Zaxis, IP20 Base, IP67 Tooling, ePLC |
| | IP20 | 6 kg | 650 mm | 500 mm | 185 ° | P34 | Quattro 650H, 6 kg payload, 1300mm diameter reach, P34, 185º rotation, 4 axis, 500mm Zaxis, IP20 Base, IP67 Tooling, ePLC |
| | IP67 | 8 kg | 650 mm | 500 mm | 0 ° | P30 | Quattro 650HS, 8 kg payload, 1300mm diameter reach, P30, 0º rotation, 4 axis, 500mm Zaxis, IP67 Base, IP67 Tooling, ePLC, USDA |
| | IP67 | 3 kg | 650 mm | 500 mm | 46.25 ° | P31 | Quattro 650HS, 3 kg payload, 1300mm diameter reach, P31, 46.25º rotation, 4 axis, 500mm Zaxis, IP67 Base, IP67 Tooling, ePLC, USDA |
| | IP67 | 3 kg | 650 mm | 500 mm | 92.5 ° | P32 | Quattro 650HS, 3 kg payload, 1300mm diameter reach, P32, 92.5º rotation, 4 axis, 500mm Zaxis, IP67 Base, IP67 Tooling, ePLC, USDA |
| | IP67 | 3 kg | 650 mm | 500 mm | 185 ° | P34 | Quattro 650HS, 3 kg payload, 1300mm diameter reach, P34, 185º rotation, 4 axis, 500mm Zaxis, IP67 Base, IP67 Tooling, ePLC, USDA |
| | IP65 | 15 kg | 650 mm | 500 mm | 0 ° | P30 | Quattro 650H, SmartController EX, 15 kg payload, 1300mm diameter reach, P30, 0º rotation, 4 axis, 500mm Zaxis, IP65 Base, IP67 Tooling, ePLC |
| | IP65 | 6 kg | 650 mm | 500 mm | 46.25 ° | P31 | Quattro 650H, SmartController EX, 6 kg payload, 1300mm diameter reach, P31, 46.25º rotation, 4 axis, 500mm Zaxis, IP65 Base, IP67 Tooling, ePLC |
| | IP65 | 6 kg | 650 mm | 500 mm | 92.5 ° | P32 | Quattro 650H, SmartController EX, 6 kg payload, 1300mm diameter reach, P32, 92.5º rotation, 4 axis, 500mm Zaxis, IP65 Base, IP67 Tooling, ePLC |
| | IP65 | 6 kg | 650 mm | 500 mm | 185 ° | P34 | Quattro 650H, SmartController EX, 6 kg payload, 1300mm diameter reach, P34, 185º rotation, 4 axis, 500mm Zaxis, IP65 Base, IP67 Tooling, ePLC |
| | IP20 | 10 kg | 800 mm | 500 mm | 0 ° | P30 | Quattro 800H, 10 kg payload, 1600mm diameter reach, P30, 0º rotation, 4 axis, 500mm Zaxis, IP20 Base, IP67 Tooling, ePLC |
| | IP20 | 4 kg | 800 mm | 500 mm | 46.25 ° | P31 | Quattro 800H, 4 kg payload, 1600mm diameter reach, P31, 46.25º rotation, 4 axis, 500mm Zaxis, IP20 Base, IP67 Tooling, ePLC |
| | IP20 | 4 kg | 800 mm | 500 mm | 92.5 ° | P32 | Quattro 800H, 4 kg payload, 1600mm diameter reach, P32, 92.5º rotation, 4 axis, 500mm Zaxis, IP20 Base, IP67 Tooling, ePLC |
| | IP20 | 4 kg | 800 mm | 500 mm | 185 ° | P34 | Quattro 800H, 4 kg payload, 1600mm diameter reach, P34, 185º rotation, 4 axis, 500mm Zaxis, IP20 Base, IP67 Tooling, ePLC |
| | IP67 | 7 kg | 800 mm | 500 mm | 0 ° | P30 | Quattro 800HS, SmartController EX, 7 kg payload, 1600mm diameter reach, P30, 0º rotation, 4 axis, 500mm Zaxis, IP67 Base, IP67 Tooling, ePLC, USDA |
| | IP67 | 1 kg | 800 mm | 500 mm | 46.25 ° | P31 | Quattro 800HS, SmartController EX, 1 kg payload, 1600mm diameter reach, P31, 46.25º rotation, 4 axis, 500mm Zaxis, IP67 Base, IP67 Tooling, ePLC, USDA |
| | IP67 | 1 kg | 800 mm | 500 mm | 92.5 ° | P32 | Quattro 800HS, SmartController EX, 1 kg payload, 1600mm diameter reach, P32, 92.5º rotation, 4 axis, 500mm Zaxis, IP67 Base, IP67 Tooling, ePLC, USDA |
| | IP67 | 1 kg | 800 mm | 500 mm | 185 ° | P34 | Quattro 800HS, SmartController EX, 1 kg payload, 1600mm diameter reach, P34, 185º rotation, 4 axis, 500mm Zaxis, IP67 Base, IP67 Tooling, ePLC, USDA |
| | IP65 | 10 kg | 800 mm | 500 mm | 0 ° | P30 | Quattro 800H, SmartController EX, 10 kg payload, 1600mm diameter reach, P30, 0º rotation, 4 axis, 500mm Zaxis, IP65 Base, IP67 Tooling, ePLC |
| | IP65 | 4 kg | 800 mm | 500 mm | 46.25 ° | P31 | Quattro 800H, SmartController EX, 4 kg payload, 1600mm diameter reach, P31, 46.25º rotation, 4 axis, 500mm Zaxis, IP65 Base, IP67 Tooling, ePLC |
| | IP65 | 4 kg | 800 mm | 500 mm | 92.5 ° | P32 | Quattro 800H, SmartController EX, 4 kg payload, 1600mm diameter reach, P32, 92.5º rotation, 4 axis, 500mm Zaxis, IP65 Base, IP67 Tooling, ePLC |
| | IP65 | 4 kg | 800 mm | 500 mm | 185 ° | P34 | Quattro 800H, SmartController EX, 4 kg payload, 1600mm diameter reach, P34, 185º rotation, 4 axis, 500mm Zaxis, IP65 Base, IP67 Tooling, ePLC |
Confronta prodotti
Mostra altri prodotti
Accessori
Ordering information
Apperance
Type
Name/Specifications
Order code
Robot Controller
SmartController EX
19200-000
SmartController EX + Front Panel
19300-000
Pendant
T20 Pendant with 10 m Cable
10046-010
T20 Pendant-Jumper Plug
10048-000
T20 Pendant Wall Bracket
10079-000
T20 Adapter Cable, 3 m
10051-003
Vision Controller
IPC Application Controller
AC1-152000
SmartVision MX
14189-901
Camera
GigE PoE, 658 x 492 pixels, 120 fps, Monochrome, CCD (1/4-inch equivalent), camera cables included (10 m)
24114-100
GigE PoE, 658 x 492 pixels, 120 fps, Color, CCD (1/4-inch equivalent), camera cables included (10 m)
24114-101
GigE PoE, 1296 x 964 pixels, 30 fps, Monochrome, CCD (1/3-inch equivalent), camera cables included (10 m)
24114-200
GigE PoE, 1296 x 964 pixels, 30 fps, Color, CCD (1/3-inch equivalent), camera cables included (10 m)
24114-201
GigE PoE, 1602 x 1202 pixels, 60 fps, Monochrome, CMOS (1/1.8-inch equivalent), camera cables included (10 m)
24114-250
GigE PoE, 1602 x 1202 pixels, 60 fps, Color, CMOS (1/1.8-inch equivalent), camera cables included (10 m)
24114-251
GigE PoE, 2048 x 2048 pixels, 25 fps, Monochrome, CMOS (1-inch equivalent), camera cables included (10 m)
24114-300
GigE PoE, 2048 x 2048 pixels, 25 fps, Color, CMOS (1-inch equivalent), camera cables included (10 m)
24114-301
Belt Encoder
(Conveyor-Tracking)
Encoder Kit IP65
09742-001
Y-Adapter Cable, 3 m
09443-000
Encoder Extension Cable, 5 m
09446-050
SCEX-BELT,Y-Adapter Cable, 0.5 m
09550-000
XBELTIO Cable, 0.6 m
13463-000
Additional I/O Options
IO Blox (connect to robot), 8 inputs/8 outputs, cables included (0.3 m)
90356-30200
IO Block (connect to previous IO Blox), 8 inputs/8 outputs, cables included (0.3 m)
90356-30100
IO Blox-to-robot Cable, 3 m
04677-030
IO Blox-to-IO Blox Cable, 3 m
04679-030
IO Blox-to-IO Blox Cable, 0.3 m
04679-003
XIO Termination Block, 12 inputs/8 outputs, cables included (1.8 m)
90356-40100
XDIO Termination Block, 50 pin, cables included (2 m)
09747-000
Front Panel
Front Panel with 3 m cable
90356-10358
Front Panel Cable, 3 m
10356-10500
Power Supply/Cable
AC Power Cable, 5 m
04118-000
24 VDC Power Cable, 5 m
04120-000
24 VDC, 6.5 A, 150 W (Front Mounting), Power Supply
S8FS-G15024C

2

Refer to the Switch Mode Power Supply Datasheet (Cat.No.T207) for details.
24 VDC, 6.5 A, 150 W (DIN-Rail Mounting), Power Supply
S8FS-G15024CD

2

Refer to the Switch Mode Power Supply Datasheet (Cat.No.T207) for details.
1394 Cable, 4.5 m
13632-045
eAIB XSYSTEM Cable Assembly, 1.8 m
13323-000
DB9 Splitter, 0.3 m
00411-000
eAIB XSYS Cable, 4.5 m
11585-000
Ethernet Cable
XS6W-6LSZH8SS⬜⬜⬜CM-Y

2

Refer to the Industrial Ethernet Cables Catalog (Cat.No.G019) for details.
Industrial Switching Hubs
W4S1-05C

2

Refer to the Industrial Switching Hubs Catalog (Cat.No.V227) for details.
Solenoid Valve Kit
eCobra robots (600, 800, 800 Inverted)
02853-000
Cable Seal Kit
Hornet 565 IP65/67, Quattro 650HS IP65/67, Quattro 800HS IP65/67
08765-000
Quattro 650HS Standard, Quattro 800HS Standard
09564-000
eCobra 800 IP65/67
04813-000
eCobra 800 Inverted IP65
09073-000
ACE License
Automation Control Environment (for ACE 4.x)
Please download it from following URL:
http://www.adept.com/Robots-Tool
ACE PackXpert (for ACE 4.x)
20409-000
ACE Sight Vision Software (for ACE 4.x)
20410-000
ACE PackXpert with ACE Sight Vision (for ACE 4.x)
This license contains an ACE PackXpert license and an ACE Sight license.
20433-000
Related Products
Machine Automation Controller NX/NY/NJ Series
NX/NY/NJ

2

Refer to the Sysmac Catalog (Cat.No.P072) for details.
Automation Software Sysmac Studio
SYSMAC-SE2⬜⬜⬜

2

Refer to the Sysmac Catalog (Cat.No.P072) for details.
Collection of software functional componentsSysmac LibraryAdept Robot Control Library
SYSMAC-XR009

2

Refer to the Sysmac Library Catalog (Cat.No.P106) for details.
Note:
Contact your Omron representative for lenses, lights, and licenses.
Sysmac Library
The Sysmac Library is a collection of software functional components that can be used in programs
for the NX/NY/NJ Machine Automation Controllers.Please download it from following URL and install to Sysmac Studio Automation Software.http://www.ia.omron.com/sysmac_library/The Adept Robot Control Library allows you to control Delta, Articulated and SCARA robots manufactured
by Omron Adept Technologies Inc. from the NX/NY/NJ Machine Automation Controller by using the same
instructions and programming methods.
Come possiamo aiutarti?
Se hai domande o desideri richiedere un preventivo, contattaci o inviaci una richiesta.
Serie Robot Delta
Quattro 800H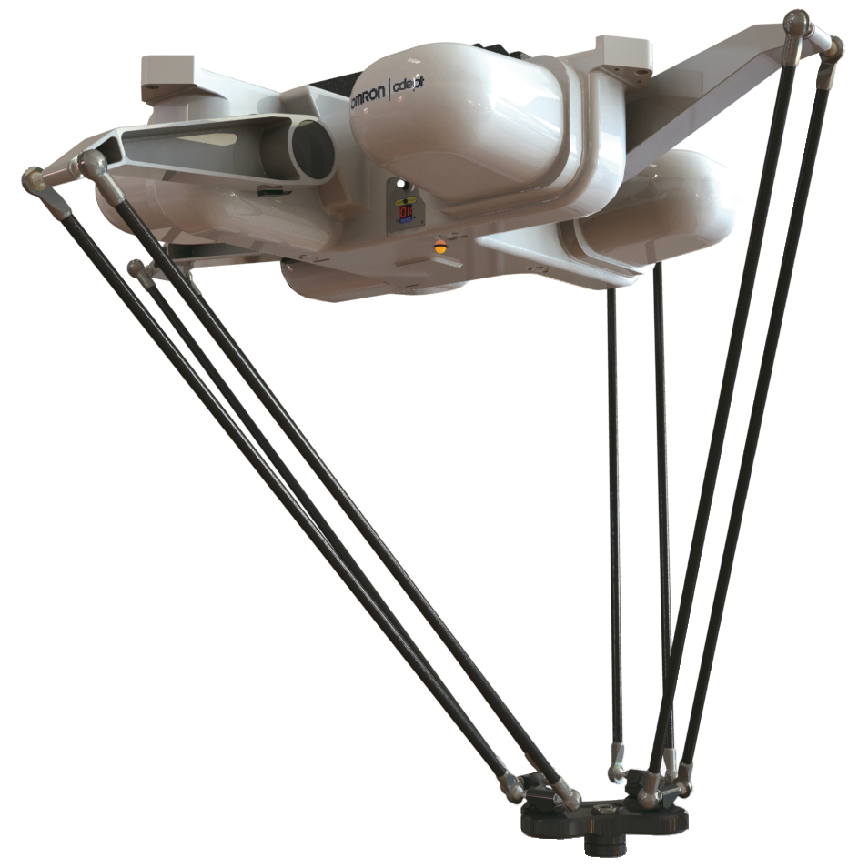 Area di lavoro nominale: Ø 1.600 x 215 mm (max. 500 mm)
Portata massima: 4 ... 10 kg
Numero di assi: 4
IP65 (con kit sigilla-cavi opzionale)
Quattro 650H/HS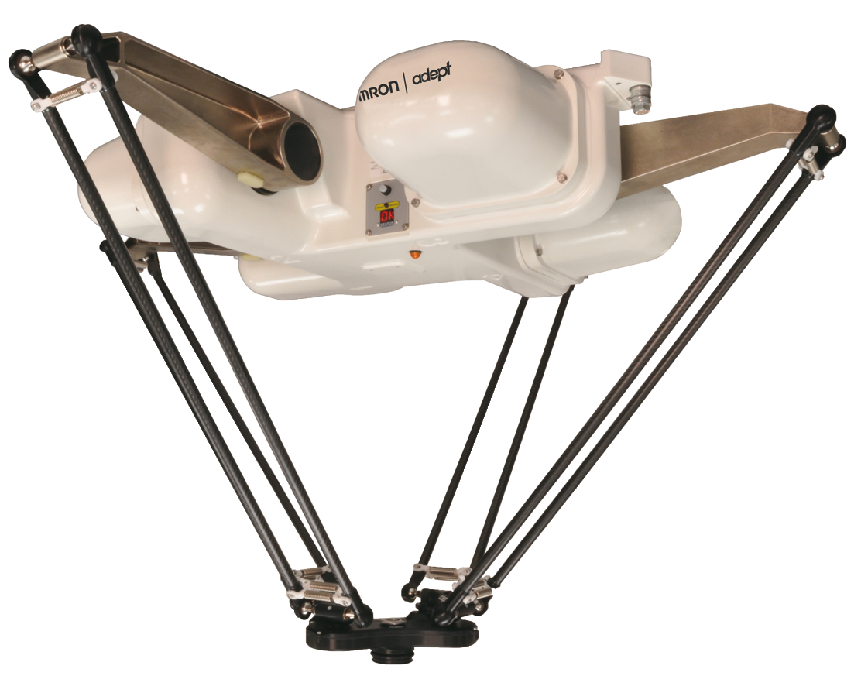 Area di lavoro nominale: Ø 1.300 x 215 mm (max. 500 mm)
Portata massima: 3 ... 15 kg
Numero di assi: 4
IP65 (con kit sigilla-cavi opzionale), modello IP66 HS
Quattro 650HS è approvato dal Ministero dell'Agricoltura degli Stati Uniti (USDA) per il trattamento primario degli alimenti
Unità di controllo
Robot Control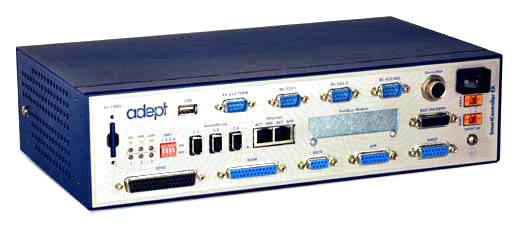 SmartController EX
Il controllore del robot è estremamente compatto e ad elevate prestazioni, in grado di controllare un'intera linea di produzione fino a 4 robot e periferiche di terze parti. L'architettura distribuita del controller, il software integrato, la possibilità di sincronizzare i nastri trasportatori e le comunicazioni ad alta velocità consentono agli utenti di integrare i propri sistemi di automazione tramite l'interfaccia intuitiva del software ACE basato su PC.
Progettato per essere usato con i robot SCARA Cobra, Viper a sei assi, i robot paralleli Quattro e Hornet, il controller è caratterizzato da funzionalità Gigabit Ethernet, da un processore ad alta velocità e dal nuovo software Adept eV+. L'integrazione con SmartVision offre un controllo accurato dei sistemi di visione, dei nastri trasportatori e dei robot. SmartController EX assicura un controllo intelligente.
Interfacce di comunicazione / Software
Porta seriale RS-232 (115 kbps), porta seriale RS-422/485, Gigabit Ethernet, DeviceNet, interfaccia SmartServo (3x), sistema operativo multitasking in tempo reale e linguaggio di programmazione eV+, ACE™, interfaccia TCP/IP
Supporto robot
Robot Cobra, robot Viper, robot Quattro e Hornet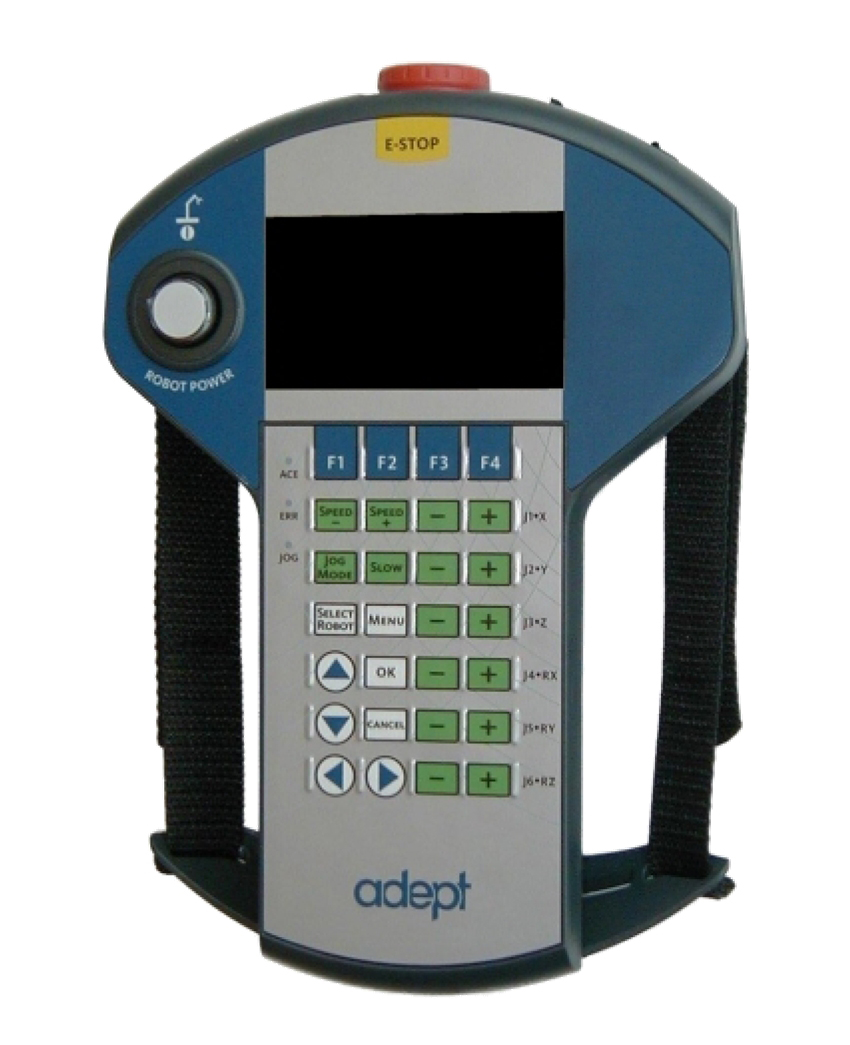 Pulsantiera T20
La pulsantiera T20 è un dispositivo ergonomico e robusto che consente agli utenti di impartire manualmente le istruzioni al sistema robotico. L'ergonomicità del dispositivo assicura un utilizzo comodo e senza affaticamento. La pulsantiera T20 è compatibile con tutti i robot azionati dallo SmartController EX.
Dettagli del prodotto - Supporto
Attivazione/disattivazione dell'alimentazione
Jog del robot in diverse modalità (joint, world, tool, frame)
Pulsante E-Stop e interruttore di attivazione a 3 posizioni
Interfaccia utente a colori ad alta risoluzione
Posizioni memorizzate tramite teaching
Visualizzazione della posizione del robot, dell'I/O digitale e dello stato del sistema
Visualizzazione dell'indirizzo IP del controller
Il prodotto include
Pulsantiera T20 con cavo da 10 m incorporato, cavo adattatore da 3 m con connettore paratia e documentazione
Vision & Inspection Guidance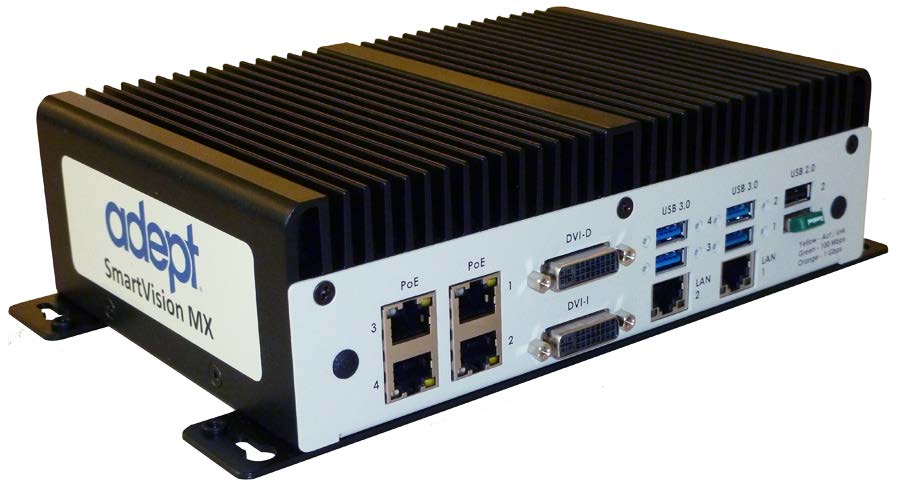 Visione e ispezione assistite: SmartVision MX
SmartVision™ MX è un processore di visione ad alte prestazioni ottimizzato per le applicazioni di visione artificiale. SmartVision MX è lo strumento più intuitivo e affidabile per aggiungere funzionalità di visione assistita alle applicazioni robotiche. Ideale per l'impiego in ambienti di produzione, il sistema è caratterizzato da una costruzione robusta e senza ventole, un disco rigido a stato solido e un'ampia gamma di temperature di esercizio per un'elevata affidabilità.
Grazie alle porte Gigabit Ethernet con Power over Ethernet (GigE PoE) e USB 3.0 è possibile collegare un'ampia gamma di telecamere per la visione artificiale. SmartVision MX offre la potente piattaforma software ACE preinstallata, mentre le estensioni opzionali includono AdeptSight™ per le applicazioni di visione assistita e ispezione, e ACE PackXpert™ per l'implementazione di applicazioni di confezionamento complete.
Caratteristiche del prodotto
Processore Intel Core i7, 8GB DDR3 di RAM e Windows Embedded Standard 7 a 64 bit
Sistema robusto progettato per ambienti industriali senza parti in movimento
4 porte GigE PoE e 4 porte USB 3.0 per le telecamere per la visione artificiale
Software ACE™ installato di fabbrica con estensione opzionale per la visione assistita
Supporta il software completo di automazione della linea di imballaggio PackXpert
Vantaggi
Il potente computer è in grado di processare immagini ad alta risoluzione e con frequenza elevata di fotogrammi
Migliora l'affidabilità e riduce al minimo la necessità di manutenzione negli ambienti industriali
Supporta fino a otto telecamere simultaneamente (il numero massimo dipende dall'applicazione)
Il modulo opzionale per la visione AdeptSight offre strumenti efficaci e semplici da usare per la localizzazione e l'ispezione degli oggetti
Semplifica l'implementazione di soluzioni di automazione dell'imballaggio, grazie alle configurazioni guidate e ai requisiti di programmazione minimi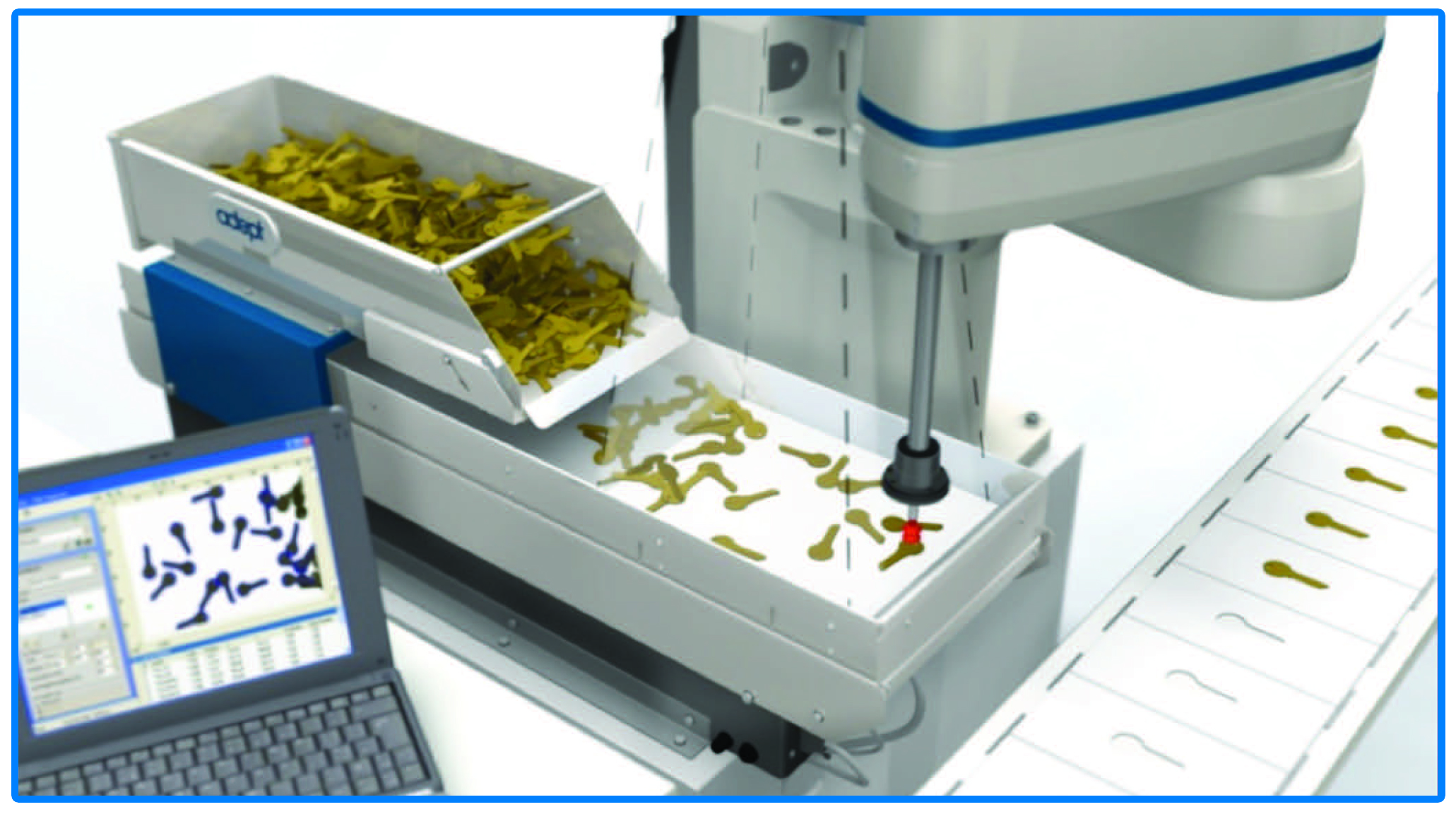 Visione assistita: Ace Sight
Pacchetto standalone per PC intuitivo per la visione assistita e l'ispezione, munito di tutto l'hardware e gli accessori necessari. Il software include un potente framework che può essere usato per sviluppare applicazioni personalizzate di visione assistita e ispezione. L'interfaccia grafica di facile consultazione permette di sviluppare rapidamente applicazioni di visione precise e affidabili. ACE Sight semplifica le attività di implementazione in condizioni difficili, grazie alle funzionalità affidabili di visione e agli algoritmi che lavorano anche in condizioni di scarsa illuminazione, di rumore e di occlusioni.
Caratteristiche del prodotto
Localizzazione rapida e precisa delle parti
Modelli di auto-apprendimento completamente modificabili
Funzioni di ispezioni avanzate
Lo strumento di filtraggio dei risultati semplifica la configurazione delle applicazioni di ispezione "Pass-Fail"
Visione assistita e calibrazione
Sviluppo di applicazioni
Calibrazione
Sincronizzazione dei nastri trasportatori
Sistema robotico completo con visione assistita
La confezione include
Software ACE Sight, telecamera FireWire, 640 x 480 o 1392 x 1040, con obiettivo da 16 mm, kit per il montaggio della telecamera e cavo FireWire (10 m)