E2E NEXT
Sensore di prossimità E2E NEXT 3 fili
Il rilevamento per lunghe distanze previene interruzioni impreviste degli impianti
La distanza di rilevamento più lunga al mondo
Grazie al LED ad alta luminosità, l'indicatore è visibile a 360°.
Solo 10 secondi per sostituire un sensore di prossimità con l' "e-jig" (manicotto di montaggio).
Cavi con resistenza all'olio migliorata, garantita per 2 anni
Conforme a IP69K per impermeabilità e resistenza al lavaggio
Offerto in una vasta gamma per semplificare la selezione del sensore
Certificazione UL e CSA
Caratteristiche ed info per ordinare
| Prodotto | Size | Mounting type | Sensing distance | Output type | Operation mode | Connection method | Material housing | Cable specifications | Cable length | IO-Link baud rate | Overall length | Thread length | Features | Description |
| --- | --- | --- | --- | --- | --- | --- | --- | --- | --- | --- | --- | --- | --- | --- |
| | M12 | Non-flush | 10 mm | IO-Link, PNP | NO | Connector M12 | Brass, nickel plated | - | | COM2 (38.4 kbps) | | | | Proximity sensor, inductive, nickel-brass, long body, M12, unshielded, 10 mm, DC, 3-wire, PNP NO, IO-Link COM2, M12 connector |
| | M12 | Non-flush | 10 mm | IO-Link, PNP | NO | Cable | Brass, nickel plated | PVC (oil-resistant) | 2 m | COM3 (230.4 kbps) | 47 mm | 26 mm | | Proximity sensor, inductive, nickel-brass short body, M12, unshielded, 10 mm, DC, 3-wire, PNP NO, IO-Link COM3, 2 m prewired |
| | M12 | Non-flush | 10 mm | IO-Link, PNP | NO | Connector M12 | Brass, nickel plated | - | | COM3 (230.4 kbps) | 48 mm | 26 mm | | Proximity sensor, inductive, nickel-brass, short body, M12, unshielded, 10 mm, DC, 3-wire, PNP NO, IO-Link COM3, M12 connector |
| | M12 | Non-flush | 10 mm | IO-Link, PNP | NO | M12 Pre-wired Smartclick connector | Brass, nickel plated | PVC (oil-resistant) | 0.3 m | COM3 (230.4 kbps) | 47 mm | 26 mm | | Proximity sensor, inductive, nickel-brass short body, M12, unshielded, 10 mm, DC, 3-wire, PNP NO, IO-Link COM3, M12 Smartclick Pig-tail 0.3 m |
| | M12 | Non-flush | 10 mm | IO-Link, PNP | NO | Cable | Brass, nickel plated | PVC (oil-resistant) | 2 m | COM3 (230.4 kbps) | 47 mm | 26 mm | Flexible cable | Proximity sensor, inductive, nickel-brass short body, M12, unshielded, 10 mm, DC, 3-wire, PNP NO, IO-Link COM3, 2 m prewired robotic cable |
| | M12 | Non-flush | 10 mm | IO-Link, PNP | NO | Cable | Brass, nickel plated | PVC (oil-resistant) | 2 m | COM3 (230.4 kbps) | 69 mm | 48 mm | | Proximity sensor, inductive, nickel-brass long body, M12, unshielded, 10 mm, DC, 3-wire, PNP NO, IO-Link COM3, 2 m prewired |
| | M12 | Non-flush | 10 mm | IO-Link, PNP | NO | Connector M12 | Brass, nickel plated | - | | COM3 (230.4 kbps) | 70 mm | 48 mm | | Proximity sensor, inductive, nickel-brass, long body, M12, unshielded, 10 mm, DC, 3-wire, PNP NO, IO-Link COM3, M12 connector |
| | M12 | Non-flush | 10 mm | IO-Link, PNP | NO | M12 Pre-wired Smartclick connector | Brass, nickel plated | PVC (oil-resistant) | 0.3 m | COM3 (230.4 kbps) | 69 mm | 48 mm | | Proximity sensor, inductive, nickel-brass long body, M12, unshielded, 10 mm, DC, 3-wire, PNP NO, IO-Link COM3, M12 Smartclick Pig-tail 0.3 m |
| | M12 | Non-flush | 10 mm | IO-Link, PNP | NO + NC | Connector M12 | Brass, nickel plated | - | | COM2 (38.4 kbps) | 48 mm | 26 mm | | Proximity sensor, inductive, nickel-brass, short body, M12, unshielded, 10 mm, DC, 3-wire, PNP NO+NC, IO-Link COM2, M12 connector |
| | M12 | Non-flush | 10 mm | NPN | NO | Connector M12 | Brass, nickel plated | - | | | 48 mm | 26 mm | | Proximity sensor, inductive, nickel-brass, short body, M12, unshielded, 10 mm, DC, 3-wire, NPN NO, M12 connector |
| | M12 | Non-flush | 10 mm | 2-wire | NO | Cable | Brass, nickel plated | PVC (oil-resistant reinforced) | 2 m | | 47 mm | 26 mm | | Proximity sensor, inductive, brass-nickel, M12, non-shielded, 10 mm, NO, 2 m cable, DC 2-wire |
| | M12 | Non-flush | 10 mm | 2-wire | NO | Cable | Brass, nickel plated | PVC (oil-resistant reinforced) | 5 m | | 47 mm | 26 mm | | Proximity sensor, inductive, brass-nickel, M12, non-shielded, 10 mm, NO, 5 m cable, DC 2-wire |
| | M12 | Non-flush | 10 mm | 2-wire | NO | M12 Pre-wired Smartclick connector | Brass, nickel plated | PVC (oil-resistant reinforced) | 0.3 m | | 47 mm | 26 mm | | Proximity sensor, inductive, brass-nickel, M12, non-shielded, 10 mm, NO, 0.3 m pig-tail, DC 2-wire |
| | M12 | Non-flush | 10 mm | 2-wire | NO | M12 Pre-wired Smartclick connector | Brass, nickel plated | PVC (oil-resistant reinforced) | 0.3 m | | 47 mm | 26 mm | | Proximity sensor, inductive, brass-nickel, M12, non-shielded, 10 mm, NO, 0.3 m pig-tail, DC 2-wire, no polarity |
| | M12 | Non-flush | 10 mm | 2-wire | NO | Cable | Brass, nickel plated | PVC (oil-resistant reinforced) | 2 m | | 47 mm | 26 mm | Flexible cable | Proximity sensor, inductive, brass-nickel, M12, non-shielded, 10 mm, NO, 2 m cable robotic, DC 2-wire |
| | M12 | Non-flush | 10 mm | 2-wire | NO | Cable | Brass, nickel plated | PVC (oil-resistant reinforced) | 2 m | | 47 mm | 26 mm | | Proximity sensor, inductive, brass-nickel, M12, non-shielded, 10 mm, NO, 2 m cable, DC 2-wire, no polarity |
| | M12 | Non-flush | 10 mm | 2-wire | NO | Cable | Brass, nickel plated | PVC (oil-resistant reinforced) | 2 m | | 47 mm | 26 mm | Flexible cable | Proximity sensor, inductive, brass-nickel, M12, non-shielded, 10 mm, NO, 2 m cable robotic, DC 2-wire, no polarity |
| | M12 | Non-flush | 10 mm | 2-wire | NC | Cable | Brass, nickel plated | PVC (oil-resistant reinforced) | 2 m | | 47 mm | 26 mm | | Proximity sensor, inductive, brass-nickel, M12, non-shielded, 10 mm, NC, 2 m cable, DC 2-wire |
| | M12 | Non-flush | 10 mm | 2-wire | NC | M12 Pre-wired Smartclick connector | Brass, nickel plated | PVC (oil-resistant reinforced) | 0.3 m | | 47 mm | 26 mm | | Proximity sensor, inductive, brass-nickel, M12, non-shielded, 10 mm, NC, 0.3 m pig-tail, DC 2-wire |
| | M12 | Non-flush | 10 mm | 2-wire | NC | M12 Pre-wired Smartclick connector | Brass, nickel plated | PVC (oil-resistant reinforced) | 0.3 m | | 47 mm | 26 mm | | Proximity sensor, inductive, brass-nickel, M12, non-shielded, 10 mm, NC, 0.3 m pig-tail, DC 2-wire, no polarity |
| | M12 | Non-flush | 10 mm | 2-wire | NC | Cable | Brass, nickel plated | PVC (oil-resistant reinforced) | 2 m | | 47 mm | 26 mm | Flexible cable | Proximity sensor, inductive, brass-nickel, M12, non-shielded, 10 mm, NC, 2 m cable robotic, DC 2-wire |
| | M12 | Non-flush | 10 mm | 2-wire | NC | Cable | Brass, nickel plated | PVC (oil-resistant reinforced) | 2 m | | 47 mm | 26 mm | | Proximity sensor, inductive, brass-nickel, M12, non-shielded, 10 mm, NC, 2 m cable, DC 2-wire, no polarity |
| | M12 | Non-flush | 10 mm | 2-wire | NC | Cable | Brass, nickel plated | PVC (oil-resistant reinforced) | 2 m | | 47 mm | 26 mm | Flexible cable | Proximity sensor, inductive, brass-nickel, M12, non-shielded, 10 mm, NC, 2 m cable robotic, DC 2-wire, no polarity |
| | M18 | Flush | 11 mm | 2-wire | NO | Cable | Brass, nickel plated | PVC (oil-resistant reinforced) | 2 m | | 55 mm | 33 mm | | Proximity sensor, inductive, brass-nickel, M18, shielded, 11 mm, NO, 2 m cable, DC 2-wire |
| | M18 | Flush | 11 mm | 2-wire | NO | M12 Pre-wired Smartclick connector | Brass, nickel plated | PVC (oil-resistant reinforced) | 0.3 m | | 55 mm | 33 mm | | Proximity sensor, inductive, brass-nickel, M18, shielded, 11 mm, NO, 0.3 m pig-tail, DC 2-wire |
| | M18 | Flush | 11 mm | 2-wire | NO | M12 Pre-wired Smartclick connector | Brass, nickel plated | PVC (oil-resistant reinforced) | 0.3 m | | 55 mm | 33 mm | | Proximity sensor, inductive, brass-nickel, M18, shielded, 11 mm, NO, 0.3 m pig-tail, DC 2-wire, no polarity |
| | M18 | Flush | 11 mm | 2-wire | NO | Cable | Brass, nickel plated | PVC (oil-resistant reinforced) | 2 m | | 55 mm | 33 mm | Flexible cable | Proximity sensor, inductive, brass-nickel, M18, shielded, 11 mm, NO, 2 m cable robotic, DC 2-wire |
| | M18 | Flush | 11 mm | 2-wire | NO | Cable | Brass, nickel plated | PVC (oil-resistant reinforced) | 2 m | | 55 mm | 33 mm | | Proximity sensor, inductive, brass-nickel, M18, shielded, 11 mm, NO, 2 m cable, DC 2-wire, no polarity |
| | M18 | Flush | 11 mm | 2-wire | NO | Cable | Brass, nickel plated | PVC (oil-resistant reinforced) | 5 m | | 55 mm | 33 mm | | Proximity sensor, inductive, brass-nickel, M18, shielded, 11 mm, NO, 5 m cable, DC 2-wire, no polarity |
| | M18 | Flush | 11 mm | 2-wire | NO | Cable | Brass, nickel plated | PVC (oil-resistant reinforced) | 2 m | | 55 mm | 33 mm | Flexible cable | Proximity sensor, inductive, brass-nickel, M18, shielded, 11 mm, NO, 2 m cable robotic, DC 2-wire, no polarity |
| | M18 | Flush | 11 mm | 2-wire | NC | Cable | Brass, nickel plated | PVC (oil-resistant reinforced) | 2 m | | 55 mm | 33 mm | | Proximity sensor, inductive, brass-nickel, M18, shielded, 11 mm, NC, 2 m cable, DC 2-wire |
| | M18 | Flush | 11 mm | 2-wire | NC | Cable | Brass, nickel plated | PVC (oil-resistant reinforced) | 5 m | | 55 mm | 33 mm | | Proximity sensor, inductive, brass-nickel, M18, shielded, 11 mm, NC, 5 m cable, DC 2-wire |
| | M18 | Flush | 11 mm | 2-wire | NC | M12 Pre-wired Smartclick connector | Brass, nickel plated | PVC (oil-resistant reinforced) | 0.3 m | | 55 mm | 33 mm | | Proximity sensor, inductive, brass-nickel, M18, shielded, 11 mm, NC, 0.3 m pig-tail, DC 2-wire |
| | M18 | Flush | 11 mm | 2-wire | NC | M12 Pre-wired Smartclick connector | Brass, nickel plated | PVC (oil-resistant reinforced) | 0.3 m | | 55 mm | 33 mm | | Proximity sensor, inductive, brass-nickel, M18, shielded, 11 mm, NC, 0.3 m pig-tail, DC 2-wire, no polarity |
| | M18 | Flush | 11 mm | 2-wire | NC | Cable | Brass, nickel plated | PVC (oil-resistant reinforced) | 2 m | | 55 mm | 33 mm | Flexible cable | Proximity sensor, inductive, brass-nickel, M18, shielded, 11 mm, NC, 2 m cable robotic, DC 2-wire |
| | M18 | Flush | 11 mm | 2-wire | NC | Cable | Brass, nickel plated | PVC (oil-resistant reinforced) | 2 m | | 55 mm | 33 mm | | Proximity sensor, inductive, brass-nickel, M18, shielded, 11 mm, NC, 2 m cable, DC 2-wire, no polarity |
| | M18 | Flush | 11 mm | 2-wire | NC | Cable | Brass, nickel plated | PVC (oil-resistant reinforced) | 5 m | | 55 mm | 33 mm | | Proximity sensor, inductive, brass-nickel, M18, shielded, 11 mm, NC, 5 m cable, DC 2-wire, no polarity |
| | M18 | Flush | 11 mm | 2-wire | NC | Cable | Brass, nickel plated | PVC (oil-resistant reinforced) | 2 m | | 55 mm | 33 mm | Flexible cable | Proximity sensor, inductive, brass-nickel, M18, shielded, 11 mm, NC, 2 m cable robotic, DC 2-wire, no polarity |
| | M18 | Quasi-flush | 12 mm | IO-Link, PNP | NO | Cable | Brass, nickel plated | PVC (oil-resistant) | 2 m | COM3 (230.4 kbps) | 55 mm | 34 mm | | Proximity sensor, inductive, nickel-brass, short body, M18, shielded, 12 mm, DC, 3-wire, PNP NO, IO-Link COM3, 2 m prewired |
| | M18 | Quasi-flush | 12 mm | IO-Link, PNP | NO | Cable | Brass, nickel plated | PVC (oil-resistant) | 5 m | COM3 (230.4 kbps) | 55 mm | 33 mm | | Proximity sensor, inductive, nickel-brass, short body, M18, shielded, 12 mm, DC, 3-wire, PNP NO, IO-Link COM3, 5 m prewired |
| | M18 | Quasi-flush | 12 mm | IO-Link, PNP | NO | Connector M12 | Brass, nickel plated | - | | COM3 (230.4 kbps) | 53 mm | 34 mm | | Proximity sensor, inductive, nickel-brass, short body, M18, shielded, 12 mm, DC, 3-wire, PNP NO, IO-Link COM3, M12 connector |
| | M18 | Quasi-flush | 12 mm | IO-Link, PNP | NO | M12 Pre-wired Smartclick connector | Brass, nickel plated | PVC (oil-resistant) | 0.3 m | COM3 (230.4 kbps) | 55 mm | 34 mm | | Proximity sensor, inductive, nickel-brass, short body, M18, shielded, 12 mm, DC, 3-wire, PNP NO, IO-Link COM3, M12 Smartclick Pig-tail 0.3 m |
| | M18 | Quasi-flush | 12 mm | IO-Link, PNP | NO | Cable | Brass, nickel plated | PVC (oil-resistant) | 2 m | COM3 (230.4 kbps) | 55 mm | 34 mm | Flexible cable | Proximity sensor, inductive, nickel-brass short body, M18, shielded, 12 mm, DC, 3-wire, PNP NO, IO-Link COM3, 2 m prewired robotic cable |
| | M18 | Quasi-flush | 12 mm | IO-Link, PNP | NO | Cable | Brass, nickel plated | PVC (oil-resistant) | 2 m | COM3 (230.4 kbps) | 77 mm | 60 mm | | Proximity sensor, inductive, nickel-brass, long body, M18, shielded, 12 mm, DC, 3-wire, PNP NO, IO-Link COM3, 2 m prewired |
| | M18 | Quasi-flush | 12 mm | IO-Link, PNP | NO | Connector M12 | Brass, nickel plated | - | | COM3 (230.4 kbps) | 75 mm | 48 mm | | Proximity sensor, inductive, nickel-brass, long body, M18, shielded, 12 mm, DC, 3-wire, PNP NO, IO-Link COM3, M12 connector |
| | M18 | Quasi-flush | 12 mm | IO-Link, PNP | NO | M12 Pre-wired Smartclick connector | Brass, nickel plated | PVC (oil-resistant) | 0.3 m | COM3 (230.4 kbps) | 77 mm | 60 mm | | Proximity sensor, inductive, nickel-brass, long body, M18, shielded, 12 mm, DC, 3-wire, PNP NO, IO-Link COM3, M12 Smartclick Pig-tail 0.3 m |
| | M18 | Quasi-flush | 12 mm | PNP | NC | Cable | Brass, nickel plated | PVC (oil-resistant) | 2 m | | | | | Proximity sensor, inductive, nickel-brass, short body, M18, shielded, 12 mm, DC, 3-wire, PNP NC, 2 m prewired |
| | M18 | Quasi-flush | 12 mm | PNP | NC | Cable | Brass, nickel plated | PVC (oil-resistant) | 5 m | | 55 mm | 33 mm | | Proximity sensor, inductive, nickel-brass, short body, M18, shielded, 12 mm, DC, 3-wire, PNP NC, 5 m prewired |
| | M18 | Quasi-flush | 12 mm | PNP | NC | Connector M12 | Brass, nickel plated | | | | | | | Proximity sensor, inductive, nickel-brass, short body, M18, shielded, 12 mm, DC, 3-wire, PNP NC, M12 connector |
| | M18 | Quasi-flush | 12 mm | IO-Link, PNP | NO + NC | Connector M12 | Brass, nickel plated | - | | COM2 (38.4 kbps) | 53 mm | 34 mm | | Proximity sensor, inductive, nickel-brass, short body, M18, shielded, 12 mm, DC, 3-wire, PNP NO+NC, IO-Link COM2, M12 connector |
| | M18 | Quasi-flush | 12 mm | IO-Link, PNP | NO + NC | M12 Pre-wired Smartclick connector | Brass, nickel plated | PVC (oil-resistant) | 0.3 m | COM2 (38.4 kbps) | 55 mm | 34 mm | | Proximity sensor, inductive, nickel-brass, short body, M18, shielded, 12 mm, DC, 3-wire, PNP NO+NC, IO-Link COM2, M12 Smartclick Pig-tail 0.3 m |
| | M18 | Quasi-flush | 12 mm | IO-Link, PNP | NO + NC | Cable | Brass, nickel plated | PVC (oil-resistant) | 2 m | COM2 (38.4 kbps) | 77 mm | 60 mm | | Proximity sensor, inductive, nickel-brass, long body, M18, shielded, 12 mm, DC, 3-wire, PNP NO+NC, IO-Link COM2, 2 m prewired |
| | M18 | Quasi-flush | 12 mm | IO-Link, PNP | NO + NC | Connector M12 | Brass, nickel plated | - | | COM2 (38.4 kbps) | 75 mm | 48 mm | | Proximity sensor, inductive, nickel-brass, long body, M18, shielded, 12 mm, DC, 3-wire, PNP NO+NC, IO-Link COM2, M12 connector |
| | M18 | Quasi-flush | 12 mm | NPN | NO | Cable | Brass, nickel plated | PVC (oil-resistant) | 2 m | | 55 mm | 33 mm | | Proximity sensor, inductive, nickel-brass, short body, M18, shielded, 12 mm, DC, 3-wire, NPN NO, 2 m prewired |
| | M18 | Quasi-flush | 12 mm | NPN | NO | Connector M12 | Brass, nickel plated | - | | | 53 mm | 34 mm | | Proximity sensor, inductive, nickel-brass, short body, M18, shielded, 12 mm, DC, 3-wire, NPN NO, M12 connector |
| | M18 | Quasi-flush | 12 mm | NPN | NC | Cable | Brass, nickel plated | PVC (oil-resistant) | 2 m | | 55 mm | 34 mm | | Proximity sensor, inductive, nickel-brass, short body, M18, shielded, 12 mm, DC, 3-wire, NPN NC, 2 m prewired |
| | M18 | Quasi-flush | 12 mm | NPN | NC | Cable | Brass, nickel plated | PVC (oil-resistant) | 5 m | | 55 mm | 33 mm | | Proximity sensor, inductive, nickel-brass, short body, M18, shielded, 12 mm, DC, 3-wire, NPN NC, 5 m prewired |
| | M18 | Quasi-flush | 12 mm | NPN | NC | Connector M12 | Brass, nickel plated | - | | | 53 mm | 33 mm | | Proximity sensor, inductive, nickel-brass, short body, M18, shielded, 12 mm, DC, 3-wire, NPN NC, M12 connector |
| | M18 | Quasi-flush | 14 mm | IO-Link, PNP | NO | Cable | Brass, nickel plated | PVC (oil-resistant) | 2 m | COM3 (230.4 kbps) | 55 mm | 60 mm | | Proximity sensor, inductive, nickel-brass, short body, M18, shielded, 14 mm, DC, 3-wire, PNP NO, IO-Link COM3, 2 m prewired |
| | M18 | Quasi-flush | 14 mm | IO-Link, PNP | NO | Connector M12 | Brass, nickel plated | - | | COM3 (230.4 kbps) | 53 mm | 34 mm | | Proximity sensor, inductive, nickel-brass, short body, M18, shielded, 14 mm, DC, 3-wire, PNP NO, IO-Link COM3, M12 connector |
| | M18 | Quasi-flush | 14 mm | IO-Link, PNP | NO | M12 Pre-wired Smartclick connector | Brass, nickel plated | PVC (oil-resistant) | 0.3 m | COM3 (230.4 kbps) | 55 mm | 60 mm | | Proximity sensor, inductive, nickel-brass, short body, M18, shielded, 14 mm, DC, 3-wire, PNP NO, IO-Link COM3, M12 Smartclick Pig-tail 0.3 m |
| | M18 | Quasi-flush | 14 mm | IO-Link, PNP | NO | M12 Pre-wired Smartclick connector | Brass, nickel plated | PVC (oil-resistant) | 0.3 m | COM3 (230.4 kbps) | 55 mm | 60 mm | Flexible cable | Proximity sensor, inductive, nickel-brass, short body, M18, shielded, 14 mm, DC, 3-wire, PNP NO, IO-Link COM3, M12 Smartclick Pig-tail 0.3 m robotic cable |
| | M18 | Quasi-flush | 14 mm | IO-Link, PNP | NO | Cable | Brass, nickel plated | PVC (oil-resistant) | 2 m | COM3 (230.4 kbps) | 55 mm | 60 mm | Flexible cable | Proximity sensor, inductive, nickel-brass short body, M18, shielded, 14 mm, DC, 3-wire, PNP NO, IO-Link COM3, 2 m prewired robotic cable |
| | M18 | Quasi-flush | 14 mm | IO-Link, PNP | NO | Cable | Brass, nickel plated | PVC (oil-resistant) | 2 m | COM3 (230.4 kbps) | 77 mm | 47 mm | | Proximity sensor, inductive, nickel-brass, long body, M18, shielded, 14 mm, DC, 3-wire, PNP NO, IO-Link COM3, 2 m prewired |
| | M18 | Quasi-flush | 14 mm | IO-Link, PNP | NO | Connector M12 | Brass, nickel plated | - | | COM3 (230.4 kbps) | 75 mm | 48 mm | | Proximity sensor, inductive, nickel-brass, long body, M18, shielded, 14 mm, DC, 3-wire, PNP NO, IO-Link COM3, M12 connector |
| | M18 | Quasi-flush | 14 mm | IO-Link, PNP | NO | M12 Pre-wired Smartclick connector | Brass, nickel plated | PVC (oil-resistant) | 0.3 m | COM3 (230.4 kbps) | 77 mm | 47 mm | | Proximity sensor, inductive, nickel-brass, long body, M18, shielded, 14 mm, DC, 3-wire, PNP NO, IO-Link COM3, M12 Smartclick Pig-tail 0.3 m |
| | M18 | Quasi-flush | 14 mm | PNP | NC | Connector M12 | Brass, nickel plated | - | | | 53 mm | 34 mm | | Proximity sensor, inductive, nickel-brass, short body, M18, shielded, 14 mm, DC, 3-wire, PNP NC, M12 connector |
| | M18 | Quasi-flush | 14 mm | NPN | NO | Connector M12 | Brass, nickel plated | - | | | 53 mm | 34 mm | | Proximity sensor, inductive, nickel-brass, short body, M18, shielded, 14 mm, DC, 3-wire, NPN NO, M12 connector |
| | M18 | Quasi-flush | 14 mm | NPN | NO | Connector M12 | Brass, nickel plated | - | | | 75 mm | 48 mm | | Proximity sensor, inductive, nickel-brass, long body, M18, shielded, 14 mm, DC, 3-wire, NPN NO, M12 connector |
| | M18 | Quasi-flush | 14 mm | NPN | NC | Cable | Brass, nickel plated | PVC (oil-resistant) | 2 m | | 55 mm | 60 mm | | Proximity sensor, inductive, nickel-brass, short body, M18, shielded, 14 mm, DC, 3-wire, NPN NC, 2 m prewired |
| | M18 | Quasi-flush | 14 mm | NPN | NC | Cable | Brass, nickel plated | PVC (oil-resistant) | 5 m | | 55 mm | 60 mm | | Proximity sensor, inductive, nickel-brass, short body, M18, shielded, 14 mm, DC, 3-wire, NPN NC, 5 m prewired |
| | M18 | Quasi-flush | 14 mm | NPN | NC | Connector M12 | Brass, nickel plated | - | | | 53 mm | 34 mm | | Proximity sensor, inductive, nickel-brass, short body, M18, shielded, 14 mm, DC, 3-wire, NPN NC, M12 connector |
| | M30 | Quasi-flush | 15 mm | IO-Link, PNP | NO/NC switching | Cable | Brass, nickel plated | PVC | 2 m | COM2 (38.4 kbps) | | | | Proximity sensor, inductive, nickel-brass, short body, M30, shielded, 15 mm, DC, 3-wire, PNP NO, IO-Link COM2, 2 m prewired |
| | M30 | Quasi-flush | 15 mm | IO-Link, PNP | NO/NC switching | Connector M12 | Brass, nickel plated | | | COM2 (38.4 kbps) | | | | Proximity sensor, inductive, nickel-brass, short body, M30, shielded, 15 mm, DC, 3-wire, PNP NO, IO-Link COM2, M12 connector |
| | M30 | Flush | 15 mm | IO-Link, PNP | NO | Cable | Brass, nickel plated | PVC (oil-resistant) | 2 m | COM3 (230.4 kbps) | 60 mm | 39 mm | | Proximity sensor, inductive, nickel-brass, short body, M30, shielded, 15 mm, DC, 3-wire, PNP NO, IO-Link COM3, 2 m prewired |
| | M30 | Flush | 15 mm | IO-Link, PNP | NO | Connector M12 | Brass, nickel plated | - | | COM3 (230.4 kbps) | 58 mm | 39 mm | | Proximity sensor, inductive, nickel-brass, short body, M30, shielded, 15 mm, DC, 3-wire, PNP NO, IO-Link COM3, M12 connector |
| | M30 | Flush | 15 mm | IO-Link, PNP | NO | M12 Pre-wired Smartclick connector | Brass, nickel plated | PVC (oil-resistant) | 0.3 m | COM3 (230.4 kbps) | 60 mm | 39 mm | | Proximity sensor, inductive, nickel-brass, short body, M30, shielded, 15 mm, DC, 3-wire, PNP NO, IO-Link COM3, M12 Smartclick Pig-tail 0.3 m |
| | M30 | Quasi-flush | 15 mm | IO-Link, PNP | NO | Cable | Brass, nickel plated | PVC (oil-resistant) | 2 m | COM3 (230.4 kbps) | 60 mm | 39 mm | Flexible cable | Proximity sensor, inductive, nickel-brass short body, M30, shielded, 15 mm, DC, 3-wire, PNP NO, IO-Link COM3, 2 m prewired robotic cable |
| | M30 | Flush | 15 mm | IO-Link, PNP | NO | Cable | Brass, nickel plated | PVC (oil-resistant) | 2 m | COM3 (230.4 kbps) | 82 mm | 55 mm | | Proximity sensor, inductive, nickel-brass long body, M30, shielded, 15 mm, DC, 3-wire, PNP NO, IO-Link COM3, 2 m prewired |
| | M30 | Flush | 15 mm | IO-Link, PNP | NO | Connector M12 | Brass, nickel plated | - | | COM3 (230.4 kbps) | 80 mm | 65 mm | | Proximity sensor, inductive, nickel-brass long body, M30, shielded, 15 mm, DC, 3-wire, PNP NO, IO-Link COM3, M12 connector |
| | M30 | Quasi-flush | 15 mm | IO-Link, PNP | NO | M12 Pre-wired Smartclick connector | Brass, nickel plated | PVC (oil-resistant) | 0.3 m | COM3 (230.4 kbps) | 82 mm | 55 mm | | Proximity sensor, inductive, nickel-brass long body, M30, shielded, 15 mm, DC, 3-wire, PNP NO, IO-Link COM3, M12 Smartclick Pig-tail 0.3 m |
| | M30 | Quasi-flush | | PNP | NC | Cable | Brass, nickel plated | PVC | 2 m | | | | | Proximity sensor, inductive, nickel-brass, short body, M30, shielded, 15 mm, DC, 3-wire, PNP NC, 2 m prewired |
| | M30 | Quasi-flush | | PNP | NC | Connector M12 | Brass, nickel plated | | | | | | | Proximity sensor, inductive, nickel-brass, short body, M30, shielded, 15 mm, DC, 3-wire, PNP NC, M12 connector |
| | M30 | Quasi-flush | | PNP | NC | Connector M12 | Brass, nickel plated | | | | | | | Proximity sensor, inductive, nickel-brass, long body, M30, shielded, 15 mm, DC, 3-wire, PNP NC, M12 connector |
| | M30 | Quasi-flush | 15 mm | IO-Link, PNP | NO + NC | Cable | Brass, nickel plated | PVC (oil-resistant) | 2 m | COM2 (38.4 kbps) | | | | Proximity sensor, inductive, nickel-brass, short body, M30, shielded, 15 mm, DC, 3-wire, PNP NONC, IO-Link COM2, 2 m prewired |
| | M30 | Flush | 15 mm | IO-Link, PNP | NO + NC | Connector M12 | Brass, nickel plated | - | | COM2 (38.4 kbps) | 58 mm | 39 mm | | Proximity sensor, inductive, nickel-brass, short body, M30, shielded, 15 mm, DC, 3-wire, PNP NO+NC, IO-Link COM2, M12 connector |
| | M30 | Quasi-flush | 15 mm | IO-Link, PNP | NO + NC | Cable | Brass, nickel plated | PVC (oil-resistant) | 2 m | COM2 (38.4 kbps) | | | | Proximity sensor, inductive, nickel-brass, long body, M30, shielded, 15 mm, DC, 3-wire, PNP NONC, IO-Link COM2, 2 m prewired |
| | M30 | Quasi-flush | 15 mm | IO-Link, PNP | NO + NC | Connector M12 | Brass, nickel plated | | | COM2 (38.4 kbps) | | | | Proximity sensor, inductive, nickel-brass, long body, M30, shielded, 15 mm, DC, 3-wire, PNP NONC, IO-Link COM2, M12 connector |
| | M30 | Quasi-flush | 15 mm | NPN | NO | Cable | Brass, nickel plated | PVC | 2 m | | | | | Proximity sensor, inductive, nickel-brass, short body, M30, shielded, 15 mm, DC, 3-wire, NPN NO, 2 m prewired |
| | M30 | Quasi-flush | 15 mm | NPN | NO | Connector M12 | Brass, nickel plated | | | | | | | Proximity sensor, inductive, nickel-brass, short body, M30, shielded, 15 mm, DC, 3-wire, NPN NO, M12 connector |
| | M30 | Quasi-flush | 15 mm | NPN | NO + NC | Cable | Brass, nickel plated | PVC (oil-resistant) | 2 m | | | | | Proximity sensor, inductive, nickel-brass, short body, M30, shielded, 15 mm, DC, 3-wire, NPN NO+NC, 2 m prewired |
| | M30 | Quasi-flush | 15 mm | NPN | NO + NC | Connector M12 | Brass, nickel plated | | | | | | | Proximity sensor, inductive, nickel-brass, short body, M30, shielded, 15 mm, DC, 3-wire, NPN NO+NC, M12 connector |
| | M18 | Non-flush | 16 mm | IO-Link, PNP | NO/NC switching | Cable | Brass, nickel plated | PVC (oil-resistant) | 2 m | COM2 (38.4 kbps) | | | | Proximity sensor, inductive, nickel-brass, short body, M18, unshielded, 16 mm, DC, 3-wire, PNP NO, IO-Link COM2, 2 m prewired |
| | M18 | Non-flush | 16 mm | IO-Link, PNP | NO/NC switching | Connector M12 | Brass, nickel plated | | | COM2 (38.4 kbps) | | | | Proximity sensor, inductive, nickel-brass, short body, M18, unshielded, 16 mm, DC, 3-wire, PNP NO, IO-Link COM2, M12 connector |
| | M12 | Non-flush | 16 mm | IO-Link, PNP | NO | Cable | Brass, nickel plated | PVC (oil-resistant) | 2 m | COM3 (230.4 kbps) | 47 mm | 26 mm | | Proximity sensor, inductive, nickel-brass short body, M12, unshielded, 16 mm, DC, 3-wire, PNP NO, IO-Link COM3, 2 m prewired |
| | M12 | Non-flush | 16 mm | IO-Link, PNP | NO | Connector M12 | Brass, nickel plated | - | | COM3 (230.4 kbps) | 48 mm | 26 mm | | Proximity sensor, inductive, nickel-brass, short body, M12, unshielded, 16 mm, DC, 3-wire, PNP NO, IO-Link COM3, M12 connector |
| | M12 | Non-flush | 16 mm | IO-Link, PNP | NO | M12 Pre-wired Smartclick connector | Brass, nickel plated | PVC (oil-resistant) | 0.3 m | COM3 (230.4 kbps) | 47 mm | 26 mm | | Proximity sensor, inductive, nickel-brass, short body, M12, unshielded, 16 mm, DC, 3-wire, PNP NO, IO-Link COM3, M12 Smartclick Pig-tail 0.3 m |
| | M12 | Non-flush | 16 mm | IO-Link, PNP | NO | Cable | Brass, nickel plated | PVC (oil-resistant) | 2 m | COM3 (230.4 kbps) | 47 mm | 26 mm | Flexible cable | Proximity sensor, inductive, nickel-brass short body, M12, unshielded, 16 mm, DC, 3-wire, PNP NO, IO-Link COM3, 2 m prewired robotic cable |
| | M18 | Non-flush | 16 mm | IO-Link, PNP | NO | Cable | Brass, nickel plated | PVC (oil-resistant) | 2 m | COM3 (230.4 kbps) | 55 mm | 28 mm | | Proximity sensor, inductive, nickel-brass, short body, M18, unshielded, 16 mm, DC, 3-wire, PNP NO, IO-Link COM3, 2 m prewired |
| | M18 | Non-flush | 16 mm | IO-Link, PNP | NO | Connector M12 | Brass, nickel plated | - | | COM3 (230.4 kbps) | 53 mm | 28 mm | | Proximity sensor, inductive, nickel-brass, short body, M18, unshielded, 16 mm, DC, 3-wire, PNP NO, IO-Link COM3, M12 connector |
| | M18 | Non-flush | 16 mm | IO-Link, PNP | NO | M12 Pre-wired Smartclick connector | Brass, nickel plated | PVC (oil-resistant) | 0.3 m | COM3 (230.4 kbps) | 55 mm | 28 mm | | Proximity sensor, inductive, nickel-brass, short body, M18, unshielded, 16 mm, DC, 3-wire, PNP NO, IO-Link COM3, M12 Smartclick Pig-tail 0.3 m |
| | M18 | Non-flush | 16 mm | IO-Link, PNP | NO | Cable | Brass, nickel plated | PVC (oil-resistant) | 2 m | COM3 (230.4 kbps) | 55 mm | 28 mm | Flexible cable | Proximity sensor, inductive, nickel-brass short body, M18, unshielded, 16 mm, DC, 3-wire, PNP NO, IO-Link COM3, 2 m prewired robotic cable |
| | M12 | Non-flush | 16 mm | IO-Link, PNP | NO | Cable | Brass, nickel plated | PVC (oil-resistant) | 2 m | COM3 (230.4 kbps) | 69 mm | 48 mm | | Proximity sensor, inductive, nickel-brass long body, M12, unshielded, 16 mm, DC, 3-wire, PNP NO, IO-Link COM3, 2 m prewired |
| | M12 | Non-flush | 16 mm | IO-Link, PNP | NO | Connector M12 | Brass, nickel plated | - | | COM3 (230.4 kbps) | 70 mm | 48 mm | | Proximity sensor, inductive, nickel-brass, long body, M12, unshielded, 16 mm, DC, 3-wire, PNP NO, IO-Link COM3, M12 connector |
| | M12 | Non-flush | 16 mm | IO-Link, PNP | NO | M12 Pre-wired Smartclick connector | Brass, nickel plated | PVC (oil-resistant) | 0.3 m | COM3 (230.4 kbps) | 69 mm | 48 mm | | Proximity sensor, inductive, nickel-brass long body, M12, unshielded, 16 mm, DC, 3-wire, PNP NO, IO-Link COM3, M12 Smartclick Pig-tail 0.3 m |
| | M18 | Non-flush | 16 mm | IO-Link, PNP | NO | Cable | Brass, nickel plated | PVC (oil-resistant) | 2 m | COM3 (230.4 kbps) | 77 mm | 50 mm | | Proximity sensor, inductive, nickel-brass long body, M18, unshielded, 16 mm, DC, 3-wire, PNP NO, IO-Link COM3, 2 m prewired |
| | M18 | Non-flush | 16 mm | IO-Link, PNP | NO | Connector M12 | Brass, nickel plated | - | | COM3 (230.4 kbps) | 75 mm | 50 mm | | Proximity sensor, inductive, nickel-brass long body, M18, unshielded, 16 mm, DC, 3-wire, PNP NO, IO-Link COM3, M12 connector |
| | M18 | Non-flush | 16 mm | IO-Link, PNP | NO | M12 Pre-wired Smartclick connector | Brass, nickel plated | PVC (oil-resistant) | 0.3 m | COM3 (230.4 kbps) | 77 mm | 50 mm | | Proximity sensor, inductive, nickel-brass long body, M18, unshielded, 16 mm, DC, 3-wire, PNP NO, IO-Link COM3, M12 Smartclick Pig-tail 0.3 m |
| | M12 | Non-flush | 16 mm | PNP | NC | Connector M12 | Brass, nickel plated | - | | | 48 mm | 33 mm | | Proximity sensor, inductive, nickel-brass, short body, M12, unshielded, 16 mm, DC, 3-wire, PNP NC, M12 connector |
| | M18 | Non-flush | | PNP | NC | Cable | Brass, nickel plated | PVC (oil-resistant) | 2 m | | | | | Proximity sensor, inductive, nickel-brass, short body, M18, unshielded, 16 mm, DC, 3-wire, PNP NC, 2 m prewired |
| | M18 | Non-flush | | PNP | NC | Connector M12 | Brass, nickel plated | | | | | | | Proximity sensor, inductive, nickel-brass, short body, M18, unshielded, 16 mm, DC, 3-wire, PNP NC, M12 connector |
| | M18 | Non-flush | | PNP | NC | Cable | Brass, nickel plated | PVC (oil-resistant) | 2 m | | | | | Proximity sensor, inductive, nickel-brass, long body, M18, unshielded, 16 mm, DC, 3-wire, PNP NC, 2 m prewired |
| | M18 | Non-flush | 16 mm | IO-Link, PNP | NO + NC | Cable | Brass, nickel plated | PVC (oil-resistant) | 2 m | COM2 (38.4 kbps) | | | | Proximity sensor, inductive, nickel-brass, short body, M18, unshielded, 16 mm, DC, 3-wire, PNP NONC, IO-Link COM2, 2 m prewired |
| | M18 | Non-flush | 16 mm | IO-Link, PNP | NO + NC | Connector M12 | Brass, nickel plated | - | | COM3 (230.4 kbps) | 53 mm | 28 mm | | Proximity sensor, inductive, nickel-brass, short body, M18, unshielded, 16 mm, DC, 3-wire, PNP NO+NC, IO-Link COM2, M12 connector |
| | M18 | Non-flush | 16 mm | IO-Link, PNP | NO + NC | M12 Pre-wired Smartclick connector | Brass, nickel plated | PVC (oil-resistant) | 0.3 m | COM2 (38.4 kbps) | 55 mm | 28 mm | | Proximity sensor, inductive, nickel-brass, short body, M18, unshielded, 16 mm, DC, 3-wire, PNP NO+NC, IO-Link COM2, M12 Smartclick Pig-tail 0.3 m |
| | M18 | Non-flush | | IO-Link, PNP | NO + NC | Cable | Brass, nickel plated | PVC (oil-resistant) | 2 m | COM2 (38.4 kbps) | | | | Proximity sensor, inductive, nickel-brass, long body, M18, unshielded, 16 mm, DC, 3-wire, PNP NONC, IO-Link COM2, 2 m prewired |
| | M12 | Non-flush | 16 mm | NPN | NO | Connector M12 | Brass, nickel plated | - | | | 48 mm | 26 mm | | Proximity sensor, inductive, nickel-brass, short body, M12, unshielded, 16 mm, DC, 3-wire, NPN NO, M12 connector |
| | M18 | Non-flush | 16 mm | NPN | NO | Cable | Brass, nickel plated | PVC (oil-resistant) | 2 m | | | | | Proximity sensor, inductive, nickel-brass, short body, M18, unshielded, 16 mm, DC, 3-wire, NPN NO, 2 m prewired |
| | M18 | Non-flush | 16 mm | NPN | NO | Connector M12 | Brass, nickel plated | - | | | 53 mm | 28 mm | | Proximity sensor, inductive, nickel-brass, short body, M18, unshielded, 16 mm, DC, 3-wire, NPN NO, M12 connector |
| | M12 | Non-flush | 16 mm | NPN | NC | Cable | Brass, nickel plated | PVC (oil-resistant) | 2 m | | | | | Proximity sensor, inductive, nickel-brass, short body, M12, unshielded, 16 mm, DC, 3-wire, NPN NC, 2 m prewired |
| | M18 | Non-flush | 16 mm | NPN | NC | Connector M12 | Brass, nickel plated | | | | | | | Proximity sensor, inductive, nickel-brass, short body, M18, unshielded, 16 mm, DC, 3-wire, NPN NC, M12 connector |
| | M18 | Non-flush | 16 mm | NPN | NO + NC | Connector M12 | Brass, nickel plated | | | | | | | Proximity sensor, inductive, nickel-brass, short body, M18, unshielded, 16 mm, DC, 3-wire, NPN NO+NC, M12 connector |
| | M8 | Flush | 1.5 mm | IO-Link, PNP | NO | Connector M12 | Stainless steel | - | | COM3 (230.4 kbps) | 43 mm | 22 mm | | Proximity sensor, inductive, SUS short body, M8, shielded, 1.5 mm, DC, 3-wire, PNP NO, IO-Link COM3, M12 connector |
| | M8 | Flush | 1.5 mm | 2-wire | NO | M12 Pre-wired Smartclick connector | Stainless steel | PVC (oil-resistant reinforced) | 0.3 m | | 38 mm | 26 mm | | Proximity sensor, inductive, brass-nickel, M8, shielded, 1.5 mm, NO, 0.3 m pig-tail, DC 2-wire |
| | M8 | Flush | 1.5 mm | 2-wire | NO | M12 Pre-wired Smartclick connector | Stainless steel | PVC (oil-resistant reinforced) | 0.3 m | | 38 mm | 26 mm | | Proximity sensor, inductive, brass-nickel, M8, shielded, 1.5 mm, NO, 0.3 m pig-tail, DC 2-wire, no polarity |
| | M8 | Flush | 1.5 mm | 2-wire | NO | Cable | Stainless steel | PVC (oil-resistant reinforced) | 2 m | | 38 mm | 26 mm | | Proximity sensor, inductive, brass-nickel, M8, shielded, 1.5 mm, NO, 2 m cable, DC 2-wire |
| | M8 | Flush | 1.5 mm | 2-wire | NO | Cable | Stainless steel | PVC (oil-resistant reinforced) | 2 m | | 38 mm | 26 mm | Flexible cable | Proximity sensor, inductive, brass-nickel, M8, shielded, 1.5 mm, NO, 2 m cable robotic, DC 2-wire |
| | M8 | Flush | 1.5 mm | 2-wire | NO | Cable | Stainless steel | PVC (oil-resistant reinforced) | 2 m | | 38 mm | 26 mm | | Proximity sensor, inductive, brass-nickel, M8, shielded, 1.5 mm, NO, 2 m cable, DC 2-wire, no polarity |
| | M8 | Flush | 1.5 mm | 2-wire | NO | Cable | Stainless steel | PVC (oil-resistant reinforced) | 2 m | | 38 mm | 26 mm | Flexible cable | Proximity sensor, inductive, brass-nickel, M8, shielded, 1.5 mm, NO, 2 m cable robotic, DC 2-wire, no polarity |
| | M8 | Flush | 1.5 mm | 2-wire | NC | M12 Pre-wired Smartclick connector | Stainless steel | PVC (oil-resistant reinforced) | 0.3 m | | 38 mm | 26 mm | | Proximity sensor, inductive, brass-nickel, M8, shielded, 1.5 mm, NC, 0.3 m pig-tail, DC 2-wire |
| | M8 | Flush | 1.5 mm | 2-wire | NC | M12 Pre-wired Smartclick connector | Stainless steel | PVC (oil-resistant reinforced) | 0.3 m | | 38 mm | 26 mm | | Proximity sensor, inductive, brass-nickel, M8, shielded, 1.5 mm, NC, 0.3 m pig-tail, DC 2-wire, no polarity |
| | M8 | Flush | 1.5 mm | 2-wire | NC | Cable | Stainless steel | PVC (oil-resistant reinforced) | 2 m | | 38 mm | 26 mm | | Proximity sensor, inductive, brass-nickel, M8, shielded, 1.5 mm, NC, 2 m cable, DC 2-wire |
| | M8 | Flush | 1.5 mm | 2-wire | NC | Cable | Stainless steel | PVC (oil-resistant reinforced) | 2 m | | 38 mm | 26 mm | Flexible cable | Proximity sensor, inductive, brass-nickel, M8, shielded, 1.5 mm, NC, 2 m cable robotic, DC 2-wire |
| | M8 | Flush | 1.5 mm | 2-wire | NC | Cable | Stainless steel | PVC (oil-resistant reinforced) | 2 m | | 38 mm | 26 mm | | Proximity sensor, inductive, brass-nickel, M8, shielded, 1.5 mm, NC, 2 m cable, DC 2-wire, no polarity |
| | M8 | Flush | 1.5 mm | 2-wire | NC | Cable | Stainless steel | PVC (oil-resistant reinforced) | 2 m | | 38 mm | 26 mm | Flexible cable | Proximity sensor, inductive, brass-nickel, M8, shielded, 1.5 mm, NC, 2 m cable robotic, DC 2-wire, no polarity |
| | M30 | Flush | 20 mm | 2-wire | NO | Cable | Brass, nickel plated | PVC (oil-resistant reinforced) | 2 m | | 60 mm | 38 mm | | Proximity sensor, inductive, brass-nickel, M30, shielded, 20 mm, NO, 2 m cable, DC 2-wire |
| | M30 | Flush | 20 mm | 2-wire | NO | M12 Pre-wired Smartclick connector | Brass, nickel plated | PVC (oil-resistant reinforced) | 0.3 m | | 60 mm | 38 mm | | Proximity sensor, inductive, brass-nickel, M30, shielded, 20 mm, NO, 0.3 m pig-tail, DC 2-wire |
| | M30 | Flush | 20 mm | 2-wire | NO | M12 Pre-wired Smartclick connector | Brass, nickel plated | PVC (oil-resistant reinforced) | 0.3 m | | 60 mm | 38 mm | | Proximity sensor, inductive, brass-nickel, M30, shielded, 20 mm, NO, 0.3 m pig-tail, DC 2-wire, no polarity |
| | M30 | Flush | 20 mm | 2-wire | NO | Cable | Brass, nickel plated | PVC (oil-resistant reinforced) | 2 m | | 60 mm | 38 mm | Flexible cable | Proximity sensor, inductive, brass-nickel, M30, shielded, 20 mm, NO, 2 m cable robotic, DC 2-wire |
| | M30 | Flush | 20 mm | 2-wire | NO | Cable | Brass, nickel plated | PVC (oil-resistant reinforced) | 2 m | | 60 mm | 38 mm | | Proximity sensor, inductive, brass-nickel, M30, shielded, 20 mm, NO, 2 m cable, DC 2-wire, no polarity |
| | M30 | Flush | 20 mm | 2-wire | NO | Cable | Brass, nickel plated | PVC (oil-resistant reinforced) | 2 m | | 60 mm | 38 mm | Flexible cable | Proximity sensor, inductive, brass-nickel, M30, shielded, 20 mm, NO, 2 m cable robotic, DC 2-wire, no polarity |
| | M30 | Flush | 20 mm | 2-wire | NC | Cable | Brass, nickel plated | PVC (oil-resistant reinforced) | 2 m | | 60 mm | 38 mm | | Proximity sensor, inductive, brass-nickel, M30, shielded, 20 mm, NC, 2 m cable, DC 2-wire |
| | M30 | Flush | 20 mm | 2-wire | NC | M12 Pre-wired Smartclick connector | Brass, nickel plated | PVC (oil-resistant reinforced) | 0.3 m | | 60 mm | 38 mm | | Proximity sensor, inductive, brass-nickel, M30, shielded, 20 mm, NC, 0.3 m pig-tail, DC 2-wire |
| | M30 | Flush | 20 mm | 2-wire | NC | M12 Pre-wired Smartclick connector | Brass, nickel plated | PVC (oil-resistant reinforced) | 0.3 m | | 60 mm | 38 mm | | Proximity sensor, inductive, brass-nickel, M30, shielded, 20 mm, NC, 0.3 m pig-tail, DC 2-wire, no polarity |
| | M30 | Flush | 20 mm | 2-wire | NC | Cable | Brass, nickel plated | PVC (oil-resistant reinforced) | 2 m | | 60 mm | 38 mm | Flexible cable | Proximity sensor, inductive, brass-nickel, M30, shielded, 20 mm, NC, 2 m cable robotic, DC 2-wire |
| | M30 | Flush | 20 mm | 2-wire | NC | Cable | Brass, nickel plated | PVC (oil-resistant reinforced) | 2 m | | 60 mm | 38 mm | | Proximity sensor, inductive, brass-nickel, M30, shielded, 20 mm, NC, 2 m cable, DC 2-wire, no polarity |
| | M30 | Flush | 20 mm | 2-wire | NC | Cable | Brass, nickel plated | PVC (oil-resistant reinforced) | 2 m | | 60 mm | 38 mm | Flexible cable | Proximity sensor, inductive, brass-nickel, M30, shielded, 20 mm, NC, 2 m cable robotic, DC 2-wire, no polarity |
| | M18 | Non-flush | 20 mm | IO-Link, PNP | NO | Cable | Brass, nickel plated | PVC (oil-resistant) | 2 m | COM3 (230.4 kbps) | 77 mm | 47 mm | | Proximity sensor, inductive, nickel-brass long body, M18, unshielded, 20 mm, DC, 3-wire, PNP NO, IO-Link COM3, 2 m prewired |
| | M18 | Non-flush | 20 mm | IO-Link, PNP | NO | Connector M12 | Brass, nickel plated | - | | COM3 (230.4 kbps) | 75 mm | 47 mm | | Proximity sensor, inductive, nickel-brass long body, M18, unshielded, 20 mm, DC, 3-wire, PNP NO, IO-Link COM3, M12 connector |
| | M18 | Non-flush | 20 mm | IO-Link, PNP | NO | M12 Pre-wired Smartclick connector | Brass, nickel plated | PVC (oil-resistant) | 0.3 m | COM3 (230.4 kbps) | 77 mm | 47 mm | | Proximity sensor, inductive, nickel-brass long body, M18, unshielded, 20 mm, DC, 3-wire, PNP NO, IO-Link COM3, M12 Smartclick Pig-tail 0.3 m |
| | M18 | Non-flush | 20 mm | IO-Link, PNP | NO | Cable | Brass, nickel plated | PVC (oil-resistant) | 2 m | COM3 (230.4 kbps) | 77 mm | 47 mm | Flexible cable | Proximity sensor, inductive, nickel-brass long body, M18, unshielded, 20 mm, DC, 3-wire, PNP NO, IO-Link COM3, 2 m prewired robotic cable |
| | M18 | Non-flush | 20 mm | IO-Link, PNP | NO + NC | Cable | Brass, nickel plated | PVC (oil-resistant) | 2 m | COM2 (38.4 kbps) | 77 mm | 47 mm | | Proximity sensor, inductive, nickel-brass, long body, M18, unshielded, 20 mm, DC, 3-wire, PNP NO+NC, IO-Link COM2, 2 m prewired |
| | M18 | Non-flush | 20 mm | IO-Link, PNP | NO + NC | Connector M12 | Brass, nickel plated | - | | COM2 (38.4 kbps) | 75 mm | 47 mm | | Proximity sensor, inductive, nickel-brass, long body, M18, unshielded, 20 mm, DC, 3-wire, PNP NONC, IO-Link COM2, M12 connector |
| | M18 | Non-flush | 20 mm | 2-wire | NO | Cable | Brass, nickel plated | PVC (oil-resistant reinforced) | 2 m | | 77 mm | 47 mm | | Proximity sensor, inductive, brass-nickel, M18, non-shielded, 20 mm, NO, 2 m cable, DC 2-wire |
| | M18 | Non-flush | 20 mm | 2-wire | NO | M12 Pre-wired Smartclick connector | Brass, nickel plated | PVC (oil-resistant reinforced) | 0.3 m | | 77 mm | 47 mm | | Proximity sensor, inductive, brass-nickel, M18, non-shielded, 20 mm, NO, 0.3 m pig-tail, DC 2-wire |
| | M18 | Non-flush | 20 mm | 2-wire | NO | M12 Pre-wired Smartclick connector | Brass, nickel plated | PVC (oil-resistant reinforced) | 0.3 m | | 77 mm | 47 mm | | Proximity sensor, inductive, brass-nickel, M18, non-shielded, 20 mm, NO, 0.3 m pig-tail, DC 2-wire, no polarity |
| | M18 | Non-flush | 20 mm | 2-wire | NO | Cable | Brass, nickel plated | PVC (oil-resistant reinforced) | 2 m | | 77 mm | 47 mm | Flexible cable | Proximity sensor, inductive, brass-nickel, M18, non-shielded, 20 mm, NO, 2 m cable robotic, DC 2-wire |
| | M18 | Non-flush | 20 mm | 2-wire | NO | Cable | Brass, nickel plated | PVC (oil-resistant reinforced) | 2 m | | 77 mm | 47 mm | | Proximity sensor, inductive, brass-nickel, M18, non-shielded, 20 mm, NO, 2 m cable, DC 2-wire, no polarity |
| | M18 | Non-flush | 20 mm | 2-wire | NO | Cable | Brass, nickel plated | PVC (oil-resistant reinforced) | 2 m | | 77 mm | 47 mm | Flexible cable | Proximity sensor, inductive, brass-nickel, M18, non-shielded, 20 mm, NO, 2 m cable robotic, DC 2-wire, no polarity |
| | M18 | Non-flush | 20 mm | 2-wire | NC | Cable | Brass, nickel plated | PVC (oil-resistant reinforced) | 2 m | | 77 mm | 47 mm | | Proximity sensor, inductive, brass-nickel, M18, non-shielded, 20 mm, NC, 2 m cable, DC 2-wire |
| | M18 | Non-flush | 20 mm | 2-wire | NC | M12 Pre-wired Smartclick connector | Brass, nickel plated | PVC (oil-resistant reinforced) | 0.3 m | | 77 mm | 47 mm | | Proximity sensor, inductive, brass-nickel, M18, non-shielded, 20 mm, NC, 0.3 m pig-tail, DC 2-wire |
| | M18 | Non-flush | 20 mm | 2-wire | NC | M12 Pre-wired Smartclick connector | Brass, nickel plated | PVC (oil-resistant reinforced) | 0.3 m | | 77 mm | 47 mm | | Proximity sensor, inductive, brass-nickel, M18, non-shielded, 20 mm, NC, 0.3 m pig-tail, DC 2-wire, no polarity |
| | M18 | Non-flush | 20 mm | 2-wire | NC | Cable | Brass, nickel plated | PVC (oil-resistant reinforced) | 2 m | | 77 mm | 47 mm | Flexible cable | Proximity sensor, inductive, brass-nickel, M18, non-shielded, 20 mm, NC, 2 m cable robotic, DC 2-wire |
| | M18 | Non-flush | 20 mm | 2-wire | NC | Cable | Brass, nickel plated | PVC (oil-resistant reinforced) | 2 m | | 77 mm | 47 mm | | Proximity sensor, inductive, brass-nickel, M18, non-shielded, 20 mm, NC, 2 m cable, DC 2-wire, no polarity |
| | M18 | Non-flush | 20 mm | 2-wire | NC | Cable | Brass, nickel plated | PVC (oil-resistant reinforced) | 2 m | | 77 mm | 47 mm | Flexible cable | Proximity sensor, inductive, brass-nickel, M18, non-shielded, 20 mm, NC, 2 m cable robotic, DC 2-wire, no polarity |
| | M30 | Quasi-flush | 22 mm | IO-Link, PNP | NO | Cable | Brass, nickel plated | PVC (oil-resistant) | 2 m | COM3 (230.4 kbps) | 60 mm | 39 mm | | Proximity sensor, inductive, nickel-brass, short body, M30, shielded, 22 mm, DC, 3-wire, PNP NO, IO-Link COM3, 2 m prewired |
| | M30 | Quasi-flush | 22 mm | IO-Link, PNP | NO | Connector M12 | Brass, nickel plated | - | | COM3 (230.4 kbps) | 58 mm | 39 mm | | Proximity sensor, inductive, nickel-brass, short body, M30, shielded, 22 mm, DC, 3-wire, PNP NO, IO-Link COM3, M12 connector |
| | M30 | Quasi-flush | 22 mm | IO-Link, PNP | NO | M12 Pre-wired Smartclick connector | Brass, nickel plated | PVC (oil-resistant) | 0.3 m | COM3 (230.4 kbps) | 60 mm | 39 mm | | Proximity sensor, inductive, nickel-brass, short body, M30, shielded, 22 mm, DC, 3-wire, PNP NO, IO-Link COM3, M12 Smartclick Pig-tail 0.3 m |
| | M30 | Quasi-flush | 22 mm | IO-Link, PNP | NO | Cable | Brass, nickel plated | PVC (oil-resistant) | 2 m | COM3 (230.4 kbps) | 60 mm | 39 mm | Flexible cable | Proximity sensor, inductive, nickel-brass short body, M30, shielded, 22 mm, DC, 3-wire, PNP NO, IO-Link COM3, 2 m prewired robotic cable |
| | M30 | Quasi-flush | 22 mm | IO-Link, PNP | NO | Cable | Brass, nickel plated | PVC (oil-resistant) | 2 m | COM3 (230.4 kbps) | 82 mm | 65 mm | | Proximity sensor, inductive, nickel-brass long body, M30, shielded, 22 mm, DC, 3-wire, PNP NO, IO-Link COM3, 2 m prewired |
| | M30 | Quasi-flush | 22 mm | IO-Link, PNP | NO | Connector M12 | Brass, nickel plated | - | | COM3 (230.4 kbps) | 80 mm | 65 mm | | Proximity sensor, inductive, nickel-brass, long body, M30, shielded, 22 mm, DC, 3-wire, PNP NO, IO-Link COM3, M12 connector |
| | M30 | Quasi-flush | 22 mm | IO-Link, PNP | NO | M12 Pre-wired Smartclick connector | Brass, nickel plated | PVC (oil-resistant) | 0.3 m | COM3 (230.4 kbps) | 82 mm | 65 mm | | Proximity sensor, inductive, nickel-brass long body, M30, shielded, 22 mm, DC, 3-wire, PNP NO, IO-Link COM3, M12 Smartclick Pig-tail 0.3 m |
| | M30 | Quasi-flush | 22 mm | PNP | NC | Cable | Brass, nickel plated | PVC | 2 m | | | | | Proximity sensor, inductive, nickel-brass, short body, M30, shielded, 22 mm, DC, 3-wire, PNP NC, 2 m prewired |
| | M30 | Quasi-flush | 22 mm | PNP | NC | Connector M12 | Brass, nickel plated | | | | | | | Proximity sensor, inductive, nickel-brass, short body, M30, shielded, 22 mm, DC, 3-wire, PNP NC, M12 connector |
| | M30 | Quasi-flush | 22 mm | IO-Link, PNP | NO + NC | Connector M12 | Brass, nickel plated | - | | COM2 (38.4 kbps) | 58 mm | 39 mm | | Proximity sensor, inductive, nickel-brass, short body, M30, shielded, 22 mm, DC, 3-wire, PNP NO+NC, IO-Link COM2, M12 connector |
| | M30 | Quasi-flush | 22 mm | IO-Link, PNP | NO + NC | Connector M12 | Brass, nickel plated | - | | COM2 (38.4 kbps) | 80 mm | 65 mm | | Proximity sensor, inductive, nickel-brass, long body, M30, shielded, 22 mm, DC, 3-wire, PNP NO+NC, IO-Link COM2, M12 connector |
| | M30 | Quasi-flush | 22 mm | NPN | NO | Cable | Brass, nickel plated | PVC (oil-resistant) | 2 m | | 60 mm | 39 mm | | Proximity sensor, inductive, nickel-brass, short body, M30, shielded, 22 mm, DC, 3-wire, NPN NO, 2 m prewired |
| | M30 | Quasi-flush | 22 mm | NPN | NO | Connector M12 | Brass, nickel plated | - | | | 58 mm | 39 mm | | Proximity sensor, inductive, nickel-brass, short body, M30, shielded, 22 mm, DC, 3-wire, NPN NO, M12 connector |
| | M30 | Quasi-flush | 22 mm | NPN | NC | Cable | Brass, nickel plated | PVC (oil-resistant) | 2 m | | 60 mm | 38 mm | | Proximity sensor, inductive, nickel-brass, short body, M30, shielded, 22 mm, DC, 3-wire, NPN NC, 2 m prewired |
| | M30 | Quasi-flush | 22 mm | NPN | NC | Connector M12 | Brass, nickel plated | - | | | 60 mm | 38 mm | | Proximity sensor, inductive, nickel-brass, short body, M30, shielded, 22 mm, DC, 3-wire, NPN NC, M12 connector |
| | M30 | Quasi-flush | 23 mm | IO-Link, PNP | NO/NC switching | Connector M12 | Brass, nickel plated | | | COM2 (38.4 kbps) | | | | Proximity sensor, inductive, nickel-brass, short body, M30, shielded, 23 mm, DC, 3-wire, PNP NO, IO-Link COM2, M12 connector |
| | M30 | Quasi-flush | 23 mm | IO-Link, PNP | NO | Cable | Brass, nickel plated | PVC (oil-resistant) | 2 m | COM3 (230.4 kbps) | 60 mm | 39 mm | | Proximity sensor, inductive, nickel-brass, short body, M30, shielded, 23 mm, DC, 3-wire, PNP NO, IO-Link COM3, 2 m prewired |
| | M30 | Quasi-flush | 23 mm | IO-Link, PNP | NO | Connector M12 | Brass, nickel plated | - | | COM3 (230.4 kbps) | 58 mm | 39 mm | | Proximity sensor, inductive, nickel-brass, short body, M30, shielded, 23 mm, DC, 3-wire, PNP NO, IO-Link COM3, M12 connector |
| | M30 | Quasi-flush | 23 mm | IO-Link, PNP | NO | M12 Pre-wired Smartclick connector | Brass, nickel plated | PVC (oil-resistant) | 0.3 m | COM3 (230.4 kbps) | 60 mm | 39 mm | | Proximity sensor, inductive, nickel-brass, short body, M30, shielded, 23 mm, DC, 3-wire, PNP NO, IO-Link COM3, M12 Smartclick Pig-tail 0.3 m |
| | M30 | Quasi-flush | 23 mm | IO-Link, PNP | NO | Cable | Brass, nickel plated | PVC (oil-resistant) | 2 m | COM3 (230.4 kbps) | 60 mm | 39 mm | Flexible cable | Proximity sensor, inductive, nickel-brass short body, M30, shielded, 23 mm, DC, 3-wire, PNP NO, IO-Link COM3, 2 m prewired robotic cable |
| | M30 | Quasi-flush | 23 mm | IO-Link, PNP | NO | Cable | Brass, nickel plated | PVC (oil-resistant) | 2 m | COM3 (230.4 kbps) | 82 mm | 65 mm | | Proximity sensor, inductive, nickel-brass long body, M30, shielded, 23 mm, DC, 3-wire, PNP NO, IO-Link COM3, 2 m prewired |
| | M30 | Quasi-flush | 23 mm | IO-Link, PNP | NO | Connector M12 | Brass, nickel plated | - | | COM3 (230.4 kbps) | 80 mm | 65 mm | | Proximity sensor, inductive, nickel-brass, long body, M30, shielded, 23 mm, DC, 3-wire, PNP NO, IO-Link COM3, M12 connector |
| | M30 | Quasi-flush | 23 mm | IO-Link, PNP | NO | M12 Pre-wired Smartclick connector | Brass, nickel plated | PVC (oil-resistant) | 0.3 m | COM3 (230.4 kbps) | 82 mm | 65 mm | | Proximity sensor, inductive, nickel-brass long body, M30, shielded, 23 mm, DC, 3-wire, PNP NO, IO-Link COM3, M12 Smartclick Pig-tail 0.3 m |
| | M30 | Quasi-flush | 23 mm | NPN | NO | Connector M12 | Brass, nickel plated | - | | | 58 mm | 39 mm | | Proximity sensor, inductive, nickel-brass, short body, M30, shielded, 23 mm, DC, 3-wire, NPN NO, M12 connector |
| | M30 | Quasi-flush | 23 mm | NPN | NC | Cable | Brass, nickel plated | PVC (oil-resistant) | 2 m | | | | | Proximity sensor, inductive, nickel-brass, short body, M30, shielded, 23 mm, DC, 3-wire, NPN NC, 2 m prewired |
| | M30 | Quasi-flush | 23 mm | NPN | NC | Connector M12 | Brass, nickel plated | | | | | | | Proximity sensor, inductive, nickel-brass, short body, M30, shielded, 23 mm, DC, 3-wire, NPN NC, M12 connector |
| | M30 | Quasi-flush | 23 mm | NPN | NC | Connector M12 | Brass, nickel plated | | | | | | | Proximity sensor, inductive, nickel-brass, long body, M30, shielded, 23 mm, DC, 3-wire, NPN NC, M12 connector |
| | M8 | Flush | 2 mm | IO-Link, PNP | NO/NC switching | Cable | Stainless steel | PVC (oil-resistant) | 2 m | COM2 (38.4 kbps) | | | | Proximity sensor, inductive, short SUS body M8, shielded, 2 mm, DC, 3-wire, PNP NO, IO-Link COM2, 2 m prewired |
| | M8 | Flush | 2 mm | IO-Link, PNP | NO/NC switching | Connector M12 | Stainless steel | | | COM2 (38.4 kbps) | | | | Proximity sensor, inductive, short SUS body M8, shielded, 2 mm, DC, 3-wire, PNP NO, IO-Link COM2, M12 connector 4 pins |
| | M8 | Flush | 2 mm | IO-Link, PNP | NO/NC switching | Connector M12 | Stainless steel | | | COM2 (38.4 kbps) | | | | Proximity sensor, inductive, long SUS body M8, shielded, 2 mm, DC, 3-wire, PNP NO, IO-Link COM2, M12 connector 4 pins |
| | M8 | Flush | 2 mm | IO-Link, PNP | NO | Cable | Stainless steel | PVC (oil-resistant) | 2 m | COM3 (230.4 kbps) | 37.8 mm | 22 mm | | Proximity sensor, inductive, SUS short body, M8, shielded, 2 mm, DC, 3-wire, PNP NO, IO-Link COM3, 2 m prewired |
| | M8 | Flush | 2 mm | IO-Link, PNP | NO | Connector M12 | Stainless steel | - | | COM3 (230.4 kbps) | 43 mm | 22 mm | | Proximity sensor, inductive, SUS short body, M8, shielded, 2 mm, DC, 3-wire, PNP NO, IO-Link COM3, M12 connector |
| | M8 | Flush | 2 mm | IO-Link, PNP | NO | M12 Pre-wired Smartclick connector | Stainless steel | PVC (oil-resistant) | 0.3 m | COM3 (230.4 kbps) | 37.8 mm | 22 mm | | Proximity sensor, inductive, SUS short body, M8, shielded, 2 mm, DC, 3-wire, PNP NO, IO-Link COM3, M12 Smartclick Pig-tail 0.3 m |
| | M8 | Flush | 2 mm | IO-Link, PNP | NO | Connector M8 - 4 pin | Stainless steel | - | | COM3 (230.4 kbps) | 39 mm | 22 mm | | Proximity sensor, inductive, SUS short body, M8, shielded, 2 mm, DC, 3-wire, PNP NO, IO-Link COM3, M8 connector 4 pins |
| | M8 | Flush | 2 mm | IO-Link, PNP | NO | Connector M8 - 3 pin | Stainless steel | - | | COM3 (230.4 kbps) | 39 mm | 22 mm | | Proximity sensor, inductive, SUS short body, M8, shielded, 2 mm, DC, 3-wire, PNP NO, IO-Link COM3, M8 connector 3 pin |
| | M8 | Flush | 2 mm | IO-Link, PNP | NO | Cable | Stainless steel | PVC (oil-resistant) | 2 m | COM3 (230.4 kbps) | 37.8 mm | 22 mm | Flexible cable | Proximity sensor, inductive, SUS body, short body, M8, shielded, 2 mm, DC, 3-wire, PNP NO, IO-Link COM3, 2 m prewired robotic cable |
| | M8 | Flush | 2 mm | IO-Link, PNP | NO | Cable | Stainless steel | PVC (oil-resistant) | 2 m | COM3 (230.4 kbps) | 48 mm | 36 mm | | Proximity sensor, inductive, SUS long body, M8, shielded, 2 mm, DC, 3-wire, PNP NO, IO-Link COM3, 2 m prewired |
| | M8 | Flush | 2 mm | IO-Link, PNP | NO | Connector M12 | Stainless steel | - | | COM3 (230.4 kbps) | 53 mm | 36 mm | | Proximity sensor, inductive, SUS body, long body, M8, shielded, 2 mm, DC, 3-wire, PNP NO, IO-Link COM3, M12 connector |
| | M8 | Flush | 2 mm | IO-Link, PNP | NO | M12 Pre-wired Smartclick connector | Stainless steel | PVC (oil-resistant) | 0.3 m | COM3 (230.4 kbps) | 48 mm | 36 mm | | Proximity sensor, inductive, SUS body, long body, M8, shielded, 2 mm, DC, 3-wire, PNP NO, IO-Link COM3, M12 Smartclick Pig-tail 0.3 m |
| | M8 | Flush | 2 mm | IO-Link, PNP | NO | Connector M8 - 4 pin | Stainless steel | - | | COM3 (230.4 kbps) | 49 mm | 36 mm | | Proximity sensor, inductive, SUS long body, M8, shielded, 2 mm, DC, 3-wire, PNP NO, IO-Link COM3, M8 connector 4 pins |
| | M8 | Flush | 2 mm | IO-Link, PNP | NO | Connector M8 - 3 pin | Stainless steel | - | | COM3 (230.4 kbps) | 49 mm | 36 mm | | Proximity sensor, inductive, SUS long body, M8, shielded, 2 mm, DC, 3-wire, PNP NO, IO-Link COM3, M8 connector 3 pins |
| | M8 | Flush | | PNP | NC | Cable | Stainless steel | PVC (oil-resistant) | 2 m | | | | | Proximity sensor, inductive, short SUS body M8, shielded, 2 mm, DC, 3-wire, PNP NC, 2 m prewired |
| | M8 | Flush | | PNP | NC | Connector M12 | Stainless steel | - | | | 43 mm | 22 mm | | Proximity sensor, inductive, short SUS body M8, shielded, 2 mm, DC, 3-wire, PNP NC, M12 connector |
| | M8 | Flush | | PNP | NC | Connector M8 - 3 pin | Stainless steel | | | | | | | Proximity sensor, inductive, short SUS body M8, shielded, 2 mm, DC, 3-wire, PNP NC, M8 connector 3 pins |
| | M8 | Flush | | PNP | NC | Connector M12 | Stainless steel | | | | | | | Proximity sensor, inductive, long SUS body M8, shielded, 2 mm, DC, 3-wire, PNP NO, M12 connector |
| | M8 | Flush | 2 mm | IO-Link, PNP | NO + NC | Connector M12 | Stainless steel | | | COM2 (38.4 kbps) | | | | Proximity sensor, inductive, long SUS body M8, shielded, 2 mm, DC, 3-wire, PNP NONC, IO-Link COM2, M12 connector 4 pins |
| | M8 | Flush | 2 mm | NPN | NO | Cable | Stainless steel | PVC (oil-resistant) | 2 m | | | | | Proximity sensor, inductive, short SUS body M8, shielded, 2 mm, DC, 3-wire, NPN NO, 2 m prewired |
| | M8 | Flush | 2 mm | NPN | NO | Connector M12 | Stainless steel | - | | | 43 mm | 22 mm | | Proximity sensor, inductive, SUS short body, M8, shielded, 2 mm, DC, 3-wire, NPN NO, M12 connector |
| | M8 | | 2 mm | NPN | NO | Cable | Stainless steel | PVC | 2 m | | | | | Proximity sensor, inductive, long SUS body M8, shielded, 2 mm, DC, 3-wire, NPN NO, 2 m prewired |
| | M8 | Flush | 2 mm | NPN | NC | Connector M12 | Stainless steel | | | | | | | Proximity sensor, inductive, short SUS body M8, shielded, 2 mm, DC, 3-wire, NPN NC, M12 connector |
| | M8 | Flush | 2 mm | NPN | NC | Cable | Stainless steel | PVC (oil-resistant) | 2 m | | | | | Proximity sensor, inductive, long SUS body M8, shielded, 2 mm, DC, 3-wire, NPN NC, 2 m prewired |
| | M12 | Flush | 2.5 mm | 2-wire | NO | M12 Pre-wired Smartclick connector | Brass, nickel plated | PVC (oil-resistant reinforced) | 0.3 m | | 47 mm | 33 mm | | Proximity sensor, inductive, brass-nickel, M12, shielded, 2 mm, NO, 0.3 m pig-tail, DC 2-wire |
| | M12 | Flush | 2.5 mm | 2-wire | NO | M12 Pre-wired Smartclick connector | Brass, nickel plated | PVC (oil-resistant reinforced) | 0.3 m | | 47 mm | 33 mm | | Proximity sensor, inductive, brass-nickel, M12, shielded, 2 mm, NO, 0.3 m pig-tail, DC 2-wire, no polarity |
| | M12 | Flush | 2.5 mm | 2-wire | NO | Cable | Brass, nickel plated | PVC (oil-resistant reinforced) | 2 m | | 47 mm | 33 mm | | Proximity sensor, inductive, brass-nickel, M12, shielded, 2 mm, NO, 2 m cable, DC 2-wire |
| | M12 | Flush | 2.5 mm | 2-wire | NO | Cable | Brass, nickel plated | PVC (oil-resistant reinforced) | 2 m | | 47 mm | 33 mm | Flexible cable | Proximity sensor, inductive, brass-nickel, M12, shielded, 2 mm, NO, 2 m cable robotic, DC 2-wire |
| | M12 | Flush | 2.5 mm | 2-wire | NO | Cable | Brass, nickel plated | PVC (oil-resistant reinforced) | 2 m | | 47 mm | 33 mm | | Proximity sensor, inductive, brass-nickel, M12, shielded, 2 mm, NO, 2 m cable, DC 2-wire, no polarity |
| | M12 | Flush | 2.5 mm | 2-wire | NO | Cable | Brass, nickel plated | PVC (oil-resistant reinforced) | 2 m | | 47 mm | 33 mm | Flexible cable | Proximity sensor, inductive, brass-nickel, M12, shielded, 2 mm, NO, 2 m cable robotic, DC 2-wire, no polarity |
| | M12 | Flush | 2.5 mm | 2-wire | NC | M12 Pre-wired Smartclick connector | Brass, nickel plated | PVC (oil-resistant reinforced) | 0.3 m | | 47 mm | 33 mm | | Proximity sensor, inductive, brass-nickel, M12, shielded, 2 mm, NC, 0.3 m pig-tail, DC 2-wire |
| | M12 | Flush | 2.5 mm | 2-wire | NC | M12 Pre-wired Smartclick connector | Brass, nickel plated | PVC (oil-resistant reinforced) | 0.3 m | | 47 mm | 33 mm | | Proximity sensor, inductive, brass-nickel, M12, shielded, 2 mm, NC, 0.3 m pig-tail, DC 2-wire, no polarity |
| | M12 | Flush | 2.5 mm | 2-wire | NC | Cable | Brass, nickel plated | PVC (oil-resistant reinforced) | 2 m | | 47 mm | 33 mm | | Proximity sensor, inductive, brass-nickel, M12, shielded, 2 mm, NC, 2 m cable, DC 2-wire |
| | M12 | Flush | 2.5 mm | 2-wire | NC | Cable | Brass, nickel plated | PVC (oil-resistant reinforced) | 2 m | | 47 mm | 33 mm | Flexible cable | Proximity sensor, inductive, brass-nickel, M12, shielded, 2 mm, NC, 2 m cable robotic, DC 2-wire |
| | M12 | Flush | 2.5 mm | 2-wire | NC | Cable | Brass, nickel plated | PVC (oil-resistant reinforced) | 2 m | | 47 mm | 33 mm | | Proximity sensor, inductive, brass-nickel, M12, shielded, 2 mm, NC, 2 m cable, DC 2-wire, no polarity |
| | M12 | Flush | 2.5 mm | 2-wire | NC | Cable | Brass, nickel plated | PVC (oil-resistant reinforced) | 2 m | | 47 mm | 33 mm | Flexible cable | Proximity sensor, inductive, brass-nickel, M12, shielded, 2 mm, NC, 2 m cable robotic, DC 2-wire, no polarity |
| | M30 | Non-flush | 30 mm | IO-Link, PNP | NO/NC switching | Cable | Brass, nickel plated | PVC | 2 m | COM2 (38.4 kbps) | | | | Proximity sensor, inductive, nickel-brass, long body, M30, unshielded, 30 mm, DC, 3-wire, PNP NO, IO-Link COM2, 2 m prewired |
| | M30 | Non-flush | 30 mm | IO-Link, PNP | NO/NC switching | Connector M12 | Brass, nickel plated | | | COM2 (38.4 kbps) | | | | Proximity sensor, inductive, nickel-brass, long body, M30, unshielded, 30 mm, DC, 3-wire, PNP NO, IO-Link COM2, M12 connector |
| | M18 | Non-flush | 30 mm | IO-Link, PNP | NO | Cable | Brass, nickel plated | PVC (oil-resistant) | 2 m | COM3 (230.4 kbps) | 77 mm | 47 mm | | Proximity sensor, inductive, nickel-brass long body, M18, unshielded, 30 mm, DC, 3-wire, PNP NO, IO-Link COM3, 2 m prewired |
| | M18 | Non-flush | 30 mm | IO-Link, PNP | NO | Connector M12 | Brass, nickel plated | - | | COM3 (230.4 kbps) | 75 mm | 47 mm | | Proximity sensor, inductive, nickel-brass long body, M18, unshielded, 30 mm, DC, 3-wire, PNP NO, IO-Link COM3, M12 connector |
| | M18 | Non-flush | 30 mm | IO-Link, PNP | NO | M12 Pre-wired Smartclick connector | Brass, nickel plated | PVC (oil-resistant) | 0.3 m | COM3 (230.4 kbps) | 77 mm | 47 mm | | Proximity sensor, inductive, nickel-brass long body, M18, unshielded, 30 mm, DC, 3-wire, PNP NO, IO-Link COM3, M12 Smartclick Pig-tail 0.3 m |
| | M18 | Non-flush | 30 mm | IO-Link, PNP | NO | Cable | Brass, nickel plated | PVC (oil-resistant) | 2 m | COM3 (230.4 kbps) | 77 mm | 47 mm | Flexible cable | Proximity sensor, inductive, nickel-brass long body, M18, unshielded, 30 mm, DC, 3-wire, PNP NO, IO-Link COM3, 2 m prewired robotic cable |
| | M30 | Non-flush | 30 mm | IO-Link, PNP | NO | Cable | Brass, nickel plated | PVC (oil-resistant) | 2 m | COM3 (230.4 kbps) | 82 mm | 55 mm | | Proximity sensor, inductive, nickel-brass long body, M30, unshielded, 30 mm, DC, 3-wire, PNP NO, IO-Link COM3, 2 m prewired |
| | M30 | Non-flush | 30 mm | IO-Link, PNP | NO | Connector M12 | Brass, nickel plated | - | | COM3 (230.4 kbps) | 80 mm | 55 mm | | Proximity sensor, inductive, nickel-brass long body, M30, unshielded, 30 mm, DC, 3-wire, PNP NO, IO-Link COM3, M12 connector |
| | M30 | Non-flush | 30 mm | IO-Link, PNP | NO | M12 Pre-wired Smartclick connector | Brass, nickel plated | PVC (oil-resistant) | 0.3 m | COM3 (230.4 kbps) | 82 mm | 55 mm | | Proximity sensor, inductive, nickel-brass long body, M30, unshielded, 30 mm, DC, 3-wire, PNP NO, IO-Link COM3, M12 Smartclick Pig-tail 0.3 m |
| | M30 | Non-flush | 30 mm | IO-Link, PNP | NO | Cable | Brass, nickel plated | PVC (oil-resistant) | 2 m | COM3 (230.4 kbps) | 82 mm | 55 mm | Flexible cable | Proximity sensor, inductive, nickel-brass long body, M30, unshielded, 30 mm, DC, 3-wire, PNP NO, IO-Link COM3, 2 m prewired robotic cable |
| | M18 | Non-flush | 30 mm | NPN | NO | Connector M12 | Brass, nickel plated | - | | | 75 mm | 47 mm | | Proximity sensor, inductive, nickel-brass, long body, M18, unshielded, 30 mm, DC, 3-wire, NPN NO, M12 connector |
| | M30 | Non-flush | 30 mm | NPN | NO | Cable | Brass, nickel plated | PVC | 2 m | | | | | Proximity sensor, inductive, nickel-brass, long body, M30, unshielded, 30 mm, DC, 3-wire, NPN NO, 2 m prewired |
| | M30 | Non-flush | 30 mm | NPN | NO | Connector M12 | Brass, nickel plated | | | | | | | Proximity sensor, inductive, nickel-brass, long body, M30, unshielded, 30 mm, DC, 3-wire, NPN NO, M12 connector |
| | M8 | Quasi-flush | 3 mm | IO-Link, PNP | NO/NC switching | Connector M12 | Brass, nickel plated | | | COM2 (38.4 kbps) | | | | Proximity sensor, inductive, short brass body M8, shielded, 3 mm, DC, 3-wire, PNP NO, IO-Link COM2, M12 connector 4 pins |
| | M8 | Quasi-flush | 3 mm | IO-Link, PNP | NO/NC switching | Connector M8 - 3 pin | Brass, nickel plated | | | COM2 (38.4 kbps) | | | | Proximity sensor, inductive, short brass body M8, shielded, 3 mm, DC, 3-wire, PNP NO, IO-Link COM2, M8 connector 3 pins |
| | M8 | Quasi-flush | 3 mm | IO-Link, PNP | NO/NC switching | Connector M12 | Brass, nickel plated | | | COM2 (38.4 kbps) | | | | Proximity sensor, inductive, long brass body M8, shielded, 3 mm, DC, 3-wire, PNP NO, IO-Link COM2, M12 connector 4 pins |
| | M8 | Quasi-flush | 3 mm | IO-Link, PNP | NO/NC switching | Connector M8 - 3 pin | Brass, nickel plated | | | COM2 (38.4 kbps) | | | | Proximity sensor, inductive, long brass body M8, shielded, 3 mm, DC, 3-wire, PNP NO, IO-Link COM2, M8 connector 3 pins |
| | M8 | Flush | 3 mm | IO-Link, PNP | NO | Cable | Brass, nickel plated | PVC (oil-resistant) | 2 m | COM3 (230.4 kbps) | 38 mm | 22 mm | | Proximity sensor, inductive, short brass body M8, shielded, 3 mm, DC, 3-wire, PNP NO, IO-Link COM3, 2 m prewired |
| | M8 | Quasi-flush | 3 mm | IO-Link, PNP | NO | Cable | Brass, nickel plated | PVC (oil-resistant) | 5 m | COM3 (230.4 kbps) | 38 mm | 21 mm | | Proximity sensor, inductive, short brass body M8, shielded, 3 mm, DC, 3-wire, PNP NO, IO-Link COM3, 5 m prewired |
| | M8 | Quasi-flush | 3 mm | IO-Link, PNP | NO | Connector M12 | Brass, nickel plated | - | | COM3 (230.4 kbps) | 43 mm | 22 mm | | Proximity sensor, inductive, short brass body M8, shielded, 3 mm, DC, 3-wire, PNP NO, IO-Link COM3, M12 connector |
| | M8 | Quasi-flush | 3 mm | IO-Link, PNP | NO | M12 Pre-wired Smartclick connector | Brass, nickel plated | PVC (oil-resistant) | 0.3 m | COM3 (230.4 kbps) | 38 mm | 22 mm | | Proximity sensor, inductive, short brass body M8, shielded, 3 mm, DC, 3-wire, PNP NO, IO-Link COM3, M12 Smartclick Pig-tail 0.3 m |
| | M8 | Flush | 3 mm | IO-Link, PNP | NO | Connector M8 - 4 pin | Brass, nickel plated | - | | COM3 (230.4 kbps) | 39 mm | 22 mm | | Proximity sensor, inductive, short brass body M8, shielded, 3 mm, DC, 3-wire, PNP NO, IO-Link COM3, M8 connector 4 pins |
| | M8 | Quasi-flush | 3 mm | IO-Link, PNP | NO | Connector M8 - 3 pin | Brass, nickel plated | - | | COM3 (230.4 kbps) | 39 mm | 22 mm | | Proximity sensor, inductive, short brass body M8, shielded, 3 mm, DC, 3-wire, PNP NO, IO-Link COM3, M8 connector 3 pin |
| | M8 | Quasi-flush | 3 mm | IO-Link, PNP | NO | Cable | Brass, nickel plated | PVC (oil-resistant) | 2 m | COM3 (230.4 kbps) | 38 mm | 22 mm | Flexible cable | Proximity sensor, inductive, short brass body M8, shielded, 3 mm, DC, 3-wire, PNP NO, IO-Link COM3, 2 m prewired robotic cable |
| | M8 | Quasi-flush | 3 mm | IO-Link, PNP | NO | Cable | Brass, nickel plated | PVC (oil-resistant) | 2 m | COM3 (230.4 kbps) | 48 mm | 36 mm | | Proximity sensor, inductive, long brass body M8, shielded, 3 mm, DC, 3-wire, PNP NO, IO-Link COM3, 2 m prewired |
| | M8 | Quasi-flush | 3 mm | IO-Link, PNP | NO | Connector M12 | Brass, nickel plated | - | | COM3 (230.4 kbps) | 43 mm | 36 mm | | Proximity sensor, inductive, long brass body M8, shielded, 3 mm, DC, 3-wire, PNP NO, IO-Link COM3, M12 connector |
| | M8 | Quasi-flush | 3 mm | IO-Link, PNP | NO | M12 Pre-wired Smartclick connector | Brass, nickel plated | PVC (oil-resistant) | 0.3 m | COM3 (230.4 kbps) | 48 mm | 36 mm | | Proximity sensor, inductive, long brass body M8, shielded, 3 mm, DC, 3-wire, PNP NO, IO-Link COM3, M12 Smartclick Pig-tail 0.3 m |
| | M8 | Quasi-flush | 3 mm | IO-Link, PNP | NO | Connector M8 - 4 pin | Brass, nickel plated | - | | COM3 (230.4 kbps) | 39 mm | 36 mm | | Proximity sensor, inductive, long brass body M8, shielded, 3 mm, DC, 3-wire, PNP NO, IO-Link COM3, M8 connector 4 pins |
| | M8 | Quasi-flush | 3 mm | IO-Link, PNP | NO | Connector M8 - 3 pin | Brass, nickel plated | - | | COM3 (230.4 kbps) | 39 mm | 36 mm | | Proximity sensor, inductive, long brass body M8, shielded, 3 mm, DC, 3-wire, PNP NO, IO-Link COM3, M8 connector 3 pins |
| | M8 | Flush | 3 mm | PNP | NC | Cable | Brass, nickel plated | PVC (oil-resistant) | 2 m | | | | | Proximity sensor, inductive, short brass body M8, shielded, 3 mm, DC, 3-wire, PNP NC, 2 m prewired |
| | M8 | Flush | 3 mm | PNP | NC | Connector M12 | Brass, nickel plated | | | | | | | Proximity sensor, inductive, short brass body M8, shielded, 3 mm, DC, 3-wire, PNP NC, M12 connector |
| | M8 | Flush | 3 mm | PNP | NC | Connector M8 - 3 pin | Brass, nickel plated | | | | | | | Proximity sensor, inductive, short brass body M8, shielded, 3 mm, DC, 3-wire, PNP NC, M8 connector 3 pins |
| | M8 | Quasi-flush | 3 mm | NPN | NO | Cable | Brass, nickel plated | PVC (oil-resistant) | 2 m | | 38 mm | 21 mm | | Proximity sensor, inductive, short brass body M8, shielded, 3 mm, DC, 3-wire, NPN NO, 2 m prewired |
| | M8 | Quasi-flush | 3 mm | NPN | NO | Connector M12 | Brass, nickel plated | - | | | 43 mm | 33 mm | | Proximity sensor, inductive, short brass body M8, shielded, 3 mm, DC, 3-wire, NPN NO, M12 connector |
| | M8 | Quasi-flush | 3 mm | NPN | NO | Connector M8 - 3 pin | Brass, nickel plated | - | | | 39 mm | 33 mm | | Proximity sensor, inductive, short brass body M8, shielded, 3 mm, DC, 3-wire, NPN NO, M8 connector 3 pins |
| | M8 | Quasi-flush | 3 mm | NPN | NC | Connector M12 | Brass, nickel plated | - | | | 43 mm | 21 mm | | Proximity sensor, inductive, short brass body M8, shielded, 3 mm, DC, 3-wire, NPN NC, M12 connector |
| | M8 | Quasi-flush | 3 mm | NPN | NC | Connector M8 - 3 pin | Brass, nickel plated | - | | | 39 mm | 21 mm | | Proximity sensor, inductive, short brass body M8, shielded, 3 mm, DC, 3-wire, NPN NC, M8 connector 3 pins |
| | M8 | Flush | 3 mm | 2-wire | NO | Cable | Brass, nickel plated | PVC (oil-resistant reinforced) | 2 m | | 38 mm | 21 mm | | Proximity sensor, inductive, brass-nickel, M8, shielded, 3 mm, NO, 2 m cable, DC 2-wire |
| | M8 | Flush | 3 mm | 2-wire | NO | M12 Pre-wired Smartclick connector | Brass, nickel plated | PVC (oil-resistant reinforced) | 0.3 m | | 38 mm | 21 mm | | Proximity sensor, inductive, brass-nickel, M8, shielded, 3 mm, NO, 0.3 m pig-tail, DC 2-wire |
| | M8 | Flush | 3 mm | 2-wire | NO | M12 Pre-wired Smartclick connector | Brass, nickel plated | PVC (oil-resistant reinforced) | 0.3 m | | 38 mm | 21 mm | | Proximity sensor, inductive, brass-nickel, M8, shielded, 3 mm, NO, 0.3 m pig-tail, DC 2-wire, no polarity |
| | M8 | Flush | 3 mm | 2-wire | NO | Cable | Brass, nickel plated | PVC (oil-resistant reinforced) | 2 m | | 38 mm | 21 mm | Flexible cable | Proximity sensor, inductive, brass-nickel, M8, shielded, 3 mm, NO, 2 m cable robotic, DC 2-wire |
| | M8 | Flush | 3 mm | 2-wire | NO | Cable | Brass, nickel plated | PVC (oil-resistant reinforced) | 2 m | | 38 mm | 21 mm | | Proximity sensor, inductive, brass-nickel, M8, shielded, 3 mm, NO, 2 m cable, DC 2-wire, no polarity |
| | M8 | Flush | 3 mm | 2-wire | NO | Cable | Brass, nickel plated | PVC (oil-resistant reinforced) | 2 m | | 38 mm | 21 mm | Flexible cable | Proximity sensor, inductive, brass-nickel, M8, shielded, 3 mm, NO, 2 m cable robotic, DC 2-wire, no polarity |
| | M8 | Flush | 3 mm | 2-wire | NC | Cable | Brass, nickel plated | PVC (oil-resistant reinforced) | 2 m | | 38 mm | 21 mm | | Proximity sensor, inductive, brass-nickel, M8, shielded, 3 mm, NC, 2 m cable, DC 2-wire |
| | M8 | Flush | 3 mm | 2-wire | NC | M12 Pre-wired Smartclick connector | Brass, nickel plated | PVC (oil-resistant reinforced) | 0.3 m | | 38 mm | 21 mm | | Proximity sensor, inductive, brass-nickel, M8, shielded, 3 mm, NC, 0.3 m pig-tail, DC 2-wire |
| | M8 | Flush | 3 mm | 2-wire | NC | M12 Pre-wired Smartclick connector | Brass, nickel plated | PVC (oil-resistant reinforced) | 0.3 m | | 38 mm | 21 mm | | Proximity sensor, inductive, brass-nickel, M8, shielded, 3 mm, NC, 0.3 m pig-tail, DC 2-wire, no polarity |
| | M8 | Flush | 3 mm | 2-wire | NC | Cable | Brass, nickel plated | PVC (oil-resistant reinforced) | 2 m | | 38 mm | 21 mm | Flexible cable | Proximity sensor, inductive, brass-nickel, M8, shielded, 3 mm, NC, 2 m cable robotic, DC 2-wire |
| | M8 | Flush | 3 mm | 2-wire | NC | Cable | Brass, nickel plated | PVC (oil-resistant reinforced) | 2 m | | 38 mm | 21 mm | | Proximity sensor, inductive, brass-nickel, M8, shielded, 3 mm, NC, 2 m cable, DC 2-wire, no polarity |
| | M8 | Flush | 3 mm | 2-wire | NC | Cable | Brass, nickel plated | PVC (oil-resistant reinforced) | 2 m | | 38 mm | 21 mm | Flexible cable | Proximity sensor, inductive, brass-nickel, M8, shielded, 3 mm, NC, 2 m cable robotic, DC 2-wire, no polarity |
| | M8 | Flush | 3 mm | 2-wire | NC | Cable | Brass, nickel plated | PVC (oil-resistant reinforced) | 5 m | | 38 mm | 21 mm | Flexible cable | Proximity sensor, inductive, brass-nickel, M8, shielded, 3 mm, NC, 5 m cable robotic, DC 2-wire, no polarity |
| | M30 | Non-flush | 40 mm | IO-Link, PNP | NO | Cable | Brass, nickel plated | PVC (oil-resistant) | 2 m | COM3 (230.4 kbps) | 82 mm | 50 mm | | Proximity sensor, inductive, nickel-brass long body, M30, unshielded, 40 mm, DC, 3-wire, PNP NO, IO-Link COM3, 2 m prewired |
| | M30 | Non-flush | 40 mm | IO-Link, PNP | NO | Connector M12 | Brass, nickel plated | - | | COM3 (230.4 kbps) | 80 mm | 50 mm | | Proximity sensor, inductive, nickel-brass long body, M30, unshielded, 40 mm, DC, 3-wire, PNP NO, IO-Link COM3, M12 connector |
| | M30 | Non-flush | 40 mm | IO-Link, PNP | NO | M12 Pre-wired Smartclick connector | Brass, nickel plated | PVC (oil-resistant) | 0.3 m | COM3 (230.4 kbps) | 82 mm | 50 mm | | Proximity sensor, inductive, nickel-brass long body, M30, unshielded, 40 mm, DC, 3-wire, PNP NO, IO-Link COM3, M12 Smartclick Pig-tail 0.3 m |
| | M30 | Non-flush | 40 mm | IO-Link, PNP | NO | Cable | Brass, nickel plated | PVC (oil-resistant) | 2 m | COM3 (230.4 kbps) | 82 mm | 50 mm | Flexible cable | Proximity sensor, inductive, nickel-brass long body, M30, unshielded, 40 mm, DC, 3-wire, PNP NO, IO-Link COM3, 2 m prewired robotic cable |
| | M30 | Non-flush | 40 mm | 2-wire | NO | Cable | Brass, nickel plated | PVC (oil-resistant reinforced) | 2 m | | 82 mm | 50 mm | | Proximity sensor, inductive, brass-nickel, M30, non-shielded, 40 mm, NO, 2 m cable, DC 2-wire |
| | M30 | Non-flush | 40 mm | 2-wire | NO | M12 Pre-wired Smartclick connector | Brass, nickel plated | PVC (oil-resistant reinforced) | 0.3 m | | 82 mm | 50 mm | | Proximity sensor, inductive, brass-nickel, M30, non-shielded, 40 mm, NO, 0.3 m pig-tail, DC 2-wire |
| | M30 | Non-flush | 40 mm | 2-wire | NO | M12 Pre-wired Smartclick connector | Brass, nickel plated | PVC (oil-resistant reinforced) | 0.3 m | | 82 mm | 50 mm | | Proximity sensor, inductive, brass-nickel, M30, non-shielded, 40 mm, NO, 0.3 m pig-tail, DC 2-wire, no polarity |
| | M30 | Non-flush | 40 mm | 2-wire | NO | Cable | Brass, nickel plated | PVC (oil-resistant reinforced) | 2 m | | 82 mm | 50 mm | Flexible cable | Proximity sensor, inductive, brass-nickel, M30, non-shielded, 40 mm, NO, 2 m cable robotic, DC 2-wire |
| | M30 | Non-flush | 40 mm | 2-wire | NO | Cable | Brass, nickel plated | PVC (oil-resistant reinforced) | 2 m | | 82 mm | 50 mm | | Proximity sensor, inductive, brass-nickel, M30, non-shielded, 40 mm, NO, 2 m cable, DC 2-wire, no polarity |
| | M30 | Non-flush | 40 mm | 2-wire | NO | Cable | Brass, nickel plated | PVC (oil-resistant reinforced) | 2 m | | 82 mm | 50 mm | Flexible cable | Proximity sensor, inductive, brass-nickel, M30, non-shielded, 40 mm, NO, 2 m cable robotic, DC 2-wire, no polarity |
| | M30 | Non-flush | 40 mm | 2-wire | NC | Cable | Brass, nickel plated | PVC (oil-resistant reinforced) | 2 m | | 82 mm | 50 mm | | Proximity sensor, inductive, brass-nickel, M30, non-shielded, 40 mm, NC, 2 m cable, DC 2-wire |
| | M30 | Non-flush | 40 mm | 2-wire | NC | M12 Pre-wired Smartclick connector | Brass, nickel plated | PVC (oil-resistant reinforced) | 0.3 m | | 82 mm | 50 mm | | Proximity sensor, inductive, brass-nickel, M30, non-shielded, 40 mm, NC, 0.3 m pig-tail, DC 2-wire |
| | M30 | Non-flush | 40 mm | 2-wire | NC | M12 Pre-wired Smartclick connector | Brass, nickel plated | PVC (oil-resistant reinforced) | 0.3 m | | 82 mm | 50 mm | | Proximity sensor, inductive, brass-nickel, M30, non-shielded, 40 mm, NC, 0.3 m pig-tail, DC 2-wire, no polarity |
| | M30 | Non-flush | 40 mm | 2-wire | NC | Cable | Brass, nickel plated | PVC (oil-resistant reinforced) | 2 m | | 82 mm | 50 mm | Flexible cable | Proximity sensor, inductive, brass-nickel, M30, non-shielded, 40 mm, NC, 2 m cable robotic, DC 2-wire |
| | M30 | Non-flush | 40 mm | 2-wire | NC | Cable | Brass, nickel plated | PVC (oil-resistant reinforced) | 2 m | | 82 mm | 50 mm | | Proximity sensor, inductive, brass-nickel, M30, non-shielded, 40 mm, NC, 2 m cable, DC 2-wire, no polarity |
| | M30 | Non-flush | 40 mm | 2-wire | NC | Cable | Brass, nickel plated | PVC (oil-resistant reinforced) | 2 m | | 82 mm | 50 mm | Flexible cable | Proximity sensor, inductive, brass-nickel, M30, non-shielded, 40 mm, NC, 2 m cable robotic, DC 2-wire, no polarity |
| | M12 | Quasi-flush | 4 mm | IO-Link, PNP | NO/NC switching | Cable | Brass, nickel plated | PVC (oil-resistant) | 2 m | COM2 (38.4 kbps) | | | | Proximity sensor, inductive, nickel-brass, short body, M12, shielded, 4 mm, DC, 3-wire, PNP NO, IO-Link COM2, 2 m prewired |
| | M8 | Quasi-flush | 4 mm | IO-Link, PNP | NO/NC switching | Connector M12 | Brass, nickel plated | | | COM2 (38.4 kbps) | | | | Proximity sensor, inductive, nickel-brass, short body, M12, shielded, 4 mm, DC, 3-wire, PNP NO, IO-Link COM2, M12 connector |
| | M12 | Flush | 4 mm | IO-Link, PNP | NO | Cable | Brass, nickel plated | PVC (oil-resistant) | 2 m | COM3 (230.4 kbps) | 47 mm | 29 mm | | Proximity sensor, inductive, nickel-brass, short body, M12, shielded, 4 mm, DC, 3-wire, PNP NO, IO-Link COM3, 2 m prewired |
| | M12 | Flush | 4 mm | IO-Link, PNP | NO | Connector M12 | Brass, nickel plated | - | | COM3 (230.4 kbps) | 48 mm | 29 mm | | Proximity sensor, inductive, nickel-brass, short body, M12, shielded, 4 mm, DC, 3-wire, PNP NO, IO-Link COM3, M12 connector |
| | M12 | Flush | 4 mm | IO-Link, PNP | NO | M12 Pre-wired Smartclick connector | Brass, nickel plated | PVC (oil-resistant) | 0.3 m | COM3 (230.4 kbps) | 47 mm | 29 mm | | Proximity sensor, inductive, nickel-brass, short body, M12, shielded, 4 mm, DC, 3-wire, PNP NO, IO-Link COM3, M12 Smartclick Pig-tail 0.3 m |
| | M12 | Quasi-flush | 4 mm | IO-Link, PNP | NO | M12 Pre-wired Smartclick connector | Brass, nickel plated | PVC (oil-resistant) | 0.3 m | COM3 (230.4 kbps) | 47 mm | 29 mm | Flexible cable | Proximity sensor, inductive, nickel-brass, short body, M12, shielded, 4 mm, DC, 3-wire, PNP NO, IO-Link COM3, M12 Smartclick Pig-tail 0.3 m robotic cable |
| | M12 | Quasi-flush | 4 mm | IO-Link, PNP | NO | Cable | Brass, nickel plated | PVC (oil-resistant) | 2 m | COM3 (230.4 kbps) | 47 mm | 29 mm | Flexible cable | Proximity sensor, inductive, nickel-brass short body, M12, shielded, 4 mm, DC, 3-wire, PNP NO, IO-Link COM3, 2 m prewired robotic cable |
| | M8 | Quasi-flush | 4 mm | IO-Link, PNP | NO | Cable | Brass, nickel plated | PVC (oil-resistant) | 2 m | COM3 (230.4 kbps) | 37.8 mm | 22 mm | | Proximity sensor, inductive, short brass body M8, shielded, 4 mm, DC, 3-wire, PNP NO, IO-Link COM3, 2 m prewired |
| | M8 | Quasi-flush | 4 mm | IO-Link, PNP | NO | Connector M12 | Brass, nickel plated | - | | COM3 (230.4 kbps) | 43 mm | 22 mm | | Proximity sensor, inductive, short brass body M8, shielded, 4 mm, DC, 3-wire, PNP NO, IO-Link COM3, M12 connector |
| | M8 | Quasi-flush | 4 mm | IO-Link, PNP | NO | M12 Pre-wired Smartclick connector | Brass, nickel plated | PVC (oil-resistant) | 0.3 m | COM3 (230.4 kbps) | 37.8 mm | 22 mm | | Proximity sensor, inductive, short brass body M8, shielded, 4 mm, DC, 3-wire, PNP NO, IO-Link COM3, M12 Smartclick Pig-tail 0.3 m |
| | M8 | Quasi-flush | 4 mm | IO-Link, PNP | NO | Connector M8 - 4 pin | Brass, nickel plated | - | | COM3 (230.4 kbps) | 39 mm | 22 mm | | Proximity sensor, inductive, short brass body M8, shielded, 4 mm, DC, 3-wire, PNP NO, IO-Link COM3, M8 connector 4 pins |
| | M8 | Quasi-flush | 4 mm | IO-Link, PNP | NO | Connector M8 - 3 pin | Brass, nickel plated | - | | COM3 (230.4 kbps) | 39 mm | 22 mm | | Proximity sensor, inductive, short brass body M8, shielded, 4 mm, DC, 3-wire, PNP NO, IO-Link COM3, M8 connector 3 pin |
| | M8 | Quasi-flush | 4 mm | IO-Link, PNP | NO | Cable | Brass, nickel plated | PVC (oil-resistant) | 2 m | COM3 (230.4 kbps) | 38 mm | 22 mm | Flexible cable | Proximity sensor, inductive, short brass body M8, shielded, 4 mm, DC, 3-wire, PNP NO, IO-Link COM3, 2 m prewired robotic cable |
| | M12 | Flush | 4 mm | IO-Link, PNP | NO | Cable | Brass, nickel plated | PVC (oil-resistant) | 2 m | COM3 (230.4 kbps) | 69 mm | 55 mm | | Proximity sensor, inductive, nickel-brass, long body, M12, shielded, 4 mm, DC, 3-wire, PNP NO, IO-Link COM3, 2 m prewired |
| | M12 | Flush | 4 mm | IO-Link, PNP | NO | Connector M12 | Brass, nickel plated | - | | COM3 (230.4 kbps) | 70 mm | 55 mm | | Proximity sensor, inductive, nickel-brass long body, M12, shielded, 4 mm, DC, 3-wire, PNP NO, IO-Link COM3, M12 connector |
| | M12 | Quasi-flush | 4 mm | IO-Link, PNP | NO | M12 Pre-wired Smartclick connector | Brass, nickel plated | PVC (oil-resistant) | 0.3 m | COM3 (230.4 kbps) | 69 mm | 55 mm | | Proximity sensor, inductive, nickel-brass, long body, M12, shielded, 4 mm, DC, 3-wire, PNP NO, IO-Link COM3, M12 Smartclick Pig-tail 0.3 m |
| | M8 | Quasi-flush | 4 mm | IO-Link, PNP | NO | Cable | Brass, nickel plated | PVC (oil-resistant) | 2 m | COM3 (230.4 kbps) | 38 mm | 36 mm | | Proximity sensor, inductive, long brass body M8, shielded, 4 mm, DC, 3-wire, PNP NO, IO-Link COM3, 2 m prewired |
| | M8 | Quasi-flush | 4 mm | IO-Link, PNP | NO | Connector M12 | Brass, nickel plated | - | | COM3 (230.4 kbps) | 53 mm | 36 mm | | Proximity sensor, inductive, long brass body M8, shielded, 4 mm, DC, 3-wire, PNP NO, IO-Link COM3, M12 connector |
| | M8 | Quasi-flush | 4 mm | IO-Link, PNP | NO | M12 Pre-wired Smartclick connector | Brass, nickel plated | PVC (oil-resistant) | 0.3 m | COM3 (230.4 kbps) | 38 mm | 36 mm | | Proximity sensor, inductive, long brass body M8, shielded, 4 mm, DC, 3-wire, PNP NO, IO-Link COM3, M12 Smartclick Pig-tail 0.3 m |
| | M8 | Quasi-flush | 4 mm | IO-Link, PNP | NO | Connector M8 - 4 pin | Brass, nickel plated | - | | COM3 (230.4 kbps) | 49 mm | 36 mm | | Proximity sensor, inductive, long brass body M8, shielded, 4 mm, DC, 3-wire, PNP NO, IO-Link COM3, M8 connector 4 pins |
| | M8 | Quasi-flush | 4 mm | IO-Link, PNP | NO | Connector M8 - 3 pin | Brass, nickel plated | - | | COM3 (230.4 kbps) | 49 mm | 36 mm | | Proximity sensor, inductive, long brass body M8, shielded, 4 mm, DC, 3-wire, PNP NO, IO-Link COM3, M8 connector 3 pins |
| | M12 | Quasi-flush | 4 mm | PNP | NC | Cable | Brass, nickel plated | PVC (oil-resistant) | 2 m | | | | | Proximity sensor, inductive, nickel-brass, short body, M12, shielded, 4 mm, DC, 3-wire, PNP NC, 2 m prewired |
| | M12 | Quasi-flush | 4 mm | PNP | NC | Connector M12 | Brass, nickel plated | | | | | | | Proximity sensor, inductive, nickel-brass, short body, M12, shielded, 4 mm, DC, 3-wire, PNP NC, M12 connector |
| | M12 | Quasi-flush | 4 mm | PNP | NC | Cable | Brass, nickel plated | PVC (oil-resistant) | 2 m | | | | | Proximity sensor, inductive, nickel-brass, long body, M12, shielded, 4 mm, DC, 3-wire, PNP NC, 2 m prewired |
| | M12 | Quasi-flush | 4 mm | PNP | NC | Connector M12 | Brass, nickel plated | - | | | 70 mm | 55 mm | | Proximity sensor, inductive, nickel-brass, long body, M12, shielded, 4 mm, DC, 3-wire, PNP NC, M12 connector |
| | M12 | Quasi-flush | 4 mm | PNP | NC | M12 Pre-wired Smartclick connector | Brass, nickel plated | PVC (oil-resistant) | 0.3 m | | 69 mm | 55 mm | | Proximity sensor, inductive, nickel-brass, long body, M12, shielded, 4 mm, DC, 3-wire, PNP NC, M12 Smartclick Pig-tail 0.3 m |
| | M12 | Flush | 4 mm | IO-Link, PNP | NO + NC | Cable | Brass, nickel plated | PVC (oil-resistant) | 2 m | COM2 (38.4 kbps) | 47 mm | 29 mm | | Proximity sensor, inductive, nickel-brass, short body, M12, shielded, 4 mm, DC, 3-wire, PNP NO+NC, IO-Link COM2, 2 m prewired |
| | M12 | Quasi-flush | 4 mm | IO-Link, PNP | NO + NC | Connector M12 | Brass, nickel plated | | | COM2 (38.4 kbps) | | | | Proximity sensor, inductive, nickel-brass, short body, M12, shielded, 4 mm, DC, 3-wire, PNP NONC, IO-Link COM2, M12 connector |
| | M12 | Quasi-flush | 4 mm | IO-Link, PNP | NO + NC | Cable | Brass, nickel plated | PVC (oil-resistant) | 2 m | COM2 (38.4 kbps) | | | | Proximity sensor, inductive, nickel-brass, long body, M12, shielded, 4 mm, DC, 3-wire, PNP NONC, IO-Link COM2, 2 m prewired |
| | M12 | Flush | 4 mm | IO-Link, PNP | NO + NC | Connector M12 | Brass, nickel plated | - | | COM2 (38.4 kbps) | 70 mm | 55 mm | | Proximity sensor, inductive, nickel-brass, long body, M12, shielded, 4 mm, DC, 3-wire, PNP NO+NC, IO-Link COM2, M12 connector |
| | M12 | Quasi-flush | 4 mm | NPN | NO | Cable | Brass, nickel plated | PVC (oil-resistant) | 2 m | | | | | Proximity sensor, inductive, nickel-brass, short body, M12, shielded, 4 mm, DC, 3-wire, NPN NO, 2 m prewired |
| | M12 | Flush | 4 mm | NPN | NO | Connector M12 | Brass, nickel plated | - | | | 48 mm | 29 mm | | Proximity sensor, inductive, nickel-brass, short body, M12, shielded, 4 mm, DC, 3-wire, NPN NO, M12 connector |
| | M12 | Quasi-flush | 4 mm | NPN | NO | M12 Pre-wired Smartclick connector | Brass, nickel plated | PVC | 0.3 m | | | | | Proximity sensor, inductive, nickel-brass, short body, M12, shielded, 4 mm, DC, 3-wire, NPN NO, M12 Pre-wired Smartclick connector |
| | M8 | Flush | 4 mm | NPN | NO | Cable | Brass, nickel plated | PVC (oil-resistant) | 2 m | | | | | Proximity sensor, inductive, short brass body M8, shielded, 4 mm, DC, 3-wire, NPN NO, 2 m prewired |
| | M8 | Quasi-flush | 4 mm | NPN | NO | Connector M12 | Brass, nickel plated | - | | | 43 mm | 22 mm | | Proximity sensor, inductive, short brass body M8, shielded, 4 mm, DC, 3-wire, NPN NO, M12 connector |
| | M8 | Quasi-flush | 4 mm | NPN | NO | M12 Pre-wired Smartclick connector | Brass, nickel plated | PVC (oil-resistant) | 0.3 m | | | | | Proximity sensor, inductive, short brass body M8, shielded, 4 mm, DC, 3-wire, NPN NO, M12 Smartclick Pig-tail 0.3 m |
| | M8 | Quasi-flush | 4 mm | NPN | NO | Connector M8 - 3 pin | Brass, nickel plated | | | | | | | Proximity sensor, inductive, short brass body M8, shielded, 4 mm, DC, 3-wire, NPN NO, M8 connector 3 pins |
| | M12 | Quasi-flush | 4 mm | NPN | NC | Connector M12 | Brass, nickel plated | | | | | | | Proximity sensor, inductive, nickel-brass, short body, M12, shielded, 4 mm, DC, 3-wire, NPN NC, M12 connector |
| | M8 | Quasi-flush | 4 mm | NPN | NC | Connector M12 | Brass, nickel plated | - | | | 43 mm | 22 mm | | Proximity sensor, inductive, short brass body M8, shielded, 4 mm, DC, 3-wire, NPN NC, M12 connector |
| | M12 | Quasi-flush | 4 mm | NPN | NO + NC | Cable | Brass, nickel plated | PVC (oil-resistant) | 2 m | | | | | Proximity sensor, inductive, nickel-brass, short body, M12, shielded, 4 mm, DC, 3-wire, NPN NO+NC, 2 m prewired |
| | M12 | Quasi-flush | 4 mm | NPN | NO + NC | Connector M12 | Brass, nickel plated | | | | | | | Proximity sensor, inductive, nickel-brass, short body, M12, shielded, 4 mm, DC, 3-wire, NPN NO+NC, M12 connector |
| | M8 | Non-flush | 4 mm | IO-Link, PNP | NO/NC switching | Cable | Stainless steel | PVC (oil-resistant) | 2 m | COM2 (38.4 kbps) | | | | Proximity sensor, inductive, short SUS body M8, unshielded, 4 mm, DC, 3-wire, PNP NO, IO-Link COM2, 2 m prewired |
| | M8 | Non-flush | 4 mm | IO-Link, PNP | NO/NC switching | Connector M12 | Stainless steel | | | COM2 (38.4 kbps) | | | | Proximity sensor, inductive, short SUS body M8, unshielded, 4 mm, DC, 3-wire, PNP NO, IO-Link COM2, M12 connector 4 pins |
| | M8 | Non-flush | 4 mm | IO-Link, PNP | NO | Cable | Stainless steel | PVC (oil-resistant) | 2 m | COM3 (230.4 kbps) | 38 mm | 26 mm | | Proximity sensor, inductive, SUS short body, M8, unshielded, 4 mm, DC, 3-wire, PNP NO, IO-Link COM3, 2 m prewired |
| | M8 | Non-flush | 4 mm | IO-Link, PNP | NO | Connector M12 | Stainless steel | - | | COM3 (230.4 kbps) | 43 mm | 20 mm | | Proximity sensor, inductive, SUS short body, M8, unshielded, 4 mm, DC, 3-wire, PNP NO, IO-Link COM3, M12 connector |
| | M8 | Non-flush | 4 mm | IO-Link, PNP | NO | M12 Pre-wired Smartclick connector | Stainless steel | PVC (oil-resistant) | 0.3 m | COM3 (230.4 kbps) | 38 mm | 26 mm | | Proximity sensor, inductive, SUS short body, M8, unshielded, 4 mm, DC, 3-wire, PNP NO, IO-Link COM3, M12 Smartclick Pig-tail 0.3 m |
| | M8 | Non-flush | 4 mm | IO-Link, PNP | NO | Connector M8 - 4 pin | Stainless steel | - | | COM3 (230.4 kbps) | 39 mm | 22 mm | | Proximity sensor, inductive, SUS short body, M8, unshielded, 4 mm, DC, 3-wire, PNP NO, IO-Link COM3, M8 connector 4 pins |
| | M8 | Non-flush | 4 mm | IO-Link, PNP | NO | Connector M8 - 3 pin | Stainless steel | - | | COM3 (230.4 kbps) | 39 mm | 22 mm | | Proximity sensor, inductive, SUS short body, M8, unshielded, 4 mm, DC, 3-wire, PNP NO, IO-Link COM3, M8 connector 3 pins |
| | M8 | Non-flush | 4 mm | IO-Link, PNP | NO | Cable | Stainless steel | PVC (oil-resistant) | 2 m | COM3 (230.4 kbps) | 38 mm | 26 mm | Flexible cable | Proximity sensor, inductive, SUS short body, M8, unshielded, 4 mm, DC, 3-wire, PNP NO, IO-Link COM3, 2 m prewired robotic cable |
| | M8 | Non-flush | 4 mm | IO-Link, PNP | NO | Cable | Stainless steel | PVC (oil-resistant) | 2 m | COM3 (230.4 kbps) | 48 mm | 30 mm | | Proximity sensor, inductive, SUS long body, M8, unshielded, 4 mm, DC, 3-wire, PNP NO, IO-Link COM3, 2 m prewired |
| | M8 | Non-flush | 4 mm | IO-Link, PNP | NO | Connector M12 | Stainless steel | - | | COM3 (230.4 kbps) | 53 mm | 30 mm | | Proximity sensor, inductive, SUS long body, M8, unshielded, 4 mm, DC, 3-wire, PNP NO, IO-Link COM3, M12 connector |
| | M8 | Non-flush | 4 mm | IO-Link, PNP | NO | M12 Pre-wired Smartclick connector | Stainless steel | PVC (oil-resistant) | 0.3 m | COM3 (230.4 kbps) | 48 mm | 30 mm | | Proximity sensor, inductive, SUS long body, M8, unshielded, 4 mm, DC, 3-wire, PNP NO, IO-Link COM3, M12 Smartclick Pig-tail 0.3 m |
| | M8 | Non-flush | 4 mm | IO-Link, PNP | NO | Connector M8 - 4 pin | Stainless steel | - | | COM3 (230.4 kbps) | 49 mm | 30 mm | | Proximity sensor, inductive, SUS long body, M8, unshielded, 4 mm, DC, 3-wire, PNP NO, IO-Link COM3, M8 connector 4 pins |
| | M8 | Non-flush | 4 mm | IO-Link, PNP | NO | Connector M8 - 3 pin | Stainless steel | - | | COM3 (230.4 kbps) | 49 mm | 30 mm | | Proximity sensor, inductive, SUS long body, M8, unshielded, 4 mm, DC, 3-wire, PNP NO, IO-Link COM3, M8 connector 3 pins |
| | M8 | Non-flush | 4 mm | PNP | NC | Cable | Stainless steel | PVC (oil-resistant) | 2 m | | | | | Proximity sensor, inductive, short SUS body M8, unshielded, 4 mm, DC, 3-wire, PNP NC, 2 m prewired |
| | M8 | Non-flush | 4 mm | PNP | NC | Connector M12 | Stainless steel | | | | | | | Proximity sensor, inductive, short SUS body M8, unshielded, 4 mm, DC, 3-wire, PNP NC, M12 connector |
| | M8 | Non-flush | 4 mm | NPN | NO | Cable | Stainless steel | PVC (oil-resistant) | 2 m | | | | | Proximity sensor, inductive, short SUS body M8, unshielded, 4 mm, DC, 3-wire, NPN NO, 2 m prewired |
| | M8 | Non-flush | 4 mm | NPN | NO | Connector M12 | Stainless steel | | | | | | | Proximity sensor, inductive, short SUS body M8, unshielded, 4 mm, DC, 3-wire, NPN NO, M12 connector |
| | M30 | Non-flush | 50 mm | IO-Link, PNP | NO | Cable | Brass, nickel plated | PVC (oil-resistant) | 2 m | COM3 (230.4 kbps) | 97 mm | 65 mm | | Proximity sensor, inductive, nickel-brass long body, M30, unshielded, 50 mm, DC, 3-wire, PNP NO, IO-Link COM3, 2 m prewired |
| | M30 | Non-flush | 50 mm | IO-Link, PNP | NO | Connector M12 | Brass, nickel plated | - | | COM3 (230.4 kbps) | 95 mm | 65 mm | | Proximity sensor, inductive, nickel-brass long body, M30, unshielded, 50 mm, DC, 3-wire, PNP NO, IO-Link COM3, M12 connector |
| | M30 | Non-flush | 50 mm | IO-Link, PNP | NO | M12 Pre-wired Smartclick connector | Brass, nickel plated | PVC (oil-resistant) | 0.3 m | COM3 (230.4 kbps) | 97 mm | 65 mm | | Proximity sensor, inductive, nickel-brass long body, M30, unshielded, 50 mm, DC, 3-wire, PNP NO, IO-Link COM3, M12 Smartclick Pig-tail 0.3 m |
| | M30 | Non-flush | 50 mm | IO-Link, PNP | NO | Cable | Brass, nickel plated | PVC (oil-resistant) | 2 m | COM3 (230.4 kbps) | 97 mm | 65 mm | Flexible cable | Proximity sensor, inductive, nickel-brass long body, M30, unshielded, 50 mm, DC, 3-wire, PNP NO, IO-Link COM3, 2 m prewired robotic cable |
| | M30 | Non-flush | 50 mm | PNP | NC | Connector M12 | Brass, nickel plated | | | | | | | Proximity sensor, inductive, nickel-brass, long body, M30, unshielded, 50 mm, DC, 3-wire, PNP NC, M12 connector |
| | M30 | Non-flush | 50 mm | NPN | NO | Connector M12 | Brass, nickel plated | | | | | | | Proximity sensor, inductive, nickel-brass, long body, M30, unshielded, 50 mm, DC, 3-wire, NPN NO, M12 connector |
| | M30 | Non-flush | 50 mm | NPN | NC | Connector M12 | Brass, nickel plated | | | | | | | Proximity sensor, inductive, nickel-brass, long body, M30, unshielded, 50 mm, DC, 3-wire, NPN NC, M12 connector |
| | M18 | Flush | 5 mm | 2-wire | NO | M12 Pre-wired Smartclick connector | Brass, nickel plated | PVC (oil-resistant reinforced) | 0.3 m | | 54 mm | 37 mm | | Proximity sensor, inductive, brass-nickel, M18, shielded, 5 mm, NO, 0.3 m pig-tail, DC 2-wire |
| | M18 | Flush | 5 mm | 2-wire | NO | M12 Pre-wired Smartclick connector | Brass, nickel plated | PVC (oil-resistant reinforced) | 0.3 m | | 54 mm | 37 mm | | Proximity sensor, inductive, brass-nickel, M18, shielded, 5 mm, NO, 0.3 m pig-tail, DC 2-wire, no polarity |
| | M18 | Flush | 5 mm | 2-wire | NO | Cable | Brass, nickel plated | PVC (oil-resistant reinforced) | 2 m | | 54 mm | 37 mm | | Proximity sensor, inductive, brass-nickel, M18, shielded, 5 mm, NO, 2 m cable, DC 2-wire |
| | M18 | Flush | 5 mm | 2-wire | NO | Cable | Brass, nickel plated | PVC (oil-resistant reinforced) | 2 m | | 54 mm | 37 mm | Flexible cable | Proximity sensor, inductive, brass-nickel, M18, shielded, 5 mm, NO, 2 m cable robotic, DC 2-wire |
| | M18 | Flush | 5 mm | 2-wire | NO | Cable | Brass, nickel plated | PVC (oil-resistant reinforced) | 2 m | | 54 mm | 37 mm | | Proximity sensor, inductive, brass-nickel, M18, shielded, 5 mm, NO, 2 m cable, DC 2-wire, no polarity |
| | M18 | Flush | 5 mm | 2-wire | NO | Cable | Brass, nickel plated | PVC (oil-resistant reinforced) | 2 m | | 54 mm | 37 mm | Flexible cable | Proximity sensor, inductive, brass-nickel, M18, shielded, 5 mm, NO, 2 m cable robotic, DC 2-wire, no polarity |
| | M18 | Flush | 5 mm | 2-wire | NC | M12 Pre-wired Smartclick connector | Brass, nickel plated | PVC (oil-resistant reinforced) | 0.3 m | | 54 mm | 37 mm | | Proximity sensor, inductive, brass-nickel, M18, shielded, 5 mm, NC, 0.3 m pig-tail, DC 2-wire |
| | M18 | Flush | 5 mm | 2-wire | NC | M12 Pre-wired Smartclick connector | Brass, nickel plated | PVC (oil-resistant reinforced) | 0.3 m | | 54 mm | 37 mm | | Proximity sensor, inductive, brass-nickel, M18, shielded, 5 mm, NC, 0.3 m pig-tail, DC 2-wire, no polarity |
| | M18 | Flush | 5 mm | 2-wire | NC | Cable | Brass, nickel plated | PVC (oil-resistant reinforced) | 2 m | | 54 mm | 37 mm | | Proximity sensor, inductive, brass-nickel, M18, shielded, 5 mm, NC, 2 m cable, DC 2-wire |
| | M18 | Flush | 5 mm | 2-wire | NC | Cable | Brass, nickel plated | PVC (oil-resistant reinforced) | 2 m | | 54 mm | 37 mm | Flexible cable | Proximity sensor, inductive, brass-nickel, M18, shielded, 5 mm, NC, 2 m cable robotic, DC 2-wire |
| | M18 | Flush | 5 mm | 2-wire | NC | Cable | Brass, nickel plated | PVC (oil-resistant reinforced) | 2 m | | 54 mm | 37 mm | | Proximity sensor, inductive, brass-nickel, M18, shielded, 5 mm, NC, 2 m cable, DC 2-wire, no polarity |
| | M18 | Flush | 5 mm | 2-wire | NC | Cable | Brass, nickel plated | PVC (oil-resistant reinforced) | 2 m | | 54 mm | 37 mm | Flexible cable | Proximity sensor, inductive, brass-nickel, M18, shielded, 5 mm, NC, 2 m cable robotic, DC 2-wire, no polarity |
| | M12 | Non-flush | 5 mm | IO-Link, PNP | NO/NC switching | Connector M12 | Brass, nickel plated | | | COM2 (38.4 kbps) | | | | Proximity sensor, inductive, nickel-brass, long body, M12, unshielded, 5 mm, DC, 3-wire, PNP NO, IO-Link COM2, M12 connector |
| | M12 | Quasi-flush | 6 mm | IO-Link, PNP | NO/NC switching | Connector M12 | Brass, nickel plated | | | COM2 (38.4 kbps) | | | | Proximity sensor, inductive, nickel-brass, short body, M12, shielded, 6 mm, DC, 3-wire, PNP NO, IO-Link COM2, M12 connector |
| | M12 | Quasi-flush | 6 mm | IO-Link, PNP | NO | Cable | Brass, nickel plated | PVC (oil-resistant) | 2 m | COM3 (230.4 kbps) | 47 mm | 29 mm | | Proximity sensor, inductive, nickel-brass, short body, M12, shielded, 6 mm, DC, 3-wire, PNP NO, IO-Link COM3, 2 m prewired |
| | M12 | Quasi-flush | 6 mm | IO-Link, PNP | NO | Connector M12 | Brass, nickel plated | - | | COM3 (230.4 kbps) | 48 mm | 29 mm | | Proximity sensor, inductive, nickel-brass, short body, M12, shielded, 6 mm, DC, 3-wire, PNP NO, IO-Link COM3, M12 connector |
| | M12 | Quasi-flush | 6 mm | IO-Link, PNP | NO | M12 Pre-wired Smartclick connector | Brass, nickel plated | PVC (oil-resistant) | 0.3 m | COM3 (230.4 kbps) | 47 mm | 29 mm | | Proximity sensor, inductive, nickel-brass short body, M12, shielded, 6 mm, DC, 3-wire, PNP NO, IO-Link COM3, M12 Smartclick Pig-tail 0.3 m |
| | M12 | Quasi-flush | 6 mm | IO-Link, PNP | NO | M12 Pre-wired Smartclick connector | Brass, nickel plated | PVC (oil-resistant) | 0.3 m | COM3 (230.4 kbps) | 47 mm | 29 mm | Flexible cable | Proximity sensor, inductive, nickel-brass, short body, M12, shielded, 6 mm, DC, 3-wire, PNP NO, IO-Link COM3, M12 Smartclick Pig-tail 0.3 m robotic cable |
| | M12 | Quasi-flush | 6 mm | IO-Link, PNP | NO | Cable | Brass, nickel plated | PVC (oil-resistant) | 2 m | COM3 (230.4 kbps) | 47 mm | 29 mm | Flexible cable | Proximity sensor, inductive, nickel-brass short body, M12, shielded, 6 mm, DC, 3-wire, PNP NO, IO-Link COM3, 2 m prewired robotic cable |
| | M12 | Quasi-flush | 6 mm | IO-Link, PNP | NO | Cable | Brass, nickel plated | PVC (oil-resistant) | 2 m | COM3 (230.4 kbps) | 69 mm | 55 mm | | Proximity sensor, inductive, nickel-brass long body, M12, shielded, 6 mm, DC, 3-wire, PNP NO, IO-Link COM3, 2 m prewired |
| | M12 | Quasi-flush | 6 mm | IO-Link, PNP | NO | Connector M12 | Brass, nickel plated | - | | COM3 (230.4 kbps) | 70 mm | 55 mm | | Proximity sensor, inductive, nickel-brass, long body, M12, shielded, 6 mm, DC, 3-wire, PNP NO, IO-Link COM3, M12 connector |
| | M12 | Quasi-flush | 6 mm | IO-Link, PNP | NO | M12 Pre-wired Smartclick connector | Brass, nickel plated | PVC (oil-resistant) | 0.3 m | COM3 (230.4 kbps) | 69 mm | 55 mm | | Proximity sensor, inductive, nickel-brass, long body, M12, shielded, 6 mm, DC, 3-wire, PNP NO, IO-Link COM3, M12 Smartclick Pig-tail 0.3 m |
| | M12 | Quasi-flush | 6 mm | PNP | NC | Cable | Brass, nickel plated | PVC (oil-resistant) | 2 m | | 47 mm | 29 mm | | Proximity sensor, inductive, nickel-brass, short body, M12, shielded, 6 mm, DC, 3-wire, PNP NC, 2 m prewired |
| | M12 | Quasi-flush | 6 mm | PNP | NC | Connector M12 | Brass, nickel plated | - | | | 48 mm | 29 mm | | Proximity sensor, inductive, nickel-brass, short body, M12, shielded, 6 mm, DC, 3-wire, PNP NC, M12 connector |
| | M12 | Quasi-flush | 6 mm | PNP | NC | M12 Pre-wired Smartclick connector | Brass, nickel plated | PVC (oil-resistant) | 0.3 m | | 47 mm | 29 mm | | Proximity sensor, inductive, nickel-brass, short body, M12, shielded, 6 mm, DC, 3-wire, PNP NC, M12 Smartclick Pig-tail 0.3 m |
| | M12 | Quasi-flush | 6 mm | IO-Link, PNP | NO + NC | Connector M12 | Brass, nickel plated | - | | COM2 (38.4 kbps) | 48 mm | 29 mm | | Proximity sensor, inductive, nickel-brass, short body, M12, shielded, 6 mm, DC, 3-wire, PNP NO+NC, IO-Link COM2, M12 connector |
| | M12 | Quasi-flush | 6 mm | NPN | NO | Cable | Brass, nickel plated | PVC (oil-resistant) | 2 m | | 47 mm | 28 mm | | Proximity sensor, inductive, nickel-brass, short body, M12, shielded, 6 mm, DC, 3-wire, NPN NO, 2 m prewired |
| | M12 | Quasi-flush | 6 mm | NPN | NO | Connector M12 | Brass, nickel plated | - | | | 48 mm | 28 mm | | Proximity sensor, inductive, nickel-brass, short body, M12, shielded, 6 mm, DC, 3-wire, NPN NO, M12 connector |
| | M12 | Quasi-flush | 6 mm | NPN | NC | Cable | Brass, nickel plated | PVC (oil-resistant) | 2 m | | 47 mm | 28 mm | | Proximity sensor, inductive, nickel-brass, short body, M12, shielded, 6 mm, DC, 3-wire, NPN NC, 2 m prewired |
| | M12 | Quasi-flush | 6 mm | NPN | NC | Connector M12 | Brass, nickel plated | - | | | 48 mm | 28 mm | | Proximity sensor, inductive, nickel-brass, short body, M12, shielded, 6 mm, DC, 3-wire, NPN NC, M12 connector |
| | M8 | Non-flush | 6 mm | IO-Link, PNP | NO | Cable | Stainless steel | PVC (oil-resistant) | 2 m | COM3 (230.4 kbps) | 38 mm | 20 mm | | Proximity sensor, inductive, SUS short body, M8, unshielded, 6 mm, DC, 3-wire, PNP NO, IO-Link COM3, 2 m prewired |
| | M8 | Non-flush | 6 mm | IO-Link, PNP | NO | Connector M12 | Stainless steel | - | | COM3 (230.4 kbps) | 43 mm | 20 mm | | Proximity sensor, inductive, SUS short body, M8, unshielded, 6 mm, DC, 3-wire, PNP NO, IO-Link COM3, M12 connector |
| | M8 | Non-flush | 6 mm | IO-Link, PNP | NO | M12 Pre-wired Smartclick connector | Stainless steel | PVC (oil-resistant) | 0.3 m | COM3 (230.4 kbps) | 38 mm | 20 mm | | Proximity sensor, inductive, SUS short body, M8, unshielded, 6 mm, DC, 3-wire, PNP NO, IO-Link COM3, M12 Smartclick Pig-tail 0.3 m |
| | M8 | Non-flush | 6 mm | IO-Link, PNP | NO | Connector M8 - 4 pin | Stainless steel | - | | COM3 (230.4 kbps) | 39 mm | 20 mm | | Proximity sensor, inductive, SUS short body, M8, unshielded, 6 mm, DC, 3-wire, PNP NO, IO-Link COM3, M8 connector 4 pins |
| | M8 | Non-flush | 6 mm | IO-Link, PNP | NO | Connector M8 - 3 pin | Stainless steel | - | | COM3 (230.4 kbps) | 39 mm | 20 mm | | Proximity sensor, inductive, SUS short body, M8, unshielded, 6 mm, DC, 3-wire, PNP NO, IO-Link COM3, M8 connector 3 pins |
| | M8 | Non-flush | 6 mm | IO-Link, PNP | NO | Cable | Stainless steel | PVC (oil-resistant) | 2 m | COM3 (230.4 kbps) | 38 mm | 20 mm | Flexible cable | Proximity sensor, inductive, SUS short body, M8, unshielded, 6 mm, DC, 3-wire, PNP NO, IO-Link COM3, 2 m prewired robotic cable |
| | M8 | Non-flush | 6 mm | IO-Link, PNP | NO | Cable | Stainless steel | PVC (oil-resistant) | 2 m | COM3 (230.4 kbps) | 48 mm | 20 mm | | Proximity sensor, inductive, SUS long body, M8, unshielded, 6 mm, DC, 3-wire, PNP NO, IO-Link COM3, 2 m prewired |
| | M8 | Non-flush | 6 mm | IO-Link, PNP | NO | Connector M12 | Stainless steel | - | | COM3 (230.4 kbps) | 53 mm | 30 mm | | Proximity sensor, inductive, SUS long body, M8, unshielded, 6 mm, DC, 3-wire, PNP NO, IO-Link COM3, M12 connector |
| | M8 | Non-flush | 6 mm | IO-Link, PNP | NO | M12 Pre-wired Smartclick connector | Stainless steel | PVC (oil-resistant) | 0.3 m | COM3 (230.4 kbps) | 48 mm | 20 mm | | Proximity sensor, inductive, SUS long body, M8, unshielded, 6 mm, DC, 3-wire, PNP NO, IO-Link COM3, M12 Smartclick Pig-tail 0.3 m |
| | M8 | Non-flush | 6 mm | IO-Link, PNP | NO | Connector M8 - 4 pin | Stainless steel | - | | COM3 (230.4 kbps) | 49 mm | 30 mm | | Proximity sensor, inductive, SUS long body, M8, unshielded, 6 mm, DC, 3-wire, PNP NO, IO-Link COM3, M8 connector 4 pins |
| | M8 | Non-flush | 6 mm | IO-Link, PNP | NO | Connector M8 - 3 pin | Stainless steel | - | | COM3 (230.4 kbps) | 49 mm | 30 mm | | Proximity sensor, inductive, SUS long body, M8, unshielded, 6 mm, DC, 3-wire, PNP NO, IO-Link COM3, M8 connector 3 pins |
| | M8 | Non-flush | 6 mm | 2-wire | NO | Cable | Stainless steel | PVC (oil-resistant reinforced) | 2 m | | 38 mm | 20 mm | | Proximity sensor, inductive, stainless steel, M8, non-shielded, 6 mm, NO, 2 m cable, DC 2-wire |
| | M8 | Non-flush | 6 mm | 2-wire | NO | Cable | Stainless steel | PVC (oil-resistant reinforced) | 5 m | | 38 mm | 20 mm | | Proximity sensor, inductive, stainless steel, M8, non-shielded, 6 mm, NO, 5 m cable, DC 2-wire |
| | M8 | Non-flush | 6 mm | 2-wire | NO | M12 Pre-wired Smartclick connector | Stainless steel | PVC (oil-resistant reinforced) | 0.3 m | | 38 mm | 20 mm | | Proximity sensor, inductive, stainless steel, M8, non-shielded, 6 mm, NO, 0.3 m pig-tail, DC 2-wire |
| | M8 | Non-flush | 6 mm | 2-wire | NO | M12 Pre-wired Smartclick connector | Stainless steel | PVC (oil-resistant reinforced) | 0.3 m | | 38 mm | 20 mm | | Proximity sensor, inductive, stainless steel, M8, non-shielded, 6 mm, NO, 0.3 m pig-tail, DC 2-wire, no polarity |
| | M8 | Non-flush | 6 mm | 2-wire | NO | Cable | Stainless steel | PVC (oil-resistant reinforced) | 2 m | | 38 mm | 20 mm | Flexible cable | Proximity sensor, inductive, stainless steel, M8, non-shielded, 6 mm, NO, 2 m cable robotic, DC 2-wire |
| | M8 | Non-flush | 6 mm | 2-wire | NO | Cable | Stainless steel | PVC (oil-resistant reinforced) | 2 m | | 38 mm | 20 mm | | Proximity sensor, inductive, stainless steel, M8, non-shielded, 6 mm, NO, 2 m cable, DC 2-wire, no polarity |
| | M8 | Non-flush | 6 mm | 2-wire | NO | Cable | Stainless steel | PVC (oil-resistant reinforced) | 2 m | | 38 mm | 20 mm | Flexible cable | Proximity sensor, inductive, stainless steel, M8, non-shielded, 6 mm, NO, 2 m cable robotic, DC 2-wire, no polarity |
| | M8 | Non-flush | 6 mm | 2-wire | NC | Cable | Stainless steel | PVC (oil-resistant reinforced) | 2 m | | 38 mm | 20 mm | | Proximity sensor, inductive, stainless steel, M8, non-shielded, 6 mm, NC, 2 m cable, DC 2-wire |
| | M8 | Non-flush | 6 mm | 2-wire | NC | M12 Pre-wired Smartclick connector | Stainless steel | PVC (oil-resistant reinforced) | 0.3 m | | 38 mm | 20 mm | | Proximity sensor, inductive, stainless steel, M8, non-shielded, 6 mm, NC, 0.3 m pig-tail, DC 2-wire |
| | M8 | Non-flush | 6 mm | 2-wire | NC | M12 Pre-wired Smartclick connector | Stainless steel | PVC (oil-resistant reinforced) | 0.3 m | | 38 mm | 20 mm | | Proximity sensor, inductive, stainless steel, M8, non-shielded, 6 mm, NC, 0.3 m pig-tail, DC 2-wire, no polarity |
| | M8 | Non-flush | 6 mm | 2-wire | NC | Cable | Stainless steel | PVC (oil-resistant reinforced) | 2 m | | 38 mm | 20 mm | Flexible cable | Proximity sensor, inductive, stainless steel, M8, non-shielded, 6 mm, NC, 2 m cable robotic, DC 2-wire |
| | M8 | Non-flush | 6 mm | 2-wire | NC | Cable | Stainless steel | PVC (oil-resistant reinforced) | 2 m | | 38 mm | 20 mm | | Proximity sensor, inductive, stainless steel, M8, non-shielded, 6 mm, NC, 2 m cable, DC 2-wire, no polarity |
| | M8 | Non-flush | 6 mm | 2-wire | NC | Cable | Stainless steel | PVC (oil-resistant reinforced) | 2 m | | 38 mm | 20 mm | Flexible cable | Proximity sensor, inductive, stainless steel, M8, non-shielded, 6 mm, NC, 2 m cable robotic, DC 2-wire, no polarity |
| | M12 | Flush | 7 mm | 2-wire | NO | Cable | Brass, nickel plated | PVC (oil-resistant reinforced) | 2 m | | 47 mm | 28 mm | | Proximity sensor, inductive, brass-nickel, M12, shielded, 7 mm, NO, 2 m cable, DC 2-wire |
| | M12 | Flush | 7 mm | 2-wire | NO | M12 Pre-wired Smartclick connector | Brass, nickel plated | PVC (oil-resistant reinforced) | 0.3 m | | 47 mm | 28 mm | | Proximity sensor, inductive, brass-nickel, M12, shielded, 7 mm, NO, 0.3 m pig-tail, DC 2-wire |
| | M12 | Flush | 7 mm | 2-wire | NO | M12 Pre-wired Smartclick connector | Brass, nickel plated | PVC (oil-resistant reinforced) | 0.3 m | | 47 mm | 28 mm | | Proximity sensor, inductive, brass-nickel, M12, shielded, 7 mm, NO, 0.3 m pig-tail, DC 2-wire, no polarity |
| | M12 | Flush | 7 mm | 2-wire | NO | Cable | Brass, nickel plated | PVC (oil-resistant reinforced) | 2 m | | 47 mm | 28 mm | Flexible cable | Proximity sensor, inductive, brass-nickel, M12, shielded, 7 mm, NO, 2 m cable robotic, DC 2-wire |
| | M12 | Flush | 7 mm | 2-wire | NO | Cable | Brass, nickel plated | PVC (oil-resistant reinforced) | 2 m | | 47 mm | 28 mm | | Proximity sensor, inductive, brass-nickel, M12, shielded, 7 mm, NO, 2 m cable, DC 2-wire, no polarity |
| | M12 | Flush | 7 mm | 2-wire | NO | Cable | Brass, nickel plated | PVC (oil-resistant reinforced) | 2 m | | 47 mm | 28 mm | Flexible cable | Proximity sensor, inductive, brass-nickel, M12, shielded, 7 mm, NO, 2 m cable robotic, DC 2-wire, no polarity |
| | M12 | Flush | 7 mm | 2-wire | NC | Cable | Brass, nickel plated | PVC (oil-resistant reinforced) | 2 m | | 47 mm | 28 mm | | Proximity sensor, inductive, brass-nickel, M12, shielded, 7 mm, NC, 2 m cable, DC 2-wire |
| | M12 | Flush | 7 mm | 2-wire | NC | M12 Pre-wired Smartclick connector | Brass, nickel plated | PVC (oil-resistant reinforced) | 0.3 m | | 47 mm | 28 mm | | Proximity sensor, inductive, brass-nickel, M12, shielded, 7 mm, NC, 0.3 m pig-tail, DC 2-wire |
| | M12 | Flush | 7 mm | 2-wire | NC | M12 Pre-wired Smartclick connector | Brass, nickel plated | PVC (oil-resistant reinforced) | 0.3 m | | 47 mm | 28 mm | | Proximity sensor, inductive, brass-nickel, M12, shielded, 7 mm, NC, 0.3 m pig-tail, DC 2-wire, no polarity |
| | M12 | Flush | 7 mm | 2-wire | NC | Cable | Brass, nickel plated | PVC (oil-resistant reinforced) | 2 m | | 47 mm | 28 mm | Flexible cable | Proximity sensor, inductive, brass-nickel, M12, shielded, 7 mm, NC, 2 m cable robotic, DC 2-wire |
| | M12 | Flush | 7 mm | 2-wire | NC | Cable | Brass, nickel plated | PVC (oil-resistant reinforced) | 2 m | | 47 mm | 28 mm | | Proximity sensor, inductive, brass-nickel, M12, shielded, 7 mm, NC, 2 m cable, DC 2-wire, no polarity |
| | M12 | Flush | 7 mm | 2-wire | NC | Cable | Brass, nickel plated | PVC (oil-resistant reinforced) | 2 m | | 47 mm | 28 mm | Flexible cable | Proximity sensor, inductive, brass-nickel, M12, shielded, 7 mm, NC, 2 m cable robotic, DC 2-wire, no polarity |
| | M18 | Quasi-flush | 8 mm | IO-Link, PNP | NO | Cable | Brass, nickel plated | PVC (oil-resistant) | 2 m | COM2 (38.4 kbps) | 53 mm | 34 mm | | Proximity sensor, inductive, nickel-brass, short body, M18, shielded, 8 mm, DC, 3-wire, PNP NO, IO-Link COM2, 2 m prewired |
| | M18 | Quasi-flush | 8 mm | IO-Link, PNP | NO | Connector M12 | Brass, nickel plated | | | COM2 (38.4 kbps) | 53 mm | 34 mm | | Proximity sensor, inductive, nickel-brass, short body, M18, shielded, 8 mm, DC, 3-wire, PNP NO, IO-Link COM2, M12 connector |
| | M18 | Flush | 8 mm | IO-Link, PNP | NO | Cable | Brass, nickel plated | PVC (oil-resistant) | 2 m | COM3 (230.4 kbps) | 55 mm | 34 mm | | Proximity sensor, inductive, nickel-brass, short body, M18, shielded, 8 mm, DC, 3-wire, PNP NO, IO-Link COM3, 2 m prewired |
| | M18 | Flush | 8 mm | IO-Link, PNP | NO | Connector M12 | Brass, nickel plated | - | | COM3 (230.4 kbps) | 53 mm | 34 mm | | Proximity sensor, inductive, nickel-brass, short body, M18, shielded, 8 mm, DC, 3-wire, PNP NO, IO-Link COM3, M12 connector |
| | M18 | Flush | 8 mm | IO-Link, PNP | NO | M12 Pre-wired Smartclick connector | Brass, nickel plated | PVC (oil-resistant) | 0.3 m | COM3 (230.4 kbps) | 55 mm | 34 mm | | Proximity sensor, inductive, nickel-brass, short body, M18, shielded, 8 mm, DC, 3-wire, PNP NO, IO-Link COM3, M12 Smartclick Pig-tail 0.3 m |
| | M18 | Quasi-flush | 8 mm | IO-Link, PNP | NO | Cable | Brass, nickel plated | PVC (oil-resistant) | 2 m | COM3 (230.4 kbps) | 55 mm | 34 mm | Flexible cable | Proximity sensor, inductive, nickel-brass short body, M18, shielded, 8 mm, DC, 3-wire, PNP NO, IO-Link COM3, 2 m prewired robotic cable |
| | M18 | Flush | 8 mm | IO-Link, PNP | NO | Cable | Brass, nickel plated | PVC (oil-resistant) | 2 m | COM3 (230.4 kbps) | 77 mm | 50 mm | | Proximity sensor, inductive, nickel-brass long body, M18, shielded, 8 mm, DC, 3-wire, PNP NO, IO-Link COM3, 2 m prewired |
| | M18 | Flush | 8 mm | IO-Link, PNP | NO | Connector M12 | Brass, nickel plated | - | | COM3 (230.4 kbps) | 75 mm | 48 mm | | Proximity sensor, inductive, nickel-brass long body, M18, shielded, 8 mm, DC, 3-wire, PNP NO, IO-Link COM3, M12 connector |
| | M18 | Quasi-flush | 8 mm | IO-Link, PNP | NO | M12 Pre-wired Smartclick connector | Brass, nickel plated | PVC (oil-resistant) | 0.3 m | COM3 (230.4 kbps) | 77 mm | 50 mm | | Proximity sensor, inductive, nickel-brass long body, M18, shielded, 8 mm, DC, 3-wire, PNP NO, IO-Link COM3, M12 Smartclick Pig-tail 0.3 m |
| | M18 | Quasi-flush | 8 mm | PNP | NC | Cable | Brass, nickel plated | PVC (oil-resistant) | 2 m | | 53 mm | 34 mm | | Proximity sensor, inductive, nickel-brass, short body, M18, shielded, 8 mm, DC, 3-wire, PNP NC, 2 m prewired |
| | M18 | Quasi-flush | 8 mm | PNP | NC | Connector M12 | Brass, nickel plated | | | | 53 mm | 34 mm | | Proximity sensor, inductive, nickel-brass, short body, M18, shielded, 8 mm, DC, 3-wire, PNP NC, M12 connector |
| | M18 | Quasi-flush | 8 mm | PNP | NC | Connector M12 | Brass, nickel plated | | | | | | | Proximity sensor, inductive, nickel-brass, long body, M18, shielded, 8 mm, DC, 3-wire, PNP NC, M12 connector |
| | M18 | Flush | 8 mm | IO-Link, PNP | NO + NC | Cable | Brass, nickel plated | PVC (oil-resistant) | 2 m | COM2 (38.4 kbps) | 55 mm | 34 mm | | Proximity sensor, inductive, nickel-brass, short body, M18, shielded, 8 mm, DC, 3-wire, PNP NO+NC, IO-Link COM2, 2 m prewired |
| | M18 | Flush | 8 mm | IO-Link, PNP | NO + NC | Connector M12 | Brass, nickel plated | - | | COM2 (38.4 kbps) | 53 mm | 34 mm | | Proximity sensor, inductive, nickel-brass, short body, M18, shielded, 8 mm, DC, 3-wire, PNP NO+NC, IO-Link COM2, M12 connector |
| | M18 | Quasi-flush | 8 mm | IO-Link, PNP | NO + NC | M12 Pre-wired Smartclick connector | Brass, nickel plated | PVC (oil-resistant) | 0.3 m | COM2 (38.4 kbps) | 55 mm | 34 mm | | Proximity sensor, inductive, nickel-brass, short body, M18, shielded, 8 mm, DC, 3-wire, PNP NO+NC, IO-Link COM2, M12 Smartclick Pig-tail 0.3 m |
| | | Quasi-flush | 8 mm | IO-Link, PNP | NO + NC | Cable | Brass, nickel plated | PVC (oil-resistant) | 2 m | COM2 (38.4 kbps) | | | | Proximity sensor, inductive, nickel-brass, long body, M18, shielded, 8 mm, DC, 3-wire, PNP NONC, IO-Link COM2, 2 m prewired |
| | M18 | Flush | 8 mm | IO-Link, PNP | NO + NC | Connector M12 | Brass, nickel plated | - | | COM2 (38.4 kbps) | 75 mm | 60 mm | | Proximity sensor, inductive, nickel-brass, long body, M18, shielded, 8 mm, DC, 3-wire, PNP NO+NC, IO-Link COM2, M12 connector |
| | M18 | Quasi-flush | 8 mm | NPN | NO | Cable | Brass, nickel plated | PVC (oil-resistant) | 2 m | | 53 mm | 34 mm | | Proximity sensor, inductive, nickel-brass, short body, M18, shielded, 8 mm, DC, 3-wire, NPN NO, 2 m prewired |
| | M18 | Flush | 8 mm | NPN | NO | Connector M12 | Brass, nickel plated | - | | | 53 mm | 34 mm | | Proximity sensor, inductive, nickel-brass, short body, M18, shielded, 8 mm, DC, 3-wire, NPN NO, M12 connector |
| | M18 | Quasi-flush | 8 mm | NPN | NC | Connector M12 | Brass, nickel plated | | | | 53 mm | 34 mm | | Proximity sensor, inductive, nickel-brass, short body, M18, shielded, 8 mm, DC, 3-wire, NPN NC, M12 connector |
| | M18 | Flush | 8 mm | PNP | NO | Cable | Brass, nickel plated | PVC (oil-resistant) | 2 m | | 55 mm | 34 mm | | Proximity sensor, inductive, nickel-brass, short body, M18, shielded, 8 mm, DC, 3-wire, NPN NO+NC, 2 m prewired |
| | M12 | Non-flush | 8 mm | IO-Link, PNP | NO | Cable | Brass, nickel plated | PVC (oil-resistant) | 2 m | COM2 (38.4 kbps) | | | | Proximity sensor, inductive, nickel-brass, short body, M12, unshielded, 8 mm, DC, 3-wire, PNP NO, IO-Link COM2, 2 m prewired |
| | M12 | Non-flush | 8 mm | IO-Link, PNP | NO | Connector M12 | Brass, nickel plated | - | | COM2 (38.4 kbps) | 48 mm | 19 mm | | Proximity sensor, inductive, nickel-brass, short body, M12, unshielded, 8 mm, DC, 3-wire, PNP NO, IO-Link COM2, M12 connector |
| | M12 | Non-flush | 8 mm | IO-Link, PNP | NO | Connector M12 | Brass, nickel plated | - | | COM2 (38.4 kbps) | 70 mm | 48 mm | | Proximity sensor, inductive, nickel-brass, long body, M12, unshielded, 8 mm, DC, 3-wire, PNP NO, IO-Link COM2, M12 connector |
| | M8 | Non-flush | 8 mm | IO-Link, PNP | NO/NC switching | Connector M8 - 3 pin | Brass, nickel plated | | | COM2 (38.4 kbps) | | | | Proximity sensor, inductive, SUS body, long body, M8, unshielded, 8 mm, DC, 3-wire, PNP NO, IO-Link COM2, M8 connector 3 pins |
| | M12 | Non-flush | 8 mm | IO-Link, PNP | NO | Cable | Brass, nickel plated | PVC (oil-resistant) | 2 m | COM3 (230.4 kbps) | 47 mm | 26 mm | | Proximity sensor, inductive, nickel-brass short body, M12, unshielded, 8 mm, DC, 3-wire, PNP NO, IO-Link COM3, 2 m prewired |
| | M12 | Non-flush | 8 mm | IO-Link, PNP | NO | Connector M12 | Brass, nickel plated | - | | COM3 (230.4 kbps) | 48 mm | 19 mm | | Proximity sensor, inductive, nickel-brass, short body, M12, unshielded, 8 mm, DC, 3-wire, PNP NO, IO-Link COM3, M12 connector |
| | M12 | Non-flush | 8 mm | IO-Link, PNP | NO | M12 Pre-wired Smartclick connector | Brass, nickel plated | PVC (oil-resistant) | 0.3 m | COM3 (230.4 kbps) | 47 mm | 26 mm | | Proximity sensor, inductive, nickel-brass short body, M12, unshielded, 8 mm, DC, 3-wire, PNP NO, IO-Link COM3, M12 Smartclick Pig-tail 0.3 m |
| | M12 | Non-flush | 8 mm | IO-Link, PNP | NO | Cable | Brass, nickel plated | PVC (oil-resistant) | 2 m | COM3 (230.4 kbps) | 47 mm | 26 mm | Flexible cable | Proximity sensor, inductive, nickel-brass short body, M12, unshielded, 8 mm, DC, 3-wire, PNP NO, IO-Link COM3, 2 m prewired robotic cable |
| | M8 | Non-flush | 8 mm | IO-Link, PNP | NO | Cable | Stainless steel | PVC (oil-resistant) | 2 m | COM3 (230.4 kbps) | 38 mm | 20 mm | | Proximity sensor, inductive, SUS short body, M8, unshielded, 8 mm, DC, 3-wire, PNP NO, IO-Link COM3, 2 m prewired |
| | M8 | Non-flush | 8 mm | IO-Link, PNP | NO | Connector M12 | Stainless steel | - | | COM3 (230.4 kbps) | 43 mm | 20 mm | | Proximity sensor, inductive, SUS short body, M8, unshielded, 8 mm, DC, 3-wire, PNP NO, IO-Link COM3, M12 connector |
| | M8 | Non-flush | 8 mm | IO-Link, PNP | NO | M12 Pre-wired Smartclick connector | Stainless steel | PVC (oil-resistant) | 0.3 m | COM3 (230.4 kbps) | 38 mm | 20 mm | | Proximity sensor, inductive, SUS body, short body, M8, unshielded, 8 mm, DC, 3-wire, PNP NO, IO-Link COM3, M12 Smartclick Pig-tail 0.3 m |
| | M8 | Non-flush | 8 mm | IO-Link, PNP | NO | Connector M8 - 4 pin | Stainless steel | - | | COM3 (230.4 kbps) | 39 mm | 20 mm | | Proximity sensor, inductive, SUS short body, M8, unshielded, 8 mm, DC, 8-wire, PNP NO, IO-Link COM3, M8 connector 4 pins |
| | M8 | Non-flush | 8 mm | IO-Link, PNP | NO | Connector M8 - 3 pin | Stainless steel | - | | COM3 (230.4 kbps) | 39 mm | 20 mm | | Proximity sensor, inductive, SUS short body, M8, unshielded, 8 mm, DC, 3-wire, PNP NO, IO-Link COM3, M8 connector 3 pins |
| | M8 | Non-flush | 8 mm | IO-Link, PNP | NO | Cable | Stainless steel | PVC (oil-resistant) | 2 m | COM3 (230.4 kbps) | 38 mm | 20 mm | Flexible cable | Proximity sensor, inductive, SUS short body, M8, unshielded, 8 mm, DC, 3-wire, PNP NO, IO-Link COM3, 2 m prewired robotic cable |
| | M12 | Non-flush | 8 mm | IO-Link, PNP | NO | Cable | Brass, nickel plated | PVC (oil-resistant) | 2 m | COM3 (230.4 kbps) | 69 mm | 48 mm | | Proximity sensor, inductive, nickel-brass long body, M12, unshielded, 8 mm, DC, 3-wire, PNP NO, IO-Link COM3, 2 m prewired |
| | M12 | Non-flush | 8 mm | IO-Link, PNP | NO | Connector M12 | Brass, nickel plated | - | | COM3 (230.4 kbps) | 70 mm | 48 mm | | Proximity sensor, inductive, nickel-brass long body, M12, unshielded, 8 mm, DC, 3-wire, PNP NO, IO-Link COM3, M12 connector |
| | M12 | Non-flush | 8 mm | IO-Link, PNP | NO | M12 Pre-wired Smartclick connector | Brass, nickel plated | PVC (oil-resistant) | 0.3 m | COM3 (230.4 kbps) | 69 mm | 48 mm | | Proximity sensor, inductive, nickel-brass long body, M12, unshielded, 8 mm, DC, 3-wire, PNP NO, IO-Link COM3, M12 Smartclick Pig-tail 0.3 m |
| | M8 | Non-flush | 8 mm | IO-Link, PNP | NO | Cable | Stainless steel | PVC (oil-resistant) | 2 m | COM3 (230.4 kbps) | 48 mm | 20 mm | | Proximity sensor, inductive, SUS long body, M8, unshielded, 8 mm, DC, 3-wire, PNP NO, IO-Link COM3, 2 m prewired |
| | M8 | Non-flush | 8 mm | IO-Link, PNP | NO | Connector M12 | Stainless steel | - | | COM3 (230.4 kbps) | 53 mm | 30 mm | | Proximity sensor, inductive, SUS long body, M8, unshielded, 8 mm, DC, 3-wire, PNP NO, IO-Link COM3, M12 connector |
| | M8 | Non-flush | 8 mm | IO-Link, PNP | NO | M12 Pre-wired Smartclick connector | Stainless steel | PVC (oil-resistant) | 0.3 m | COM3 (230.4 kbps) | 48 mm | 20 mm | | Proximity sensor, inductive, SUS long body, M8, unshielded, 8 mm, DC, 3-wire, PNP NO, IO-Link COM3, M12 Smartclick Pig-tail 0.3 m |
| | M8 | Non-flush | 8 mm | IO-Link, PNP | NO | Connector M8 - 4 pin | Stainless steel | - | | COM3 (230.4 kbps) | 49 mm | 30 mm | | Proximity sensor, inductive, SUS long body, M8, unshielded, 8 mm, DC, 3-wire, PNP NO, IO-Link COM3, M8 connector 4 pins |
| | M8 | Non-flush | 8 mm | IO-Link, PNP | NO | Connector M8 - 3 pin | Stainless steel | - | | COM3 (230.4 kbps) | 49 mm | 30 mm | | Proximity sensor, inductive, SUS long body, M8, unshielded, 8 mm, DC, 3-wire, PNP NO, IO-Link COM3, M8 connector 3 pins |
| | M12 | Non-flush | 8 mm | PNP | NC | Cable | Brass, nickel plated | PVC (oil-resistant) | 2 m | | | | | Proximity sensor, inductive, nickel-brass, short body, M12, unshielded, 8 mm, DC, 3-wire, PNP NC, 2 m prewired |
| | M12 | Non-flush | 8 mm | PNP | NC | Connector M12 | Brass, nickel plated | - | | | 48 mm | 19 mm | | Proximity sensor, inductive, nickel-brass, short body, M12, unshielded, 8 mm, DC, 3-wire, PNP NC, M12 connector |
| | | Non-flush | 8 mm | PNP | NC | Cable | Brass, nickel plated | PVC (oil-resistant) | 2 m | | | | | Proximity sensor, inductive, nickel-brass, long body, M12, unshielded, 8 mm, DC, 3-wire, PNP NC, 2 m prewired |
| | | Non-flush | 8 mm | PNP | NC | Connector M12 | Brass, nickel plated | | | | | | | Proximity sensor, inductive, nickel-brass, long body, M12, unshielded, 8 mm, DC, 3-wire, PNP NC, M12 connector |
| | M12 | Non-flush | 8 mm | IO-Link, PNP | NO + NC | Cable | Brass, nickel plated | PVC (oil-resistant) | 2 m | COM2 (38.4 kbps) | | | | Proximity sensor, inductive, nickel-brass, short body, M12, unshielded, 8 mm, DC, 3-wire, PNP NONC, IO-Link COM2, 2 m prewired |
| | M12 | Non-flush | 8 mm | IO-Link, PNP | NO + NC | Connector M12 | Brass, nickel plated | - | | COM2 (38.4 kbps) | 48 mm | 19 mm | | Proximity sensor, inductive, nickel-brass, short body, M12, unshielded, 8 mm, DC, 3-wire, PNP NO+NC, IO-Link COM2, M12 connector |
| | M12 | Non-flush | 8 mm | IO-Link, PNP | NO + NC | Connector M12 | Brass, nickel plated | - | | COM2 (38.4 kbps) | 70 mm | 48 mm | | Proximity sensor, inductive, nickel-brass, long body, M12, unshielded, 8 mm, DC, 3-wire, PNP NO+NC, IO-Link COM2, M12 connector |
| | M12 | Non-flush | 8 mm | NPN | NO | Cable | Brass, nickel plated | PVC (oil-resistant) | 2 m | | | | | Proximity sensor, inductive, nickel-brass, short body, M12, unshielded, 8 mm, DC, 3-wire, NPN NO, 2 m prewired |
| | | Non-flush | 8 mm | NPN | NO | Connector M12 | Brass, nickel plated | | | | | | | Proximity sensor, inductive, nickel-brass, short body, M12, unshielded, 8 mm, DC, 3-wire, NPN NO, M12 connector |
| | M12 | Non-flush | 8 mm | NPN | NO | Cable | Brass, nickel plated | PVC (oil-resistant) | 2 m | | | | | Proximity sensor, inductive, nickel-brass, long body, M12, unshielded, 8 mm, DC, 3-wire, NPN NO, 2 m prewired |
| | M12 | Non-flush | 8 mm | NPN | NO | Connector M12 | Brass, nickel plated | - | | | 70 mm | 48 mm | | Proximity sensor, inductive, nickel-brass, long body, M12, unshielded, 8 mm, DC, 3-wire, NPN NO, M12 connector |
| | M8 | Non-flush | 8 mm | NPN | NO | Cable | Stainless steel | PVC (oil-resistant) | 2 m | | 48 mm | 36 mm | | Proximity sensor, inductive, SUS long body, M8, unshielded, 8 mm, DC, 3-wire, NPN NO, 2 m prewired |
| | M12 | Quasi-flush | 9 mm | IO-Link, PNP | NO | Cable | Brass, nickel plated | PVC (oil-resistant) | 2 m | COM3 (230.4 kbps) | 47 mm | 29 mm | | Proximity sensor, inductive, nickel-brass, short body, M12, shielded, 9 mm, DC, 3-wire, PNP NO, IO-Link COM3, 2 m prewired |
| | M12 | Quasi-flush | 9 mm | IO-Link, PNP | NO | Connector M12 | Brass, nickel plated | - | | COM3 (230.4 kbps) | 48 mm | 29 mm | | Proximity sensor, inductive, nickel-brass, short body, M12, shielded, 9 mm, DC, 3-wire, PNP NO, IO-Link COM3, M12 connector |
| | M12 | Quasi-flush | 9 mm | IO-Link, PNP | NO | M12 Pre-wired Smartclick connector | Brass, nickel plated | PVC (oil-resistant) | 0.3 m | COM3 (230.4 kbps) | 47 mm | 29 mm | | Proximity sensor, inductive, nickel-brass, short body, M12, shielded, 9 mm, DC, 3-wire, PNP NO, IO-Link COM3, M12 Smartclick Pig-tail 0.3 m |
| | M12 | Quasi-flush | 9 mm | IO-Link, PNP | NO | M12 Pre-wired Smartclick connector | Brass, nickel plated | PVC (oil-resistant) | 0.3 m | COM3 (230.4 kbps) | 47 mm | 29 mm | Flexible cable | Proximity sensor, inductive, nickel-brass, short body, M12, shielded, 9 mm, DC, 3-wire, PNP NO, IO-Link COM3, M12 Smartclick Pig-tail 0.3 m robotic cable |
| | M12 | Quasi-flush | 9 mm | IO-Link, PNP | NO | Cable | Brass, nickel plated | PVC (oil-resistant) | 2 m | COM3 (230.4 kbps) | 47 mm | 29 mm | Flexible cable | Proximity sensor, inductive, nickel-brass short body, M12, shielded, 9 mm, DC, 3-wire, PNP NO, IO-Link COM3, 2 m prewired robotic cable |
| | M12 | Quasi-flush | 9 mm | IO-Link, PNP | NO | Cable | Brass, nickel plated | PVC (oil-resistant) | 2 m | COM3 (230.4 kbps) | 69 mm | 55 mm | | Proximity sensor, inductive, nickel-brass, long body, M12, shielded, 9 mm, DC, 3-wire, PNP NO, IO-Link COM3, 2 m cable |
| | M12 | Quasi-flush | 9 mm | IO-Link, PNP | NO | Connector M12 | Brass, nickel plated | - | | COM3 (230.4 kbps) | 70 mm | 55 mm | | Proximity sensor, inductive, nickel-brass, long body, M12, shielded, 9 mm, DC, 3-wire, PNP NO, IO-Link COM3, M12 connector |
| | M12 | Quasi-flush | 9 mm | IO-Link, PNP | NO | M12 Pre-wired Smartclick connector | Brass, nickel plated | PVC (oil-resistant) | 0.3 m | COM3 (230.4 kbps) | 69 mm | 55 mm | | Proximity sensor, inductive, nickel-brass, long body, M12, shielded, 9 mm, DC, 3-wire, PNP NO, IO-Link COM3, M12 Smartclick Pig-tail 0.3 m |
| | M12 | Quasi-flush | 9 mm | PNP | NC | Connector M12 | Brass, nickel plated | | | | | | | Proximity sensor, inductive, nickel-brass, short body, M12, shielded, 9 mm, DC, 3-wire, PNP NC, M12 connector |
| | M12 | Non-flush | 9 mm | PNP | NC | M12 Pre-wired Smartclick connector | Brass, nickel plated | PVC (oil-resistant) | 0.3 m | | | | | Proximity sensor, inductive, nickel-brass, short body, M12, shielded, 9 mm, DC, 3-wire, PNP NC, M12 Smartclick Pig-tail 0.3 m |
| | M12 | Quasi-flush | 9 mm | NPN | NO | Cable | Brass, nickel plated | PVC (oil-resistant) | 2 m | | 47 mm | 29 mm | | Proximity sensor, inductive, nickel-brass, short body, M12, shielded, 9 mm, DC, 3-wire, NPN NO, 2 m prewired |
| | M12 | Quasi-flush | 9 mm | NPN | NO | Connector M12 | Brass, nickel plated | - | | | 48 mm | 29 mm | | Proximity sensor, inductive, nickel-brass, short body, M12, shielded, 9 mm, DC, 3-wire, NPN NO, M12 connector |
| | M12 | Quasi-flush | 9 mm | NPN | NO | M12 Pre-wired Smartclick connector | Brass, nickel plated | PVC (oil-resistant) | 0.3 m | | 47.1 mm | 29 mm | | Proximity sensor, inductive, nickel-brass, short body, M12, shielded, 9 mm, DC, 3-wire, NPN NO, M12 Smartclick Pig-tail 0.3 m |
| | M12 | Quasi-flush | 9 mm | NPN | NO | Cable | Brass, nickel plated | PVC (oil-resistant) | 2 m | | 69 mm | 55 mm | | Proximity sensor, inductive, nickel-brass, long body, M12, shielded, 9 mm, DC, 3-wire, NPN NO, 2 m prewired |
| | M12 | Quasi-flush | 9 mm | NPN | NO | Connector M12 | Brass, nickel plated | - | | | 70 mm | 55 mm | | Proximity sensor, inductive, nickel-brass, long body, M12, shielded, 9 mm, DC, 3-wire, NPN NO, M12 connector |
| | M12 | Quasi-flush | 9 mm | NPN | NC | Connector M12 | Brass, nickel plated | - | | | 48 mm | 29 mm | | Proximity sensor, inductive, nickel-brass, short body, M12, shielded, 9 mm, DC, 3-wire, NPN NC, M12 connector |
Confronta prodotti
Mostra altri prodotti
Come possiamo aiutarti?
Se hai domande o desideri richiedere un preventivo, contattaci o inviaci una richiesta.
Caratteristiche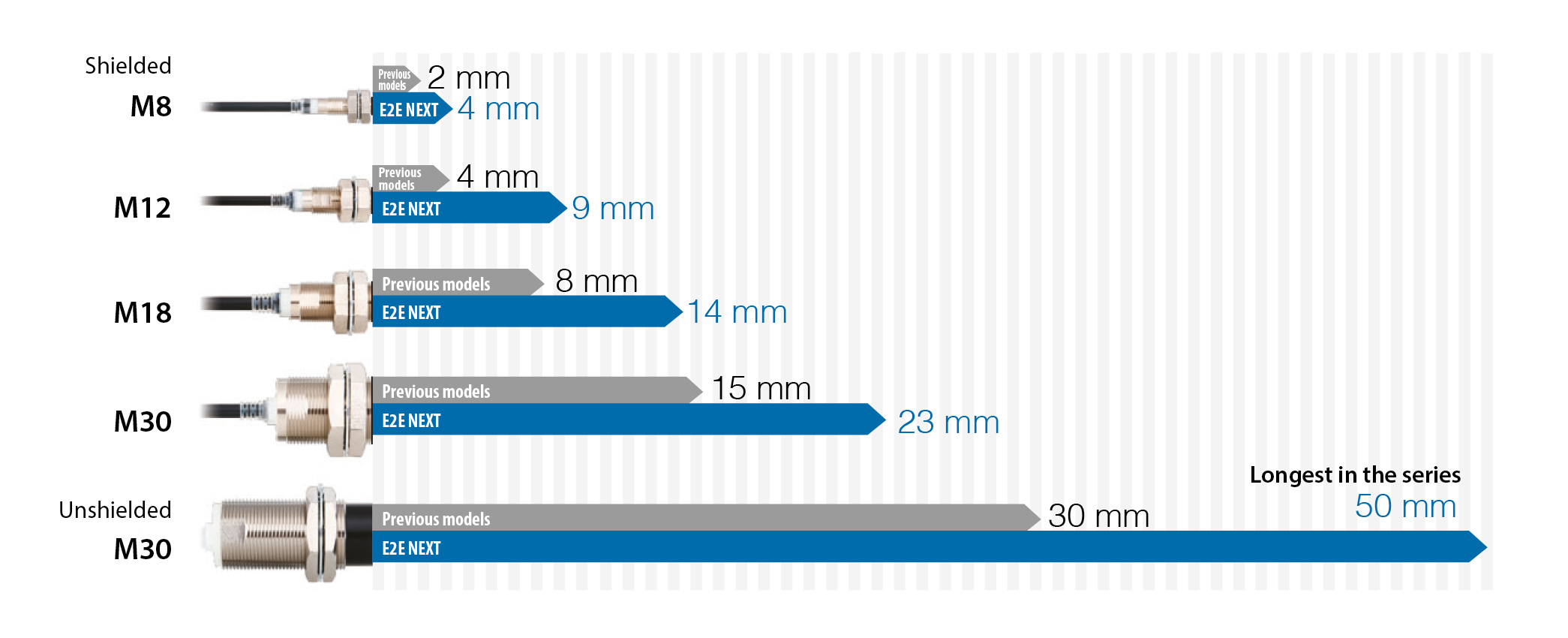 Consente un design più spazioso con minor rischio di contatto
Con i modelli precedenti, per evitare rilevamenti errati, si era costretti ad adottare un'installazione dei sensori con un certo rischio di contatto. Il sensore di prossimità E2E NEXT PREMIUM è in grado di rilevare con precisione da una distanza maggiore, il che significa che è possibile adottare design con uno spazio maggiore e minor rischio di contatto.

Dimensioni ridotte rispetto ai modelli precedenti
Confronto tra le dimensioni di vari modelli con distanza di rilevamento equivalente ( "E2E NEXT" si riferisce ai modelli con distanza quadrupla)

Aggiorna con facilità le attrezzature esistenti per permettere "sostituzioni di sensori di prossimità in 10 secondi*"
La distanza di rilevamento del modello HIGH SPEC è di circa il doppio rispetto ai modelli precedenti. Ad esempio, la distanza di rilevamento del modello con distanza quadrupla della misura M12 è di 9 mm, che è all'incirca la stessa dei modelli M18 tradizionali. L'utilizzo di questi sensori insieme all'e-jig consente di aggiornare facilmente le attrezzature esistenti in modo da poter sostituire i sensori in soli 10 secondi.*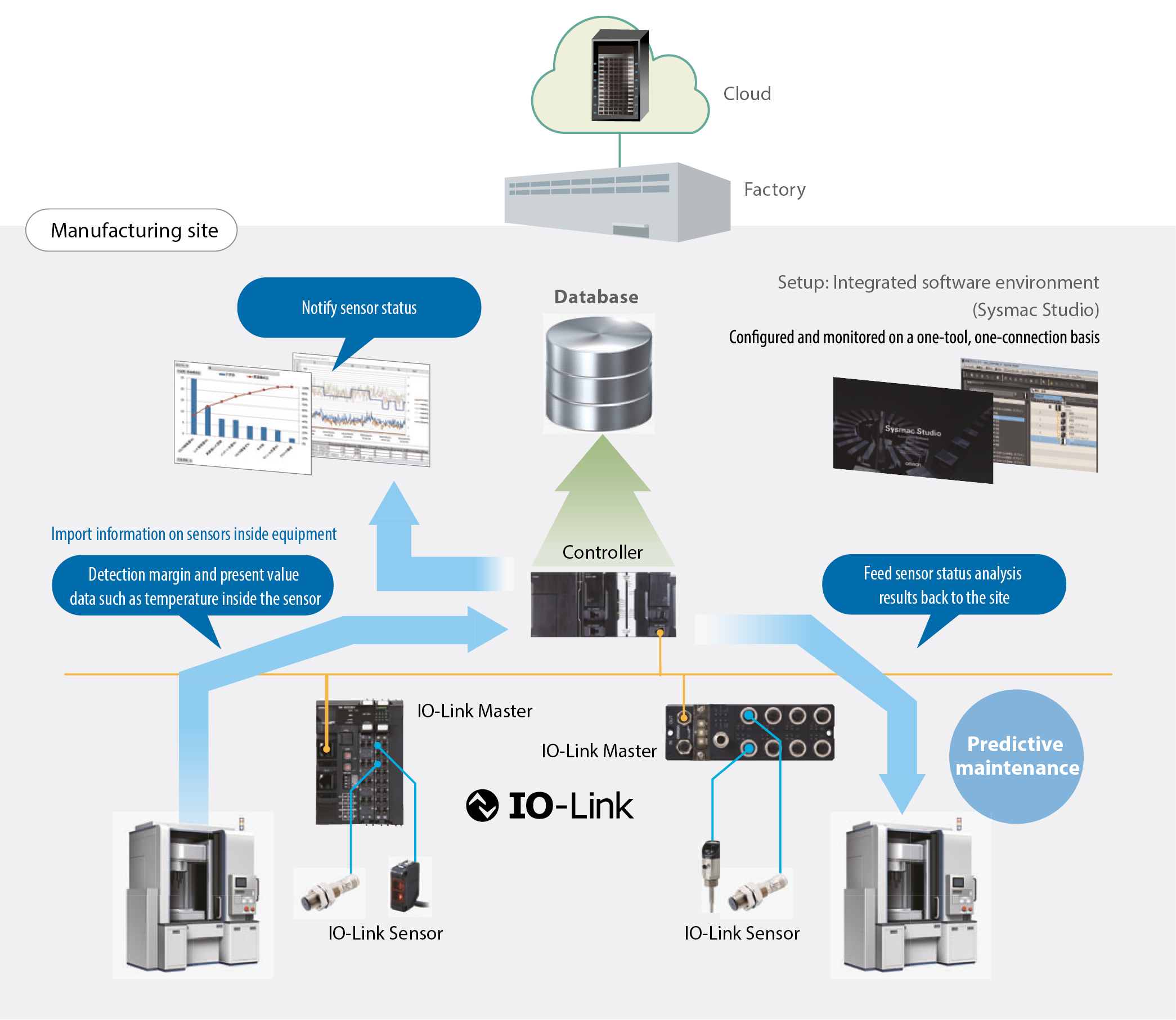 Permette la manutenzione predittiva attraverso il monitoraggio delle condizioni
Il collegamento dei sensori ai controller tramite Master IO-Link consente di inviare le informazioni necessarie per il funzionamento stabile ai dispositivi host. Ciò consente il monitoraggio delle condizioni e il rilevamento dei guasti dei sensori, che a loro volta contribuiscono alla manutenzione predittiva di apparecchiature e impianti. È possibile inoltre aumentare la produttività del proprio impianto accumulando informazioni nei database, e trasmettere i risultati dell'analisi alle apparecchiature in loco.
Video
E2E NEXT Proximity Sensor: long distance detection
The E2E NEXT proximity sensor has a longer detection range compared to previous models, and allows for more spacious designs with less risk of contact. It also enables you to standardize your designs by letting you adopt a single one-size model instead of multiple models of different sizes.