NYB
PC industriale versione box
Basato su processori da Intel® Atom® a Intel® Xeon® 
Windows 10 IoT Enterprise, Windows Embedded Standard 7 o senza sistema operativo
Il sistema operativo aperto permette l'utilizzo del proprio software 
Porta EtherNet per l'accesso ai propri sistemi IT
Fattore di forma ottimizzato: 3 strati, 2 o 1
Processori da Intel® Atom® Celeron® a Intel® core i5 e Xeon®
Windows 10 IoT Enterprise, Windows Embedded Standard 7 o senza sistema operativo
Il sistema operativo aperto permette l'esecuzione di software e hardware personalizzati
Porta EtherNet per l'accesso ai propri sistemi IT
Monitor industriale da 15,4 e 12,1 pollici
Tipo di PC industriale versione box e PC per quadri industriali (PC industriale versione box + monitor integrato)
Modelli disponibili con interfaccia NY Monitor Link per la connettività fino a 100 m tra IPC e Monitor
Caratteristiche ed info per ordinare
| Prodotto | Processor family | Processor specification | Cooling method | Memory | Storage | Operating system | Expansion slot | Modular port | Video output | Height | Description |
| --- | --- | --- | --- | --- | --- | --- | --- | --- | --- | --- | --- |
| | Intel® Core™ i7 | 4700EQ (2.4 GHz) | Active cooling (fan) | 4 GB RAM (non ECC) | No Storage | No OS | 1 x PCIe slot (X4 lanes) | RS-232 | DVI-I | 89 mm | Industrial Box PC with Intel® Core™ i7-4700EQ, 4 GB DRAM (non-ECC), No storage, No OS, PCIe slot, RS-232 |
| | Intel® Core™ i7 | 4700EQ (2.4 GHz) | Active cooling (fan) | 4 GB RAM (non ECC) | No Storage | No OS | 1 x PCIe slot (X4 lanes) | DVI-D | DVI-I | 89 mm | Industrial Box PC with Intel® Core™ i7-4700EQ, 4 GB DRAM (non-ECC), No storage, No OS, PCIe slot, extra DVI-D |
| | Intel® Core™ i7 | 4700EQ (2.4 GHz) | Active cooling (fan) | 4 GB RAM (non ECC) | No Storage | No OS | 1 x PCIe slot (X4 lanes) | NYML | DVI-I | 89 mm | Industrial Box PC with Intel® Core™ i7-4700EQ, 4 GB DRAM (non-ECC), No storage, No OS, PCIe slot, NYML port |
| | Intel® Core™ i7 | 4700EQ (2.4 GHz) | Active cooling (fan) | 4 GB RAM (non ECC) | 32 GB SSD | WES 7 (32 bits) | 1 x PCIe slot (X4 lanes) | RS-232 | DVI-I | 89 mm | Industrial Box PC with Intel® Core™ i7-4700EQ, 4 GB DRAM (non-ECC), 32 GB SSD-SLC, WES 7 (32-bit), PCIe slot, RS-232 |
| | Intel® Core™ i7 | 4700EQ (2.4 GHz) | Active cooling (fan) | 4 GB RAM (non ECC) | 32 GB SSD | WES 7 (32 bits) | 1 x PCIe slot (X4 lanes) | DVI-D | DVI-I | 89 mm | Industrial Box PC with Intel® Core™ i7-4700EQ, 4 GB DRAM (non-ECC), 32 GB SSD-SLC, WES 7 (32-bit), PCIe slot, extra DVI-D |
| | Intel® Core™ i7 | 4700EQ (2.4 GHz) | Active cooling (fan) | 4 GB RAM (non ECC) | 64 GB SSD | WES 7 (32 bits) | 1 x PCIe slot (X4 lanes) | RS-232 | DVI-I | 89 mm | Industrial Box PC with Intel® Core™ i7-4700EQ, 4 GB DRAM (non-ECC), 64 GB SSD-SLC, WES 7 (32-bit), PCIe slot, RS-232 |
| | Intel® Core™ i7 | 4700EQ (2.4 GHz) | Active cooling (fan) | 4 GB RAM (non ECC) | 64 GB SSD | WES 7 (32 bits) | 1 x PCIe slot (X4 lanes) | DVI-D | DVI-I | 89 mm | Industrial Box PC with Intel® Core™ i7-4700EQ, 4 GB DRAM (non-ECC), 64 GB SSD-SLC, WES 7 (32-bit), PCIe slot, extra DVI-D |
| | Intel® Core™ i7 | 4700EQ (2.4 GHz) | Active cooling (fan) | 4 GB RAM (non ECC) | 320 GB HDD | WES 7 (32 bits) | 1 x PCIe slot (X4 lanes) | RS-232 | DVI-I | 89 mm | Industrial Box PC with Intel® Core™ i7-4700EQ, 4 GB DRAM (non-ECC), 320 GB HDD, WES 7 (32-bit), PCIe slot, RS-232 |
| | Intel® Core™ i7 | 4700EQ (2.4 GHz) | Active cooling (fan) | 4 GB RAM (non ECC) | 320 GB HDD | WES 7 (32 bits) | 1 x PCIe slot (X4 lanes) | DVI-D | DVI-I | 89 mm | Industrial Box PC with Intel® Core™ i7-4700EQ, 4 GB DRAM (non-ECC), 320 GB HDD, WES 7 (32-bit), PCIe slot, extra DVI-D |
| | Intel® Core™ i7 | 4700EQ (2.4 GHz) | Active cooling (fan) | 4 GB RAM (non ECC) | 128 GB SSD | WES 7 (32 bits) | 1 x PCIe slot (X4 lanes) | RS-232 | DVI-I | 89 mm | Industrial Box PC with Intel® Core™ i7-4700EQ, 4 GB DRAM (non-ECC), 128 GB SSD-iMLC, WES 7 (32-bit), PCIe slot, RS-232 |
| | Intel® Core™ i7 | 4700EQ (2.4 GHz) | Active cooling (fan) | 4 GB RAM (non ECC) | 128 GB SSD | WES 7 (32 bits) | 1 x PCIe slot (X4 lanes) | DVI-D | DVI-I | 89 mm | Industrial Box PC with Intel® Core™ i7-4700EQ, 4 GB DRAM (non-ECC), 128 GB SSD-iMLC, WES 7 (32-bit), PCIe slot, extra DVI-D |
| | Intel® Core™ i7 | 4700EQ (2.4 GHz) | Active cooling (fan) | 4 GB RAM (non ECC) | 32 GB SSD | WES 7 (64 bits) | 1 x PCIe slot (X4 lanes) | RS-232 | DVI-I | 89 mm | Industrial Box PC with Intel® Core™ i7-4700EQ, 4 GB DRAM (non-ECC), 32 GB SSD-SLC, WES 7 (64-bit), PCIe slot, RS-232 |
| | Intel® Core™ i7 | 4700EQ (2.4 GHz) | Active cooling (fan) | 4 GB RAM (non ECC) | 32 GB SSD | WES 7 (64 bits) | 1 x PCIe slot (X4 lanes) | DVI-D | DVI-I | 89 mm | Industrial Box PC with Intel® Core™ i7-4700EQ, 4 GB DRAM (non-ECC), 32 GB SSD-SLC, WES 7 (64-bit), PCIe slot, extra DVI-D |
| | Intel® Core™ i7 | 4700EQ (2.4 GHz) | Active cooling (fan) | 4 GB RAM (non ECC) | 64 GB SSD | WES 7 (64 bits) | 1 x PCIe slot (X4 lanes) | RS-232 | DVI-I | 89 mm | Industrial Box PC with Intel® Core™ i7-4700EQ, 4 GB DRAM (non-ECC), 64 GB SSD-SLC, WES 7 (64-bit), PCIe slot, RS-232 |
| | Intel® Core™ i7 | 4700EQ (2.4 GHz) | Active cooling (fan) | 4 GB RAM (non ECC) | 64 GB SSD | WES 7 (64 bits) | 1 x PCIe slot (X4 lanes) | DVI-D | DVI-I | 89 mm | Industrial Box PC with Intel® Core™ i7-4700EQ, 4 GB DRAM (non-ECC), 64 GB SSD-SLC, WES 7 (64-bit), PCIe slot, extra DVI-D |
| | Intel® Core™ i7 | 4700EQ (2.4 GHz) | Active cooling (fan) | 4 GB RAM (non ECC) | 320 GB HDD | WES 7 (64 bits) | 1 x PCIe slot (X4 lanes) | RS-232 | DVI-I | 89 mm | Industrial Box PC with Intel® Core™ i7-4700EQ, 4 GB DRAM (non-ECC), 320 GB HDD, WES 7 (64-bit), PCIe slot, RS-232 |
| | Intel® Core™ i7 | 4700EQ (2.4 GHz) | Active cooling (fan) | 4 GB RAM (non ECC) | 320 GB HDD | WES 7 (64 bits) | 1 x PCIe slot (X4 lanes) | DVI-D | DVI-I | 89 mm | Industrial Box PC with Intel® Core™ i7-4700EQ, 4 GB DRAM (non-ECC), 320 GB HDD, WES 7 (64-bit), PCIe slot, extra DVI-D |
| | Intel® Core™ i7 | 4700EQ (2.4 GHz) | Active cooling (fan) | 4 GB RAM (non ECC) | 128 GB SSD | WES 7 (64 bits) | 1 x PCIe slot (X4 lanes) | RS-232 | DVI-I | 89 mm | Industrial Box PC with Intel® Core™ i7-4700EQ, 4 GB DRAM (non-ECC), 128 GB SSD-iMLC, WES 7 (64-bit), PCIe slot, RS-232 |
| | Intel® Core™ i7 | 4700EQ (2.4 GHz) | Active cooling (fan) | 4 GB RAM (non ECC) | 128 GB SSD | WES 7 (64 bits) | 1 x PCIe slot (X4 lanes) | DVI-D | DVI-I | 89 mm | Industrial Box PC with Intel® Core™ i7-4700EQ, 4 GB DRAM (non-ECC), 128 GB SSD-iMLC, WES 7 (64-bit), PCIe slot, extra DVI-D |
| | Intel® Core™ i7 | 4700EQ (2.4 GHz) | Active cooling (fan) | 4 GB RAM (non ECC) | 64 GB SSD | Windows 10 (64 bits) | 1 x PCIe slot (X4 lanes) | RS-232 | DVI-I | 89 mm | Industrial Box PC with Intel® Core™ i7-4700EQ, 4 GB DRAM (non-ECC), 64 GB SSD-SLC, WIN 10 IoT Ent. (64-bit), PCIe slot, RS-232 |
| | Intel® Core™ i7 | 4700EQ (2.4 GHz) | Active cooling (fan) | 4 GB RAM (non ECC) | 64 GB SSD | Windows 10 (64 bits) | 1 x PCIe slot (X4 lanes) | DVI-D | DVI-I | 89 mm | Industrial Box PC with Intel® Core™ i7-4700EQ, 4 GB DRAM (non-ECC), 64 GB SSD-SLC, WIN 10 IoT Ent. (64-bit), PCIe slot, extra DVI-D |
| | Intel® Core™ i7 | 4700EQ (2.4 GHz) | Active cooling (fan) | 4 GB RAM (non ECC) | 64 GB SSD | Windows 10 (64 bits) | 1 x PCIe slot (X4 lanes) | NYML | DVI-I | 89 mm | Industrial Box PC with Intel® Core™ i7-4700EQ, 4 GB DRAM (non-ECC), 64 GB SSD-SLC, WIN 10 IoT Ent. (64-bit), PCIe slot, NYML port |
| | Intel® Core™ i7 | 4700EQ (2.4 GHz) | Active cooling (fan) | 4 GB RAM (non ECC) | 320 GB HDD | Windows 10 (64 bits) | 1 x PCIe slot (X4 lanes) | RS-232 | DVI-I | 89 mm | Industrial Box PC with Intel® Core™ i7-4700EQ, 4 GB DRAM (non-ECC), 320 GB HDD, WIN 10 IoT Ent. (64-bit), PCIe slot, RS-232 |
| | Intel® Core™ i7 | 4700EQ (2.4 GHz) | Active cooling (fan) | 4 GB RAM (non ECC) | 320 GB HDD | Windows 10 (64 bits) | 1 x PCIe slot (X4 lanes) | DVI-D | DVI-I | 89 mm | Industrial Box PC with Intel® Core™ i7-4700EQ, 4 GB DRAM (non-ECC), 320 GB HDD, WIN 10 IoT Ent. (64-bit), PCIe slot, extra DVI-D |
| | Intel® Core™ i7 | 4700EQ (2.4 GHz) | Active cooling (fan) | 4 GB RAM (non ECC) | 320 GB HDD | Windows 10 (64 bits) | 1 x PCIe slot (X4 lanes) | NYML | DVI-I | 89 mm | Industrial Box PC with Intel® Core™ i7-4700EQ, 4 GB DRAM (non-ECC), 320 GB HDD, WIN 10 IoT Ent. (64-bit), PCIe slot, NYML port |
| | Intel® Core™ i7 | 4700EQ (2.4 GHz) | Active cooling (fan) | 4 GB RAM (non ECC) | 128 GB SSD | Windows 10 (64 bits) | 1 x PCIe slot (X4 lanes) | RS-232 | DVI-I | 89 mm | Industrial Box PC with Intel® Core™ i7-4700EQ, 4 GB DRAM (non-ECC), 128 GB SSD-iMLC, WIN 10 IoT Ent. (64-bit), PCIe slot, RS-232 |
| | Intel® Core™ i7 | 4700EQ (2.4 GHz) | Active cooling (fan) | 4 GB RAM (non ECC) | 128 GB SSD | Windows 10 (64 bits) | 1 x PCIe slot (X4 lanes) | DVI-D | DVI-I | 89 mm | Industrial Box PC with Intel® Core™ i7-4700EQ, 4 GB DRAM (non-ECC), 128 GB SSD-iMLC, WIN 10 IoT Ent. (64-bit), PCIe slot, extra DVI-D |
| | Intel® Core™ i7 | 4700EQ (2.4 GHz) | Active cooling (fan) | 4 GB RAM (non ECC) | 128 GB SSD | Windows 10 (64 bits) | 1 x PCIe slot (X4 lanes) | NYML | DVI-I | 89 mm | Industrial Box PC with Intel® Core™ i7-4700EQ, 4 GB DRAM (non-ECC), 128 GB SSD-iMLC, WIN 10 IoT Ent. (64-bit), PCIe slot, NYML port |
| | Intel® Core™ i7 | 4700EQ (2.4 GHz) | Active cooling (fan) | 8 GB RAM (non ECC) | No Storage | No OS | 1 x PCIe slot (X4 lanes) | RS-232 | DVI-I | 89 mm | Industrial Box PC with Intel® Core™ i7-4700EQ, 8 GB DRAM (non-ECC), No storage, No OS, PCIe slot, RS-232 |
| | Intel® Core™ i7 | 4700EQ (2.4 GHz) | Active cooling (fan) | 8 GB RAM (non ECC) | No Storage | No OS | 1 x PCIe slot (X4 lanes) | DVI-D | DVI-I | 89 mm | Industrial Box PC with Intel® Core™ i7-4700EQ, 8 GB DRAM (non-ECC), No storage, No OS, PCIe slot, extra DVI-D |
| | Intel® Core™ i7 | 4700EQ (2.4 GHz) | Active cooling (fan) | 8 GB RAM (non ECC) | No Storage | No OS | 1 x PCIe slot (X4 lanes) | NYML | DVI-I | 89 mm | Industrial Box PC with Intel® Core™ i7-4700EQ, 8 GB DRAM (non-ECC), No storage, No OS, PCIe slot, NYML port |
| | Intel® Core™ i7 | 4700EQ (2.4 GHz) | Active cooling (fan) | 8 GB RAM (non ECC) | 32 GB SSD | WES 7 (64 bits) | 1 x PCIe slot (X4 lanes) | RS-232 | DVI-I | 89 mm | Industrial Box PC with Intel® Core™ i7-4700EQ, 8 GB DRAM (non-ECC), 32 GB SSD-SLC, WES 7 (64-bit), PCIe slot, RS-232 |
| | Intel® Core™ i7 | 4700EQ (2.4 GHz) | Active cooling (fan) | 8 GB RAM (non ECC) | 32 GB SSD | WES 7 (64 bits) | 1 x PCIe slot (X4 lanes) | DVI-D | DVI-I | 89 mm | Industrial Box PC with Intel® Core™ i7-4700EQ, 8 GB DRAM (non-ECC), 32 GB SSD-SLC, WES 7 (64-bit), PCIe slot, extra DVI-D |
| | Intel® Core™ i7 | 4700EQ (2.4 GHz) | Active cooling (fan) | 8 GB RAM (non ECC) | 64 GB SSD | WES 7 (64 bits) | 1 x PCIe slot (X4 lanes) | RS-232 | DVI-I | 89 mm | Industrial Box PC with Intel® Core™ i7-4700EQ, 8 GB DRAM (non-ECC), 64 GB SSD-SLC, WES 7 (64-bit), PCIe slot, RS-232 |
| | Intel® Core™ i7 | 4700EQ (2.4 GHz) | Active cooling (fan) | 8 GB RAM (non ECC) | 64 GB SSD | WES 7 (64 bits) | 1 x PCIe slot (X4 lanes) | DVI-D | DVI-I | 89 mm | Industrial Box PC with Intel® Core™ i7-4700EQ, 8 GB DRAM (non-ECC), 64 GB SSD-SLC, WES 7 (64-bit), PCIe slot, extra DVI-D |
| | Intel® Core™ i7 | 4700EQ (2.4 GHz) | Active cooling (fan) | 8 GB RAM (non ECC) | 320 GB HDD | WES 7 (64 bits) | 1 x PCIe slot (X4 lanes) | RS-232 | DVI-I | 89 mm | Industrial Box PC with Intel® Core™ i7-4700EQ, 8 GB DRAM (non-ECC), 320 GB HDD, WES 7 (64-bit), PCIe slot, RS-232 |
| | Intel® Core™ i7 | 4700EQ (2.4 GHz) | Active cooling (fan) | 8 GB RAM (non ECC) | 320 GB HDD | WES 7 (64 bits) | 1 x PCIe slot (X4 lanes) | DVI-D | DVI-I | 89 mm | Industrial Box PC with Intel® Core™ i7-4700EQ, 8 GB DRAM (non-ECC), 320 GB HDD, WES 7 (64-bit), PCIe slot, extra DVI-D |
| | Intel® Core™ i7 | 4700EQ (2.4 GHz) | Active cooling (fan) | 8 GB RAM (non ECC) | 128 GB SSD | WES 7 (64 bits) | 1 x PCIe slot (X4 lanes) | RS-232 | DVI-I | 89 mm | Industrial Box PC with Intel® Core™ i7-4700EQ, 8 GB DRAM (non-ECC), 128 GB SSD-iMLC, WES 7 (64-bit), PCIe slot, RS-232 |
| | Intel® Core™ i7 | 4700EQ (2.4 GHz) | Active cooling (fan) | 8 GB RAM (non ECC) | 128 GB SSD | WES 7 (64 bits) | 1 x PCIe slot (X4 lanes) | DVI-D | DVI-I | 89 mm | Industrial Box PC with Intel® Core™ i7-4700EQ, 8 GB DRAM (non-ECC), 128 GB SSD-iMLC, WES 7 (64-bit), PCIe slot, extra DVI-D |
| | Intel® Core™ i7 | 4700EQ (2.4 GHz) | Active cooling (fan) | 8 GB RAM (non ECC) | 64 GB SSD | Windows 10 (64 bits) | 1 x PCIe slot (X4 lanes) | RS-232 | DVI-I | 89 mm | Industrial Box PC with Intel® Core™ i7-4700EQ, 8 GB DRAM (non-ECC), 64 GB SSD-SLC, WIN 10 IoT Ent. (64-bit), PCIe slot, RS-232 |
| | Intel® Core™ i7 | 4700EQ (2.4 GHz) | Active cooling (fan) | 8 GB RAM (non ECC) | 64 GB SSD | Windows 10 (64 bits) | 1 x PCIe slot (X4 lanes) | DVI-D | DVI-I | 89 mm | Industrial Box PC with Intel® Core™ i7-4700EQ, 8 GB DRAM (non-ECC), 64 GB SSD-SLC, WIN 10 IoT Ent. (64-bit), PCIe slot, extra DVI-D |
| | Intel® Core™ i7 | 4700EQ (2.4 GHz) | Active cooling (fan) | 8 GB RAM (non ECC) | 64 GB SSD | Windows 10 (64 bits) | 1 x PCIe slot (X4 lanes) | NYML | DVI-I | 89 mm | Industrial Box PC with Intel® Core™ i7-4700EQ, 8 GB DRAM (non-ECC), 64 GB SSD-SLC, WIN 10 IoT Ent. (64-bit), PCIe slot, NYML port |
| | Intel® Core™ i7 | 4700EQ (2.4 GHz) | Active cooling (fan) | 8 GB RAM (non ECC) | 320 GB HDD | Windows 10 (64 bits) | 1 x PCIe slot (X4 lanes) | RS-232 | DVI-I | 89 mm | Industrial Box PC with Intel® Core™ i7-4700EQ, 8 GB DRAM (non-ECC), 320 GB HDD, WIN 10 IoT Ent. (64-bit), PCIe slot, RS-232 |
| | Intel® Core™ i7 | 4700EQ (2.4 GHz) | Active cooling (fan) | 8 GB RAM (non ECC) | 320 GB HDD | Windows 10 (64 bits) | 1 x PCIe slot (X4 lanes) | DVI-D | DVI-I | 89 mm | Industrial Box PC with Intel® Core™ i7-4700EQ, 8 GB DRAM (non-ECC), 320 GB HDD, WIN 10 IoT Ent. (64-bit), PCIe slot, extra DVI-D |
| | Intel® Core™ i7 | 4700EQ (2.4 GHz) | Active cooling (fan) | 8 GB RAM (non ECC) | 320 GB HDD | Windows 10 (64 bits) | 1 x PCIe slot (X4 lanes) | NYML | DVI-I | 89 mm | Industrial Box PC with Intel® Core™ i7-4700EQ, 8 GB DRAM (non-ECC), 320 GB HDD, WIN 10 IoT Ent. (64-bit), PCIe slot, NYML port |
| | Intel® Core™ i7 | 4700EQ (2.4 GHz) | Active cooling (fan) | 8 GB RAM (non ECC) | 500 GB HDD | Windows 10 (64 bits) | 1 x PCIe slot (X4 lanes) | RS-232 | DVI-I | 89 mm | Industrial Box PC with Intel® Core™ i7-4700EQ (incl. fan), 8 GB DRAM (non-ECC), 500 GB HDD, WIN 10 IoT Ent. (64-bit), 1 PCIe + 2 drive slots, RS-232C |
| | Intel® Core™ i7 | 4700EQ (2.4 GHz) | Active cooling (fan) | 8 GB RAM (non ECC) | 500 GB HDD | Windows 10 (64 bits) | 1 x PCIe slot (X4 lanes) | DVI-D | DVI-I | 89 mm | Industrial Box PC with Intel® Core™ i7-4700EQ (incl. fan), 8 GB DRAM (non-ECC), 500 GB HDD, WIN 10 IoT Ent. (64-bit), 1 PCIe + 2 drive slots, extra DVI-D |
| | Intel® Core™ i7 | 4700EQ (2.4 GHz) | Active cooling (fan) | 8 GB RAM (non ECC) | 500 GB HDD | Windows 10 (64 bits) | 1 x PCIe slot (X4 lanes) | NYML | DVI-I | 89 mm | Industrial Box PC with Intel® Core™ i7-4700EQ (incl. fan), 8 GB DRAM (non-ECC), 500 GB HDD, WIN 10 IoT Ent. (64-bit), 1 PCIe + 2 drive slots, NY Monitor Link |
| | Intel® Core™ i7 | 4700EQ (2.4 GHz) | Active cooling (fan) | 8 GB RAM (non ECC) | 128 GB SSD | Windows 10 (64 bits) | 1 x PCIe slot (X4 lanes) | RS-232 | DVI-I | 89 mm | Industrial Box PC with Intel® Core™ i7-4700EQ, 8 GB DRAM (non-ECC), 128 GB SSD-iMLC, WIN 10 IoT Ent. (64-bit), PCIe slot, RS-232 |
| | Intel® Core™ i7 | 4700EQ (2.4 GHz) | Active cooling (fan) | 8 GB RAM (non ECC) | 128 GB SSD | Windows 10 (64 bits) | 1 x PCIe slot (X4 lanes) | DVI-D | DVI-I | 89 mm | Industrial Box PC with Intel® Core™ i7-4700EQ, 8 GB DRAM (non-ECC), 128 GB SSD-iMLC, WIN 10 IoT Ent. (64-bit), PCIe slot, extra DVI-D |
| | Intel® Core™ i7 | 4700EQ (2.4 GHz) | Active cooling (fan) | 8 GB RAM (non ECC) | 128 GB SSD | Windows 10 (64 bits) | 1 x PCIe slot (X4 lanes) | NYML | DVI-I | 89 mm | Industrial Box PC with Intel® Core™ i7-4700EQ, 8 GB DRAM (non-ECC), 128 GB SSD-iMLC, WIN 10 IoT Ent. (64-bit), PCIe slot, NYML port |
| | Intel® Core™ i7 | 4700EQ (2.4 GHz) | Active cooling (fan) | 16 GB RAM (non ECC) | 500 GB HDD | Windows 10 (64 bits) | 1 x PCIe slot (X4 lanes) | DVI-D | DVI-I | 89 mm | Industrial Box PC with Intel® Core™ i7-4700EQ (incl. fan), 16 GB DRAM (non-ECC), 500 GB HDD, WIN 10 IoT Ent. (64-bit), 1 PCIe + 2 drive slots, extra DVI-D |
| | Intel® Core™ i7 | 4700EQ (2.4 GHz) | Active cooling (fan) | 16 GB RAM (non ECC) | 128 GB SSD | Windows 10 (64 bits) | 1 x PCIe slot (X4 lanes) | DVI-D | DVI-I | 89 mm | Industrial Box PC with Intel® Core™ i7-4700EQ (incl. fan), 16 GB DRAM (non-ECC), 128 GB SSD iMLC, WIN 10 IoT Ent. (64-bit), 1 PCIe + 2 drive slots, extra DVI-D |
| | Intel® Xeon® E3 | 1515M v5 (2.8 GHz) | Active cooling (fan) | 8 GB RAM (non ECC) | No Storage | No OS | 1 x PCIe slot (X4 lanes) | RS-232 | DVI-I | 89 mm | Industrial Box PC with Intel® Xeon® E3-1515M v5, 8 GB DRAM (non-ECC), No storage, No OS, PCIe slot, RS-232 |
| | Intel® Xeon® E3 | 1515M v5 (2.8 GHz) | Active cooling (fan) | 8 GB RAM (non ECC) | No Storage | No OS | 1 x PCIe slot (X4 lanes) | DVI-D | DVI-I | 89 mm | Industrial Box PC with Intel® Xeon® E3-1515M v5, 8 GB DRAM (non-ECC), No storage, No OS, PCIe slot, extra DVI-D |
| | Intel® Xeon® E3 | 1515M v5 (2.8 GHz) | Active cooling (fan) | 8 GB RAM (non ECC) | No Storage | No OS | 1 x PCIe slot (X4 lanes) | NYML | DVI-I | 89 mm | Industrial Box PC with Intel® Xeon® E3-1515M v5, 8 GB DRAM (non-ECC), No storage, No OS, PCIe slot, NYML port |
| | Intel® Xeon® E3 | 1515M v5 (2.8 GHz) | Active cooling (fan) | 8 GB RAM (non ECC) | 320 GB HDD | Windows 10 (64 bits) | 1 x PCIe slot (X4 lanes) | RS-232 | DVI-I | 89 mm | Industrial Box PC with Intel® Xeon® E3-1515M v5, 8 GB DRAM (non-ECC), 320 GB HDD, WIN 10 IoT Ent. (64-bit), PCIe slot, RS-232 |
| | Intel® Xeon® E3 | 1515M v5 (2.8 GHz) | Active cooling (fan) | 8 GB RAM (non ECC) | 320 GB HDD | Windows 10 (64 bits) | 1 x PCIe slot (X4 lanes) | DVI-D | DVI-I | 89 mm | Industrial Box PC with Intel® Xeon® E3-1515M v5, 8 GB DRAM (non-ECC), 320 GB HDD, WIN 10 IoT Ent. (64-bit), PCIe slot, extra DVI-D |
| | Intel® Xeon® E3 | 1515M v5 (2.8 GHz) | Active cooling (fan) | 8 GB RAM (non ECC) | 320 GB HDD | Windows 10 (64 bits) | 1 x PCIe slot (X4 lanes) | NYML | DVI-I | 89 mm | Industrial Box PC with Intel® Xeon® E3-1515M v5, 8 GB DRAM (non-ECC), 320 GB HDD, WIN 10 IoT Ent. (64-bit), PCIe slot, NYML port |
| | Intel® Xeon® E3 | 1515M v5 (2.8 GHz) | Active cooling (fan) | 8 GB RAM (non ECC) | 500 GB HDD | Windows 10 (64 bits) | 1 x PCIe slot (X4 lanes) | RS-232 | DVI-I | 89 mm | Industrial Box PC with Intel® Xeon® E3-1515M v5, 8 GB DRAM (non-ECC), 500 GB HDD, WIN 10 IoT Ent. (64-bit), PCIe slot, RS-232 |
| | Intel® Xeon® E3 | 1515M v5 (2.8 GHz) | Active cooling (fan) | 8 GB RAM (non ECC) | 500 GB HDD | Windows 10 (64 bits) | 1 x PCIe slot (X4 lanes) | DVI-D | DVI-I | 89 mm | Industrial Box PC with Intel® Xeon® E3-1515M v5, 8 GB DRAM (non-ECC), 500 GB HDD, WIN 10 IoT Ent. (64-bit), PCIe slot, extra DVI-D |
| | Intel® Xeon® E3 | 1515M v5 (2.8 GHz) | Active cooling (fan) | 8 GB RAM (non ECC) | 500 GB HDD | Windows 10 (64 bits) | 1 x PCIe slot (X4 lanes) | NYML | DVI-I | 89 mm | Industrial Box PC with Intel® Xeon® E3-1515M v5, 8 GB DRAM (non-ECC), 500 GB HDD, WIN 10 IoT Ent. (64-bit), PCIe slot, NYML port |
| | Intel® Xeon® E3 | 1515M v5 (2.8 GHz) | Active cooling (fan) | 8 GB RAM (non ECC) | 1 TB HDD | Windows 10 (64 bits) | 1 x PCIe slot (X4 lanes) | RS-232 | DVI-I | 89 mm | Industrial Box PC with Intel® Xeon® E3-1515M v5, 8 GB DRAM (non-ECC), 1 TB HDD, WIN 10 IoT Ent. (64-bit), PCIe slot, RS-232 |
| | Intel® Xeon® E3 | 1515M v5 (2.8 GHz) | Active cooling (fan) | 8 GB RAM (non ECC) | 1 TB HDD | Windows 10 (64 bits) | 1 x PCIe slot (X4 lanes) | DVI-D | DVI-I | 89 mm | Industrial Box PC with Intel® Xeon® E3-1515M v5, 8 GB DRAM (non-ECC), 1 TB HDD, WIN 10 IoT Ent. (64-bit), PCIe slot, extra DVI-D |
| | Intel® Xeon® E3 | 1515M v5 (2.8 GHz) | Active cooling (fan) | 8 GB RAM (non ECC) | 1 TB HDD | Windows 10 (64 bits) | 1 x PCIe slot (X4 lanes) | NYML | DVI-I | 89 mm | Industrial Box PC with Intel® Xeon® E3-1515M v5, 8 GB DRAM (non-ECC), 1 TB HDD, WIN 10 IoT Ent. (64-bit), PCIe slot, NYML port |
| | Intel® Xeon® E3 | 1515M v5 (2.8 GHz) | Active cooling (fan) | 8 GB RAM (non ECC) | 128 GB SSD | Windows 10 (64 bits) | 1 x PCIe slot (X4 lanes) | RS-232 | DVI-I | 89 mm | Industrial Box PC with Intel® Xeon® E3-1515M v5, 8 GB DRAM (non-ECC), 128 GB SSD-iMLC, WIN 10 IoT Ent. (64-bit), PCIe slot, RS-232 |
| | Intel® Xeon® E3 | 1515M v5 (2.8 GHz) | Active cooling (fan) | 8 GB RAM (non ECC) | 128 GB SSD | Windows 10 (64 bits) | 1 x PCIe slot (X4 lanes) | DVI-D | DVI-I | 89 mm | Industrial Box PC with Intel® Xeon® E3-1515M v5, 8 GB DRAM (non-ECC), 128 GB SSD-iMLC, WIN 10 IoT Ent. (64-bit), PCIe slot, extra DVI-D |
| | Intel® Xeon® E3 | 1515M v5 (2.8 GHz) | Active cooling (fan) | 8 GB RAM (non ECC) | 128 GB SSD | Windows 10 (64 bits) | 1 x PCIe slot (X4 lanes) | NYML | DVI-I | 89 mm | Industrial Box PC with Intel® Xeon® E3-1515M v5, 8 GB DRAM (non-ECC), 128 GB SSD-iMLC, WIN 10 IoT Ent. (64-bit), PCIe slot, NYML port |
| | Intel® Xeon® E3 | 1515M v5 (2.8 GHz) | Active cooling (fan) | 8 GB RAM (non ECC) | 500 GB SSD | Windows 10 (64 bits) | 1 x PCIe slot (X4 lanes) | RS-232 | DVI-I | 89 mm | Industrial Box PC with Intel® Xeon® E3-1515M v5, 8 GB DRAM (non-ECC), 500 GB SSD iMLC, WIN 10 IoT Ent. (64-bit), PCIe slot, RS-232 |
| | Intel® Xeon® E3 | 1515M v5 (2.8 GHz) | Active cooling (fan) | 8 GB RAM (non ECC) | 500 GB SSD | Windows 10 (64 bits) | 1 x PCIe slot (X4 lanes) | DVI-D | DVI-I | 89 mm | Industrial Box PC with Intel® Xeon® E3-1515M v5, 8 GB DRAM (non-ECC), 500 GB SSD iMLC, WIN 10 IoT Ent. (64-bit), PCIe slot, extra DVI-D |
| | Intel® Xeon® E3 | 1515M v5 (2.8 GHz) | Active cooling (fan) | 8 GB RAM (non ECC) | 500 GB SSD | Windows 10 (64 bits) | 1 x PCIe slot (X4 lanes) | NYML | DVI-I | 89 mm | Industrial Box PC with Intel® Xeon® E3-1515M v5, 8 GB DRAM (non-ECC), 500 GB SSD iMLC, WIN 10 IoT Ent. (64-bit), PCIe slot, NYML port |
| | Intel® Xeon® E3 | 1515M v5 (2.8 GHz) | Active cooling (fan) | 16 GB RAM (non ECC) | No Storage | No OS | 1 x PCIe slot (X4 lanes) | RS-232 | DVI-I | 89 mm | Industrial Box PC with Intel® Xeon® E3-1515M v5, 16 GB DRAM (non-ECC), No storage, No OS, PCIe slot, RS-232 |
| | Intel® Xeon® E3 | 1515M v5 (2.8 GHz) | Active cooling (fan) | 16 GB RAM (non ECC) | No Storage | No OS | 1 x PCIe slot (X4 lanes) | DVI-D | DVI-I | 89 mm | Industrial Box PC with Intel® Xeon® E3-1515M v5, 16 GB DRAM (non-ECC), No storage, No OS, PCIe slot, extra DVI-D |
| | Intel® Xeon® E3 | 1515M v5 (2.8 GHz) | Active cooling (fan) | 16 GB RAM (non ECC) | No Storage | No OS | 1 x PCIe slot (X4 lanes) | NYML | DVI-I | 89 mm | Industrial Box PC with Intel® Xeon® E3-1515M v5, 16 GB DRAM (non-ECC), No storage, No OS, PCIe slot, NYML port |
| | Intel® Xeon® E3 | 1515M v5 (2.8 GHz) | Active cooling (fan) | 16 GB RAM (non ECC) | 320 GB HDD | Windows 10 (64 bits) | 1 x PCIe slot (X4 lanes) | RS-232 | DVI-I | 89 mm | Industrial Box PC with Intel® Xeon® E3-1515M v5, 16 GB DRAM (non-ECC), 320 GB HDD, WIN 10 IoT Ent. (64-bit), PCIe slot, RS-232 |
| | Intel® Xeon® E3 | 1515M v5 (2.8 GHz) | Active cooling (fan) | 16 GB RAM (non ECC) | 320 GB HDD | Windows 10 (64 bits) | 1 x PCIe slot (X4 lanes) | DVI-D | DVI-I | 89 mm | Industrial Box PC with Intel® Xeon® E3-1515M v5, 16 GB DRAM (non-ECC), 320 GB HDD, WIN 10 IoT Ent. (64-bit), PCIe slot, extra DVI-D |
| | Intel® Xeon® E3 | 1515M v5 (2.8 GHz) | Active cooling (fan) | 16 GB RAM (non ECC) | 320 GB HDD | Windows 10 (64 bits) | 1 x PCIe slot (X4 lanes) | NYML | DVI-I | 89 mm | Industrial Box PC with Intel® Xeon® E3-1515M v5, 16 GB DRAM (non-ECC), 320 GB HDD, WIN 10 IoT Ent. (64-bit), PCIe slot, NYML port |
| | Intel® Xeon® E3 | 1515M v5 (2.8 GHz) | Active cooling (fan) | 16 GB RAM (non ECC) | 500 GB HDD | Windows 10 (64 bits) | 1 x PCIe slot (X4 lanes) | RS-232 | DVI-I | 89 mm | Industrial Box PC with Intel® Xeon® E3-1515M v5, 16 GB DRAM (non-ECC), 500 GB HDD, WIN 10 IoT Ent. (64-bit), PCIe slot, RS-232 |
| | Intel® Xeon® E3 | 1515M v5 (2.8 GHz) | Active cooling (fan) | 16 GB RAM (non ECC) | 500 GB HDD | Windows 10 (64 bits) | 1 x PCIe slot (X4 lanes) | DVI-D | DVI-I | 89 mm | Industrial Box PC with Intel® Xeon® E3-1515M v5, 16 GB DRAM (non-ECC), 500 GB HDD, WIN 10 IoT Ent. (64-bit), PCIe slot, extra DVI-D |
| | Intel® Xeon® E3 | 1515M v5 (2.8 GHz) | Active cooling (fan) | 16 GB RAM (non ECC) | 500 GB HDD | Windows 10 (64 bits) | 1 x PCIe slot (X4 lanes) | NYML | DVI-I | 89 mm | Industrial Box PC with Intel® Xeon® E3-1515M v5, 16 GB DRAM (non-ECC), 500 GB HDD, WIN 10 IoT Ent. (64-bit), PCIe slot, NYML port |
| | Intel® Xeon® E3 | 1515M v5 (2.8 GHz) | Active cooling (fan) | 16 GB RAM (non ECC) | 1 TB HDD | Windows 10 (64 bits) | 1 x PCIe slot (X4 lanes) | RS-232 | DVI-I | 89 mm | Industrial Box PC with Intel® Xeon® E3-1515M v5, 16 GB DRAM (non-ECC), 1 TB HDD, WIN 10 IoT Ent. (64-bit), PCIe slot, RS-232 |
| | Intel® Xeon® E3 | 1515M v5 (2.8 GHz) | Active cooling (fan) | 16 GB RAM (non ECC) | 1 TB HDD | Windows 10 (64 bits) | 1 x PCIe slot (X4 lanes) | DVI-D | DVI-I | 89 mm | Industrial Box PC with Intel® Xeon® E3-1515M v5, 16 GB DRAM (non-ECC), 1 TB HDD, WIN 10 IoT Ent. (64-bit), PCIe slot, extra DVI-D |
| | Intel® Xeon® E3 | 1515M v5 (2.8 GHz) | Active cooling (fan) | 16 GB RAM (non ECC) | 1 TB HDD | Windows 10 (64 bits) | 1 x PCIe slot (X4 lanes) | NYML | DVI-I | 89 mm | Industrial Box PC with Intel® Xeon® E3-1515M v5, 16 GB DRAM (non-ECC), 1 TB HDD, WIN 10 IoT Ent. (64-bit), PCIe slot, NYML port |
| | Intel® Xeon® E3 | 1515M v5 (2.8 GHz) | Active cooling (fan) | 16 GB RAM (non ECC) | 128 GB SSD | Windows 10 (64 bits) | 1 x PCIe slot (X4 lanes) | RS-232 | DVI-I | 89 mm | Industrial Box PC with Intel® Xeon® E3-1515M v5, 16 GB DRAM (non-ECC), 128 GB SSD-iMLC, WIN 10 IoT Ent. (64-bit), PCIe slot, RS-232 |
| | Intel® Xeon® E3 | 1515M v5 (2.8 GHz) | Active cooling (fan) | 16 GB RAM (non ECC) | 128 GB SSD | Windows 10 (64 bits) | 1 x PCIe slot (X4 lanes) | DVI-D | DVI-I | 89 mm | Industrial Box PC with Intel® Xeon® E3-1515M v5, 16 GB DRAM (non-ECC), 128 GB SSD-iMLC, WIN 10 IoT Ent. (64-bit), PCIe slot, extra DVI-D |
| | Intel® Xeon® E3 | 1515M v5 (2.8 GHz) | Active cooling (fan) | 16 GB RAM (non ECC) | 128 GB SSD | Windows 10 (64 bits) | 1 x PCIe slot (X4 lanes) | NYML | DVI-I | 89 mm | Industrial Box PC with Intel® Xeon® E3-1515M v5, 16 GB DRAM (non-ECC), 128 GB SSD-iMLC, WIN 10 IoT Ent. (64-bit), PCIe slot, NYML port |
| | Intel® Xeon® E3 | 1515M v5 (2.8 GHz) | Active cooling (fan) | 16 GB RAM (non ECC) | 500 GB SSD | Windows 10 (64 bits) | 1 x PCIe slot (X4 lanes) | RS-232 | DVI-I | 89 mm | Industrial Box PC with Intel® Xeon® E3-1515M v5, 16 GB DRAM (non-ECC), 500 GB SSD iMLC, WIN 10 IoT Ent. (64-bit), PCIe slot, RS-232 |
| | Intel® Xeon® E3 | 1515M v5 (2.8 GHz) | Active cooling (fan) | 16 GB RAM (non ECC) | 500 GB SSD | Windows 10 (64 bits) | 1 x PCIe slot (X4 lanes) | DVI-D | DVI-I | 89 mm | Industrial Box PC with Intel® Xeon® E3-1515M v5, 16 GB DRAM (non-ECC), 500 GB SSD iMLC, WIN 10 IoT Ent. (64-bit), PCIe slot, extra DVI-D |
| | Intel® Xeon® E3 | 1515M v5 (2.8 GHz) | Active cooling (fan) | 16 GB RAM (non ECC) | 500 GB SSD | Windows 10 (64 bits) | 1 x PCIe slot (X4 lanes) | NYML | DVI-I | 89 mm | Industrial Box PC with Intel® Xeon® E3-1515M v5, 16 GB DRAM (non-ECC), 500 GB SSD iMLC, WIN 10 IoT Ent. (64-bit), PCIe slot, NYML port |
| | Intel® Xeon® E3 | 1515M v5 (2.8 GHz) | Active cooling (fan) | 8 GB RAM (ECC) | No Storage | No OS | 1 x PCIe slot (X4 lanes) | RS-232 | DVI-I | 89 mm | Industrial Box PC with Intel® Xeon® E3-1515M v5, 8 GB DRAM (ECC), No storage, No OS, PCIe slot, RS-232 |
| | Intel® Xeon® E3 | 1515M v5 (2.8 GHz) | Active cooling (fan) | 8 GB RAM (ECC) | No Storage | No OS | 1 x PCIe slot (X4 lanes) | DVI-D | DVI-I | 89 mm | Industrial Box PC with Intel® Xeon® E3-1515M v5, 8 GB DRAM (ECC), No storage, No OS, PCIe slot, extra DVI-D |
| | Intel® Xeon® E3 | 1515M v5 (2.8 GHz) | Active cooling (fan) | 8 GB RAM (ECC) | No Storage | No OS | 1 x PCIe slot (X4 lanes) | NYML | DVI-I | 89 mm | Industrial Box PC with Intel® Xeon® E3-1515M v5, 8 GB DRAM (ECC), No storage, No OS, PCIe slot, NYML port |
| | Intel® Xeon® E3 | 1515M v5 (2.8 GHz) | Active cooling (fan) | 8 GB RAM (ECC) | No Storage | No OS | 1 x PCIe slot (X4 lanes) | Ethernet | DVI-I | 89 mm | Industrial Box PC with Intel® Xeon® E3-1515M v5, 8 GB DRAM (ECC), No storage, No OS, PCIe slot, extra Ethernet port |
| | Intel® Xeon® E3 | 1515M v5 (2.8 GHz) | Active cooling (fan) | 8 GB RAM (ECC) | 320 GB HDD | Windows 10 (64 bits) | 1 x PCIe slot (X4 lanes) | RS-232 | DVI-I | 89 mm | Industrial Box PC with Intel® Xeon® E3-1515M v5, 8 GB DRAM (ECC), 320 GB HDD, WIN 10 IoT Ent. (64-bit), PCIe slot, RS-232 |
| | Intel® Xeon® E3 | 1515M v5 (2.8 GHz) | Active cooling (fan) | 8 GB RAM (ECC) | 320 GB HDD | Windows 10 (64 bits) | 1 x PCIe slot (X4 lanes) | DVI-D | DVI-I | 89 mm | Industrial Box PC with Intel® Xeon® E3-1515M v5, 8 GB DRAM (ECC), 320 GB HDD, WIN 10 IoT Ent. (64-bit), PCIe slot, extra DVI-D |
| | Intel® Xeon® E3 | 1515M v5 (2.8 GHz) | Active cooling (fan) | 8 GB RAM (ECC) | 320 GB HDD | Windows 10 (64 bits) | 1 x PCIe slot (X4 lanes) | NYML | DVI-I | 89 mm | Industrial Box PC with Intel® Xeon® E3-1515M v5, 8 GB DRAM (ECC), 320 GB HDD, WIN 10 IoT Ent. (64-bit), PCIe slot, NYML port |
| | Intel® Xeon® E3 | 1515M v5 (2.8 GHz) | Active cooling (fan) | 8 GB RAM (ECC) | 500 GB HDD | Windows 10 (64 bits) | 1 x PCIe slot (X4 lanes) | RS-232 | DVI-I | 89 mm | Industrial Box PC with Intel® Xeon® E3-1515M v5, 8 GB DRAM (ECC), 500 GB HDD, WIN 10 IoT Ent. (64-bit), PCIe slot, RS-232 |
| | Intel® Xeon® E3 | 1515M v5 (2.8 GHz) | Active cooling (fan) | 8 GB RAM (ECC) | 500 GB HDD | Windows 10 (64 bits) | 1 x PCIe slot (X4 lanes) | DVI-D | DVI-I | 89 mm | Industrial Box PC with Intel® Xeon® E3-1515M v5, 8 GB DRAM (ECC), 500 GB HDD, WIN 10 IoT Ent. (64-bit), PCIe slot, extra DVI-D |
| | Intel® Xeon® E3 | 1515M v5 (2.8 GHz) | Active cooling (fan) | 8 GB RAM (ECC) | 500 GB HDD | Windows 10 (64 bits) | 1 x PCIe slot (X4 lanes) | NYML | DVI-I | 89 mm | Industrial Box PC with Intel® Xeon® E3-1515M v5, 8 GB DRAM (ECC), 500 GB HDD, WIN 10 IoT Ent. (64-bit), PCIe slot, NYML port |
| | Intel® Xeon® E3 | 1515M v5 (2.8 GHz) | Active cooling (fan) | 8 GB RAM (ECC) | 500 GB HDD | Windows 10 (64 bits) | 1 x PCIe slot (X4 lanes) | Ethernet | DVI-I | 89 mm | Industrial Box PC with Intel® Xeon® E3-1515M v5, 8 GB DRAM (ECC), 500 GB HDD, WIN 10 IoT Ent. (64-bit), PCIe slot, extra Ethernet port |
| | Intel® Xeon® E3 | 1515M v5 (2.8 GHz) | Active cooling (fan) | 8 GB RAM (ECC) | 1 TB HDD | Windows 10 (64 bits) | 1 x PCIe slot (X4 lanes) | RS-232 | DVI-I | 89 mm | Industrial Box PC with Intel® Xeon® E3-1515M v5, 8 GB DRAM (ECC), 1 TB HDD, WIN 10 IoT Ent. (64-bit), PCIe slot, RS-232 |
| | Intel® Xeon® E3 | 1515M v5 (2.8 GHz) | Active cooling (fan) | 8 GB RAM (ECC) | 1 TB HDD | Windows 10 (64 bits) | 1 x PCIe slot (X4 lanes) | DVI-D | DVI-I | 89 mm | Industrial Box PC with Intel® Xeon® E3-1515M v5, 8 GB DRAM (ECC), 1 TB HDD, WIN 10 IoT Ent. (64-bit), PCIe slot, extra DVI-D |
| | Intel® Xeon® E3 | 1515M v5 (2.8 GHz) | Active cooling (fan) | 8 GB RAM (ECC) | 1 TB HDD | Windows 10 (64 bits) | 1 x PCIe slot (X4 lanes) | NYML | DVI-I | 89 mm | Industrial Box PC with Intel® Xeon® E3-1515M v5, 8 GB DRAM (ECC), 1 TB HDD, WIN 10 IoT Ent. (64-bit), PCIe slot, NYML port |
| | Intel® Xeon® E3 | 1515M v5 (2.8 GHz) | Active cooling (fan) | 8 GB RAM (ECC) | 128 GB SSD | Windows 10 (64 bits) | 1 x PCIe slot (X4 lanes) | RS-232 | DVI-I | 89 mm | Industrial Box PC with Intel® Xeon® E3-1515M v5, 8 GB DRAM (ECC), 128 GB SSD-iMLC, WIN 10 IoT Ent. (64-bit), PCIe slot, RS-232 |
| | Intel® Xeon® E3 | 1515M v5 (2.8 GHz) | Active cooling (fan) | 8 GB RAM (ECC) | 128 GB SSD | Windows 10 (64 bits) | 1 x PCIe slot (X4 lanes) | DVI-D | DVI-I | 89 mm | Industrial Box PC with Intel® Xeon® E3-1515M v5, 8 GB DRAM (ECC), 128 GB SSD-iMLC, WIN 10 IoT Ent. (64-bit), PCIe slot, extra DVI-D |
| | Intel® Xeon® E3 | 1515M v5 (2.8 GHz) | Active cooling (fan) | 8 GB RAM (ECC) | 128 GB SSD | Windows 10 (64 bits) | 1 x PCIe slot (X4 lanes) | NYML | DVI-I | 89 mm | Industrial Box PC with Intel® Xeon® E3-1515M v5, 8 GB DRAM (ECC), 128 GB SSD-iMLC, WIN 10 IoT Ent. (64-bit), PCIe slot, NYML port |
| | Intel® Xeon® E3 | 1515M v5 (2.8 GHz) | Active cooling (fan) | 8 GB RAM (ECC) | 500 GB SSD | Windows 10 (64 bits) | 1 x PCIe slot (X4 lanes) | RS-232 | DVI-I | 89 mm | Industrial Box PC with Intel® Xeon® E3-1515M v5, 8 GB DRAM (ECC), 500 GB SSD iMLC, WIN 10 IoT Ent. (64-bit), PCIe slot, RS-232 |
| | Intel® Xeon® E3 | 1515M v5 (2.8 GHz) | Active cooling (fan) | 8 GB RAM (ECC) | 500 GB SSD | Windows 10 (64 bits) | 1 x PCIe slot (X4 lanes) | DVI-D | DVI-I | 89 mm | Industrial Box PC with Intel® Xeon® E3-1515M v5, 8 GB DRAM (ECC), 500 GB SSD iMLC, WIN 10 IoT Ent. (64-bit), PCIe slot, extra DVI-D |
| | Intel® Xeon® E3 | 1515M v5 (2.8 GHz) | Active cooling (fan) | 8 GB RAM (ECC) | 500 GB SSD | Windows 10 (64 bits) | 1 x PCIe slot (X4 lanes) | NYML | DVI-I | 89 mm | Industrial Box PC with Intel® Xeon® E3-1515M v5, 8 GB DRAM (ECC), 500 GB SSD iMLC, WIN 10 IoT Ent. (64-bit), PCIe slot, NYML port |
| | Intel® Xeon® E3 | 1515M v5 (2.8 GHz) | Active cooling (fan) | 8 GB RAM (ECC) | 500 GB SSD | Windows 10 (64 bits) | 1 x PCIe slot (X4 lanes) | Ethernet | DVI-I | 89 mm | Industrial Box PC with Intel® Xeon® E3-1515M v5, 8 GB DRAM (ECC), 500 GB SSD iMLC, WIN 10 IoT Ent. (64-bit), PCIe slot, extra Ethernet port |
| | Intel® Xeon® E3 | 1515M v5 (2.8 GHz) | Active cooling (fan) | 16 GB RAM (ECC) | No Storage | No OS | 1 x PCIe slot (X4 lanes) | RS-232 | DVI-I | 89 mm | Industrial Box PC with Intel® Xeon® E3-1515M v5, 16 GB DRAM (ECC), No storage, No OS, PCIe slot, RS-232 |
| | Intel® Xeon® E3 | 1515M v5 (2.8 GHz) | Active cooling (fan) | 16 GB RAM (ECC) | No Storage | No OS | 1 x PCIe slot (X4 lanes) | DVI-D | DVI-I | 89 mm | Industrial Box PC with Intel® Xeon® E3-1515M v5, 16 GB DRAM (ECC), No storage, No OS, PCIe slot, extra DVI-D |
| | Intel® Xeon® E3 | 1515M v5 (2.8 GHz) | Active cooling (fan) | 16 GB RAM (ECC) | No Storage | No OS | 1 x PCIe slot (X4 lanes) | NYML | DVI-I | 89 mm | Industrial Box PC with Intel® Xeon® E3-1515M v5, 16 GB DRAM (ECC), No storage, No OS, PCIe slot, NYML port |
| | Intel® Xeon® E3 | 1515M v5 (2.8 GHz) | Active cooling (fan) | 16 GB RAM (ECC) | 320 GB HDD | Windows 10 (64 bits) | 1 x PCIe slot (X4 lanes) | RS-232 | DVI-I | 89 mm | Industrial Box PC with Intel® Xeon® E3-1515M v5, 16 GB DRAM (ECC), 320 GB HDD, WIN 10 IoT Ent. (64-bit), PCIe slot, RS-232 |
| | Intel® Xeon® E3 | 1515M v5 (2.8 GHz) | Active cooling (fan) | 16 GB RAM (ECC) | 320 GB HDD | Windows 10 (64 bits) | 1 x PCIe slot (X4 lanes) | DVI-D | DVI-I | 89 mm | Industrial Box PC with Intel® Xeon® E3-1515M v5, 16 GB DRAM (ECC), 320 GB HDD, WIN 10 IoT Ent. (64-bit), PCIe slot, extra DVI-D |
| | Intel® Xeon® E3 | 1515M v5 (2.8 GHz) | Active cooling (fan) | 16 GB RAM (ECC) | 320 GB HDD | Windows 10 (64 bits) | 1 x PCIe slot (X4 lanes) | NYML | DVI-I | 89 mm | Industrial Box PC with Intel® Xeon® E3-1515M v5, 16 GB DRAM (ECC), 320 GB HDD, WIN 10 IoT Ent. (64-bit), PCIe slot, NYML port |
| | Intel® Xeon® E3 | 1515M v5 (2.8 GHz) | Active cooling (fan) | 16 GB RAM (ECC) | 500 GB HDD | Windows 10 (64 bits) | 1 x PCIe slot (X4 lanes) | RS-232 | DVI-I | 89 mm | Industrial Box PC with Intel® Xeon® E3-1515M v5, 16 GB DRAM (ECC), 500 GB HDD, WIN 10 IoT Ent. (64-bit), PCIe slot, RS-232 |
| | Intel® Xeon® E3 | 1515M v5 (2.8 GHz) | Active cooling (fan) | 16 GB RAM (ECC) | 500 GB HDD | Windows 10 (64 bits) | 1 x PCIe slot (X4 lanes) | DVI-D | DVI-I | 89 mm | Industrial Box PC with Intel® Xeon® E3-1515M v5, 16 GB DRAM (ECC), 500 GB HDD, WIN 10 IoT Ent. (64-bit), PCIe slot, extra DVI-D |
| | Intel® Xeon® E3 | 1515M v5 (2.8 GHz) | Active cooling (fan) | 16 GB RAM (ECC) | 500 GB HDD | Windows 10 (64 bits) | 1 x PCIe slot (X4 lanes) | NYML | DVI-I | 89 mm | Industrial Box PC with Intel® Xeon® E3-1515M v5, 16 GB DRAM (ECC), 500 GB HDD, WIN 10 IoT Ent. (64-bit), PCIe slot, NYML port |
| | Intel® Xeon® E3 | 1515M v5 (2.8 GHz) | Active cooling (fan) | 16 GB RAM (ECC) | 1 TB HDD | Windows 10 (64 bits) | 1 x PCIe slot (X4 lanes) | RS-232 | DVI-I | 89 mm | Industrial Box PC with Intel® Xeon® E3-1515M v5, 16 GB DRAM (ECC), 1 TB HDD, WIN 10 IoT Ent. (64-bit), PCIe slot, RS-232 |
| | Intel® Xeon® E3 | 1515M v5 (2.8 GHz) | Active cooling (fan) | 16 GB RAM (ECC) | 1 TB HDD | Windows 10 (64 bits) | 1 x PCIe slot (X4 lanes) | DVI-D | DVI-I | 89 mm | Industrial Box PC with Intel® Xeon® E3-1515M v5, 16 GB DRAM (ECC), 1 TB HDD, WIN 10 IoT Ent. (64-bit), PCIe slot, extra DVI-D |
| | Intel® Xeon® E3 | 1515M v5 (2.8 GHz) | Active cooling (fan) | 16 GB RAM (ECC) | 1 TB HDD | Windows 10 (64 bits) | 1 x PCIe slot (X4 lanes) | NYML | DVI-I | 89 mm | Industrial Box PC with Intel® Xeon® E3-1515M v5, 16 GB DRAM (ECC), 1 TB HDD, WIN 10 IoT Ent. (64-bit), PCIe slot, NYML port |
| | Intel® Xeon® E3 | 1515M v5 (2.8 GHz) | Active cooling (fan) | 16 GB RAM (ECC) | 128 GB SSD | Windows 10 (64 bits) | 1 x PCIe slot (X4 lanes) | RS-232 | DVI-I | 89 mm | Industrial Box PC with Intel® Xeon® E3-1515M v5, 16 GB DRAM (ECC), 128 GB SSD-iMLC, WIN 10 IoT Ent. (64-bit), PCIe slot, RS-232 |
| | Intel® Xeon® E3 | 1515M v5 (2.8 GHz) | Active cooling (fan) | 16 GB RAM (ECC) | 128 GB SSD | Windows 10 (64 bits) | 1 x PCIe slot (X4 lanes) | DVI-D | DVI-I | 89 mm | Industrial Box PC with Intel® Xeon® E3-1515M v5, 16 GB DRAM (ECC), 128 GB SSD-iMLC, WIN 10 IoT Ent. (64-bit), PCIe slot, extra DVI-D |
| | Intel® Xeon® E3 | 1515M v5 (2.8 GHz) | Active cooling (fan) | 16 GB RAM (ECC) | 128 GB SSD | Windows 10 (64 bits) | 1 x PCIe slot (X4 lanes) | NYML | DVI-I | 89 mm | Industrial Box PC with Intel® Xeon® E3-1515M v5, 16 GB DRAM (ECC), 128 GB SSD-iMLC, WIN 10 IoT Ent. (64-bit), PCIe slot, NYML port |
| | Intel® Xeon® E3 | 1515M v5 (2.8 GHz) | Active cooling (fan) | 16 GB RAM (ECC) | 500 GB SSD | Windows 10 (64 bits) | 1 x PCIe slot (X4 lanes) | RS-232 | DVI-I | 89 mm | Industrial Box PC with Intel® Xeon® E3-1515M v5, 16 GB DRAM (ECC), 500 GB SSD iMLC, WIN 10 IoT Ent. (64-bit), PCIe slot, RS-232 |
| | Intel® Xeon® E3 | 1515M v5 (2.8 GHz) | Active cooling (fan) | 16 GB RAM (ECC) | 500 GB SSD | Windows 10 (64 bits) | 1 x PCIe slot (X4 lanes) | DVI-D | DVI-I | 89 mm | Industrial Box PC with Intel® Xeon® E3-1515M v5, 16 GB DRAM (ECC), 500 GB SSD iMLC, WIN 10 IoT Ent. (64-bit), PCIe slot, extra DVI-D |
| | Intel® Xeon® E3 | 1515M v5 (2.8 GHz) | Active cooling (fan) | 16 GB RAM (ECC) | 500 GB SSD | Windows 10 (64 bits) | 1 x PCIe slot (X4 lanes) | NYML | DVI-I | 89 mm | Industrial Box PC with Intel® Xeon® E3-1515M v5, 16 GB DRAM (ECC), 500 GB SSD iMLC, WIN 10 IoT Ent. (64-bit), PCIe slot, NYML port |
| | Intel® Core™ i7 | 7820EQ (3.0 GHz) | Active cooling (fan) | 8 GB RAM (non ECC) | No Storage | No OS | 1 x PCIe slot (X4 lanes) | RS-232 | DVI-I | 89 mm | Industrial Box PC with Intel® Core™ i7-7820EQ, 8 GB DRAM (non-ECC), No Storage, No OS, 1 PCIe + 2 drive slots, RS-232C |
| | Intel® Core™ i7 | 7820EQ (3.0 GHz) | Active cooling (fan) | 8 GB RAM (non ECC) | No Storage | No OS | 1 x PCIe slot (X4 lanes) | DVI-D | DVI-I | 89 mm | Industrial Box PC with Intel® Core™ i7-7820EQ, 8 GB DRAM (non-ECC), No Storage, No OS, 1 PCIe + 2 drive slots, extra DVI-D |
| | Intel® Core™ i7 | 7820EQ (3.0 GHz) | Active cooling (fan) | 8 GB RAM (non ECC) | No Storage | No OS | 1 x PCIe slot (X4 lanes) | NYML | DVI-I | 89 mm | Industrial Box PC with Intel® Core™ i7-7820EQ, 8 GB DRAM (non-ECC), No Storage, No OS, 1 PCIe + 2 drive slots, NY Monitor Link |
| | Intel® Core™ i7 | 7820EQ (3.0 GHz) | Active cooling (fan) | 8 GB RAM (non ECC) | 128 GB SSD | Windows 10 (64 bits) | 1 x PCIe slot (X4 lanes) | RS-232 | DVI-I | 89 mm | Industrial Box PC with Intel® Core™ i7-7820EQ, 8 GB DRAM (non-ECC), 128 GB SSD iMLC, WIN 10 IoT Ent. (64-bit), 1 PCIe + 2 drive slots, RS-232C |
| | Intel® Core™ i7 | 7820EQ (3.0 GHz) | Active cooling (fan) | 8 GB RAM (non ECC) | 128 GB SSD | Windows 10 (64 bits) | 1 x PCIe slot (X4 lanes) | DVI-D | DVI-I | 89 mm | Industrial Box PC with Intel® Core™ i7-7820EQ, 8 GB DRAM (non-ECC), 128 GB SSD iMLC, WIN 10 IoT Ent. (64-bit), 1 PCIe + 2 drive slots, extra DVI-D |
| | Intel® Core™ i7 | 7820EQ (3.0 GHz) | Active cooling (fan) | 8 GB RAM (non ECC) | 128 GB SSD | Windows 10 (64 bits) | 1 x PCIe slot (X4 lanes) | NYML | DVI-I | 89 mm | Industrial Box PC with Intel® Core™ i7-7820EQ, 8 GB DRAM (non-ECC), 128 GB SSD iMLC, WIN 10 IoT Ent. (64-bit), 1 PCIe + 2 drive slots, NY Monitor Link |
| | Intel® Atom™ | E3940 (1.6 GHz) | Passive cooling (fanless) | 2 GB RAM (non ECC) | No Storage | No OS | No Expansion | No Port | DVI-D | 41 mm | Industrial Box PC with Intel® Atom™ E3940, 2 GB DRAM (non-ECC), No Storage, No OS, No exp. slots, No I/F option |
| | Intel® Atom™ | E3940 (1.6 GHz) | Passive cooling (fanless) | 2 GB RAM (non ECC) | No Storage | No OS | No Expansion | NYML | DVI-D | 41 mm | Industrial Box PC with Intel® Atom™ E3940, 2 GB DRAM (non-ECC), No Storage, No OS, No exp. slots, NY Monitor Link |
| | Intel® Atom™ | E3940 (1.6 GHz) | Passive cooling (fanless) | 4 GB RAM (non ECC) | No Storage | No OS | No Expansion | No Port | DVI-D | 41 mm | Industrial Box PC with Intel® Atom™ E3940, 4 GB DRAM (non-ECC), No Storage, No OS, No exp. slots, No I/F option |
| | Intel® Atom™ | E3940 (1.6 GHz) | Passive cooling (fanless) | 4 GB RAM (non ECC) | No Storage | No OS | No Expansion | NYML | DVI-D | 41 mm | Industrial Box PC with Intel® Atom™ E3940, 4 GB DRAM (non-ECC), No Storage, No OS, No exp. slots, NY Monitor Link |
| | Intel® Atom™ | E3940 (1.6 GHz) | Passive cooling (fanless) | 4 GB RAM (non ECC) | 64 GB CFast | No OS | No Expansion | No Port | DVI-D | 41 mm | Industrial Box PC with Intel® Atom™ E3940, 4 GB DRAM (non-ECC), 64 GB CFast iMLC, No OS, No exp. slots, No I/F option |
| | Intel® Atom™ | E3940 (1.6 GHz) | Passive cooling (fanless) | 4 GB RAM (non ECC) | 64 GB CFast | Windows 10 (64 bits) | No Expansion | No Port | DVI-D | 41 mm | Industrial Box PC with Intel® Atom™ E3940, 4 GB DRAM (non-ECC), 64 GB CFast iMLC, WIN 10 IoT 2019 (64-bit), No exp. slots, No I/F option |
| | Intel® Atom™ | E3940 (1.6 GHz) | Passive cooling (fanless) | 4 GB RAM (non ECC) | 64 GB CFast | Windows 10 (64 bits) | No Expansion | NYML | DVI-D | 41 mm | Industrial Box PC with Intel® Atom™ E3940, 4 GB DRAM (non-ECC), 64 GB CFast iMLC, WIN 10 IoT 2019 (64-bit), No exp. slots, NY Monitor Link |
| | Intel® Atom™ | E3940 (1.6 GHz) | Passive cooling (fanless) | 4 GB RAM (non ECC) | 128 GB CFast | Windows 10 (64 bits) | No Expansion | No Port | DVI-D | 41 mm | Industrial Box PC with Intel® Atom™ E3940, 4 GB DRAM (non-ECC), 128 GB CFast iMLC, WIN 10 IoT 2019 (64-bit), No exp. slots, No I/F option |
| | Intel® Atom™ | E3940 (1.6 GHz) | Passive cooling (fanless) | 4 GB RAM (non ECC) | 128 GB CFast | Windows 10 (64 bits) | No Expansion | NYML | DVI-D | 41 mm | Industrial Box PC with Intel® Atom™ E3940, 4 GB DRAM (non-ECC), 128 GB CFast iMLC, WIN 10 IoT 2019 (64-bit), No exp. slots, NY Monitor Link |
| | Intel® Atom™ | E3940 (1.6 GHz) | Passive cooling (fanless) | 4 GB RAM (non ECC) | 256 GB CFast | Windows 10 (64 bits) | No Expansion | No Port | DVI-D | 41 mm | Industrial Box PC with Intel® Atom™ E3940, 4 GB DRAM (non-ECC), 256 GB CFast iMLC, WIN 10 IoT 2019 (64-bit), No exp. slots, No I/F option |
| | Intel® Atom™ | E3940 (1.6 GHz) | Passive cooling (fanless) | 4 GB RAM (non ECC) | 256 GB CFast | Windows 10 (64 bits) | No Expansion | NYML | DVI-D | 41 mm | Industrial Box PC with Intel® Atom™ E3940, 4 GB DRAM (non-ECC), 256 GB CFast iMLC, WIN 10 IoT 2019 (64-bit), No exp. slots, NY Monitor Link |
| | Intel® Atom™ | E3940 (1.6 GHz) | Passive cooling (fanless) | 8 GB RAM (non ECC) | No Storage | No OS | No Expansion | No Port | DVI-D | 41 mm | Industrial Box PC with Intel® Atom™ E3940, 8 GB DRAM (non-ECC), No Storage, No OS, No exp. slots, No I/F option |
| | Intel® Atom™ | E3940 (1.6 GHz) | Passive cooling (fanless) | 8 GB RAM (non ECC) | No Storage | No OS | No Expansion | NYML | DVI-D | 41 mm | Industrial Box PC with Intel® Atom™ E3940, 8 GB DRAM (non-ECC), No Storage, No OS, No exp. slots, NY Monitor Link |
| | Intel® Atom™ | E3940 (1.6 GHz) | Passive cooling (fanless) | 8 GB RAM (non ECC) | 64 GB CFast | Windows 10 (64 bits) | No Expansion | No Port | DVI-D | 41 mm | Industrial Box PC with Intel® Atom™ E3940, 8 GB DRAM (non-ECC), 64 GB CFast iMLC, WIN 10 IoT 2019 (64-bit), No exp. slots, No I/F option |
| | Intel® Atom™ | E3940 (1.6 GHz) | Passive cooling (fanless) | 8 GB RAM (non ECC) | 64 GB CFast | Windows 10 (64 bits) | No Expansion | NYML | DVI-D | 41 mm | Industrial Box PC with Intel® Atom™ E3940, 8 GB DRAM (non-ECC), 64 GB CFast iMLC, WIN 10 IoT 2019 (64-bit), No exp. slots, NY Monitor Link |
| | Intel® Atom™ | E3940 (1.6 GHz) | Passive cooling (fanless) | 8 GB RAM (non ECC) | 128 GB CFast | Windows 10 (64 bits) | No Expansion | No Port | DVI-D | 41 mm | Industrial Box PC with Intel® Atom™ E3940, 8 GB DRAM (non-ECC), 128 GB CFast iMLC, WIN 10 IoT 2019 (64-bit), No exp. slots, No I/F option |
| | Intel® Atom™ | E3940 (1.6 GHz) | Passive cooling (fanless) | 8 GB RAM (non ECC) | 128 GB CFast | Windows 10 (64 bits) | No Expansion | NYML | DVI-D | 41 mm | Industrial Box PC with Intel® Atom™ E3940, 8 GB DRAM (non-ECC), 128 GB CFast iMLC, WIN 10 IoT 2019 (64-bit), No exp. slots, NY Monitor Link |
| | Intel® Atom™ | E3940 (1.6 GHz) | Passive cooling (fanless) | 8 GB RAM (non ECC) | 256 GB CFast | Windows 10 (64 bits) | No Expansion | No Port | DVI-D | 41 mm | Industrial Box PC with Intel® Atom™ E3940, 8 GB DRAM (non-ECC), 256 GB CFast iMLC, WIN 10 IoT 2019 (64-bit), No exp. slots, No I/F option |
| | Intel® Atom™ | E3940 (1.6 GHz) | Passive cooling (fanless) | 8 GB RAM (non ECC) | 256 GB CFast | Windows 10 (64 bits) | No Expansion | NYML | DVI-D | 41 mm | Industrial Box PC with Intel® Atom™ E3940, 8 GB DRAM (non-ECC), 256 GB CFast iMLC, WIN 10 IoT 2019 (64-bit), No exp. slots, NY Monitor Link |
| | Intel® Celeron® | 3965U (2.2 GHz) | Passive cooling (fanless) | 4 GB RAM (non ECC) | No Storage | No OS | No Expansion | No Port | DVI-D | 41 mm | Industrial Box PC with Intel® Celeron® 3965U, 4 GB DDR4 RAM (non-ECC), No storage, No OS, no PCIe slot, no option port |
| | Intel® Celeron® | 3965U (2.2 GHz) | Passive cooling (fanless) | 4 GB RAM (non ECC) | No Storage | No OS | No Expansion | NYML | DVI-D | 41 mm | Industrial Box PC with Intel® Celeron® 3965U, 4 GB DDR4 RAM (non-ECC), No storage, No OS, no PCIe slot, NYML port |
| | Intel® Celeron® | 3965U (2.2 GHz) | Passive cooling (fanless) | 4 GB RAM (non ECC) | 64 GB CFast | Windows 10 (64 bits) | No Expansion | No Port | DVI-D | 41 mm | Industrial Box PC with Intel® Celeron® 3965U, 4 GB DDR4 RAM (non-ECC), 64 GB CFast iMLC, WIN 10 IoT Ent. (64-bit), no PCIe slot, no option port |
| | Intel® Celeron® | 3965U (2.2 GHz) | Passive cooling (fanless) | 4 GB RAM (non ECC) | 64 GB CFast | Windows 10 (64 bits) | No Expansion | NYML | DVI-D | 41 mm | Industrial Box PC with Intel® Celeron® 3965U, 4 GB DDR4 RAM (non-ECC), 64 GB CFast iMLC, WIN 10 IoT Ent. (64-bit), no PCIe slot, NYML port |
| | Intel® Celeron® | 3965U (2.2 GHz) | Passive cooling (fanless) | 4 GB RAM (non ECC) | 128 GB CFast | Windows 10 (64 bits) | No Expansion | No Port | DVI-D | 41 mm | Industrial Box PC with Intel® Celeron® 3965U, 4 GB DDR4 RAM (non-ECC), 128 GB CFast iMLC, WIN 10 IoT Ent. (64-bit), no PCIe slot, no option port |
| | Intel® Celeron® | 3965U (2.2 GHz) | Passive cooling (fanless) | 4 GB RAM (non ECC) | 128 GB CFast | Windows 10 (64 bits) | No Expansion | NYML | DVI-D | 41 mm | Industrial Box PC with Intel® Celeron® 3965U, 4 GB DDR4 RAM (non-ECC), 128 GB CFast iMLC, WIN 10 IoT Ent. (64-bit), no PCIe slot, NYML port |
| | Intel® Celeron® | 3965U (2.2 GHz) | Passive cooling (fanless) | 4 GB RAM (non ECC) | 256 GB CFast | Windows 10 (64 bits) | No Expansion | No Port | DVI-D | 41 mm | Industrial Box PC with Intel® Celeron® 3965U, 4 GB DDR4 RAM (non-ECC), 256 GB CFast iMLC, WIN 10 IoT Ent. (64-bit), no PCIe slot, no option port |
| | Intel® Celeron® | 3965U (2.2 GHz) | Passive cooling (fanless) | 4 GB RAM (non ECC) | 256 GB CFast | Windows 10 (64 bits) | No Expansion | NYML | DVI-D | 41 mm | Industrial Box PC with Intel® Celeron® 3965U, 4 GB DDR4 RAM (non-ECC), 256 GB CFast iMLC, WIN 10 IoT Ent. (64-bit), no PCIe slot, NYML port |
| | Intel® Celeron® | 3965U (2.2 GHz) | Passive cooling (fanless) | 4 GB RAM (non ECC) | No Storage | No OS | 1 x PCIe slot (X2 lanes) | RS-232 | DVI-D | 73 mm | Industrial Box PC with Intel® Celeron® 3965U, 4 GB DDR4 RAM (non-ECC), No storage, No OS, PCIe slot, RS-232 |
| | Intel® Celeron® | 3965U (2.2 GHz) | Passive cooling (fanless) | 4 GB RAM (non ECC) | No Storage | No OS | 1 x PCIe slot (X2 lanes) | DVI-D | DVI-D | 73 mm | Industrial Box PC with Intel® Celeron® 3965U, 4 GB DDR4 RAM (non-ECC), No storage, No OS, PCIe slot, extra DVI-D |
| | Intel® Celeron® | 3965U (2.2 GHz) | Passive cooling (fanless) | 4 GB RAM (non ECC) | No Storage | No OS | 1 x PCIe slot (X2 lanes) | NYML | DVI-D | 73 mm | Industrial Box PC with Intel® Celeron® 3965U, 4 GB DDR4 RAM (non-ECC), No storage, No OS, PCIe slot, NYML port |
| | Intel® Celeron® | 3965U (2.2 GHz) | Passive cooling (fanless) | 4 GB RAM (non ECC) | 64 GB SSD | Windows 10 (64 bits) | 1 x PCIe slot (X2 lanes) | RS-232 | DVI-D | 73 mm | Industrial Box PC with Intel® Celeron® 3965U, 4 GB DDR4 RAM (non-ECC), 64 GB SSD-SLC, WIN 10 IoT Ent. (64-bit), PCIe slot, RS-232 |
| | Intel® Celeron® | 3965U (2.2 GHz) | Passive cooling (fanless) | 4 GB RAM (non ECC) | 64 GB SSD | Windows 10 (64 bits) | 1 x PCIe slot (X2 lanes) | DVI-D | DVI-D | 73 mm | Industrial Box PC with Intel® Celeron® 3965U, 4 GB DDR4 RAM (non-ECC), 64 GB SSD-SLC, WIN 10 IoT Ent. (64-bit), PCIe slot, extra DVI-D |
| | Intel® Celeron® | 3965U (2.2 GHz) | Passive cooling (fanless) | 4 GB RAM (non ECC) | 64 GB SSD | Windows 10 (64 bits) | 1 x PCIe slot (X2 lanes) | NYML | DVI-D | 73 mm | Industrial Box PC with Intel® Celeron® 3965U, 4 GB DDR4 RAM (non-ECC), 64 GB SSD-SLC, WIN 10 IoT Ent. (64-bit), PCIe slot, NYML port |
| | Intel® Celeron® | 3965U (2.2 GHz) | Passive cooling (fanless) | 4 GB RAM (non ECC) | 320 GB HDD | Windows 10 (64 bits) | 1 x PCIe slot (X2 lanes) | RS-232 | DVI-D | 73 mm | Industrial Box PC with Intel® Celeron® 3965U, 4 GB DDR4 RAM (non-ECC), 320 GB HDD, WIN 10 IoT Ent. (64-bit), PCIe slot, RS-232 |
| | Intel® Celeron® | 3965U (2.2 GHz) | Passive cooling (fanless) | 4 GB RAM (non ECC) | 320 GB HDD | Windows 10 (64 bits) | 1 x PCIe slot (X2 lanes) | DVI-D | DVI-D | 73 mm | Industrial Box PC with Intel® Celeron® 3965U, 4 GB DDR4 RAM (non-ECC), 320 GB HDD, WIN 10 IoT Ent. (64-bit), PCIe slot, extra DVI-D |
| | Intel® Celeron® | 3965U (2.2 GHz) | Passive cooling (fanless) | 4 GB RAM (non ECC) | 320 GB HDD | Windows 10 (64 bits) | 1 x PCIe slot (X2 lanes) | NYML | DVI-D | 73 mm | Industrial Box PC with Intel® Celeron® 3965U, 4 GB DDR4 RAM (non-ECC), 320 GB HDD, WIN 10 IoT Ent. (64-bit), PCIe slot, NYML port |
| | Intel® Celeron® | 3965U (2.2 GHz) | Passive cooling (fanless) | 4 GB RAM (non ECC) | 128 GB SSD | Windows 10 (64 bits) | 1 x PCIe slot (X2 lanes) | RS-232 | DVI-D | 73 mm | Industrial Box PC with Intel® Celeron® 3965U, 4 GB DDR4 RAM (non-ECC), 128 GB SSD-iMLC, WIN 10 IoT Ent. (64-bit), PCIe slot, RS-232 |
| | Intel® Celeron® | 3965U (2.2 GHz) | Passive cooling (fanless) | 4 GB RAM (non ECC) | 128 GB SSD | Windows 10 (64 bits) | 1 x PCIe slot (X2 lanes) | DVI-D | DVI-D | 73 mm | Industrial Box PC with Intel® Celeron® 3965U, 4 GB DDR4 RAM (non-ECC), 128 GB SSD-iMLC, WIN 10 IoT Ent. (64-bit), PCIe slot, extra DVI-D |
| | Intel® Celeron® | 3965U (2.2 GHz) | Passive cooling (fanless) | 4 GB RAM (non ECC) | 128 GB SSD | Windows 10 (64 bits) | 1 x PCIe slot (X2 lanes) | NYML | DVI-D | 73 mm | Industrial Box PC with Intel® Celeron® 3965U, 4 GB DDR4 RAM (non-ECC), 128 GB SSD-iMLC, WIN 10 IoT Ent. (64-bit), PCIe slot, NYML port |
| | Intel® Celeron® | 3965U (2.2 GHz) | Passive cooling (fanless) | 8 GB RAM (non ECC) | No Storage | No OS | No Expansion | No Port | DVI-D | 41 mm | Industrial Box PC with Intel® Celeron® 3965U, 8 GB DDR4 RAM (non-ECC), No storage, No OS, no PCIe slot, no option port |
| | Intel® Celeron® | 3965U (2.2 GHz) | Passive cooling (fanless) | 8 GB RAM (non ECC) | No Storage | No OS | No Expansion | NYML | DVI-D | 41 mm | Industrial Box PC with Intel® Celeron® 3965U, 8 GB DDR4 RAM (non-ECC), No storage, No OS, no PCIe slot, NYML port |
| | Intel® Celeron® | 3965U (2.2 GHz) | Passive cooling (fanless) | 8 GB RAM (non ECC) | 64 GB CFast | Windows 10 (64 bits) | No Expansion | No Port | DVI-D | 41 mm | Industrial Box PC with Intel® Celeron® 3965U, 8 GB DDR4 RAM (non-ECC), 64 GB CFast iMLC, WIN 10 IoT Ent. (64-bit), no PCIe slot, no option port |
| | Intel® Celeron® | 3965U (2.2 GHz) | Passive cooling (fanless) | 8 GB RAM (non ECC) | 64 GB CFast | Windows 10 (64 bits) | No Expansion | NYML | DVI-D | 41 mm | Industrial Box PC with Intel® Celeron® 3965U, 8 GB DDR4 RAM (non-ECC), 64 GB CFast iMLC, WIN 10 IoT Ent. (64-bit), no PCIe slot, NYML port |
| | Intel® Celeron® | 3965U (2.2 GHz) | Passive cooling (fanless) | 8 GB RAM (non ECC) | 128 GB CFast | Windows 10 (64 bits) | No Expansion | No Port | DVI-D | 41 mm | Industrial Box PC with Intel® Celeron® 3965U, 8 GB DDR4 RAM (non-ECC), 128 GB CFast iMLC, WIN 10 IoT Ent. (64-bit), no PCIe slot, no option port |
| | Intel® Celeron® | 3965U (2.2 GHz) | Passive cooling (fanless) | 8 GB RAM (non ECC) | 128 GB CFast | Windows 10 (64 bits) | No Expansion | NYML | DVI-D | 41 mm | Industrial Box PC with Intel® Celeron® 3965U, 8 GB DDR4 RAM (non-ECC), 128 GB CFast iMLC, WIN 10 IoT Ent. (64-bit), no PCIe slot, NYML port |
| | Intel® Celeron® | 3965U (2.2 GHz) | Passive cooling (fanless) | 8 GB RAM (non ECC) | 256 GB CFast | Windows 10 (64 bits) | No Expansion | No Port | DVI-D | 41 mm | Industrial Box PC with Intel® Celeron® 3965U, 8 GB DDR4 RAM (non-ECC), 256 GB CFast iMLC, WIN 10 IoT Ent. (64-bit), no PCIe slot, no option port |
| | Intel® Celeron® | 3965U (2.2 GHz) | Passive cooling (fanless) | 8 GB RAM (non ECC) | 256 GB CFast | Windows 10 (64 bits) | No Expansion | NYML | DVI-D | 41 mm | Industrial Box PC with Intel® Celeron® 3965U, 8 GB DDR4 RAM (non-ECC), 256 GB CFast iMLC, WIN 10 IoT Ent. (64-bit), no PCIe slot, NYML port |
| | Intel® Celeron® | 3965U (2.2 GHz) | Passive cooling (fanless) | 8 GB RAM (non ECC) | No Storage | No OS | 1 x PCIe slot (X2 lanes) | RS-232 | DVI-D | 73 mm | Industrial Box PC with Intel® Celeron® 3965U, 8 GB DDR4 RAM (non-ECC), No storage, No OS, PCIe slot, RS-232 |
| | Intel® Celeron® | 3965U (2.2 GHz) | Passive cooling (fanless) | 8 GB RAM (non ECC) | No Storage | No OS | 1 x PCIe slot (X2 lanes) | DVI-D | DVI-D | 73 mm | Industrial Box PC with Intel® Celeron® 3965U, 8 GB DDR4 RAM (non-ECC), No storage, No OS, PCIe slot, extra DVI-D |
| | Intel® Celeron® | 3965U (2.2 GHz) | Passive cooling (fanless) | 8 GB RAM (non ECC) | No Storage | No OS | 1 x PCIe slot (X2 lanes) | NYML | DVI-D | 73 mm | Industrial Box PC with Intel® Celeron® 3965U, 8 GB DDR4 RAM (non-ECC), No storage, No OS, PCIe slot, NYML port |
| | Intel® Celeron® | 3965U (2.2 GHz) | Passive cooling (fanless) | 8 GB RAM (non ECC) | 64 GB SSD | Windows 10 (64 bits) | 1 x PCIe slot (X2 lanes) | RS-232 | DVI-D | 73 mm | Industrial Box PC with Intel® Celeron® 3965U, 8 GB DDR4 RAM (non-ECC), 64 GB SSD-SLC, WIN 10 IoT Ent. (64-bit), PCIe slot, RS-232 |
| | Intel® Celeron® | 3965U (2.2 GHz) | Passive cooling (fanless) | 8 GB RAM (non ECC) | 64 GB SSD | Windows 10 (64 bits) | 1 x PCIe slot (X2 lanes) | DVI-D | DVI-D | 73 mm | Industrial Box PC with Intel® Celeron® 3965U, 8 GB DDR4 RAM (non-ECC), 64 GB SSD-SLC, WIN 10 IoT Ent. (64-bit), PCIe slot, extra DVI-D |
| | Intel® Celeron® | 3965U (2.2 GHz) | Passive cooling (fanless) | 8 GB RAM (non ECC) | 64 GB SSD | Windows 10 (64 bits) | 1 x PCIe slot (X2 lanes) | NYML | DVI-D | 73 mm | Industrial Box PC with Intel® Celeron® 3965U, 8 GB DDR4 RAM (non-ECC), 64 GB SSD-SLC, WIN 10 IoT Ent. (64-bit), PCIe slot, NYML port |
| | Intel® Celeron® | 3965U (2.2 GHz) | Passive cooling (fanless) | 8 GB RAM (non ECC) | 320 GB HDD | Windows 10 (64 bits) | 1 x PCIe slot (X2 lanes) | RS-232 | DVI-D | 73 mm | Industrial Box PC with Intel® Celeron® 3965U, 8 GB DDR4 RAM (non-ECC), 320 GB HDD, WIN 10 IoT Ent. (64-bit), PCIe slot, RS-232 |
| | Intel® Celeron® | 3965U (2.2 GHz) | Passive cooling (fanless) | 8 GB RAM (non ECC) | 320 GB HDD | Windows 10 (64 bits) | 1 x PCIe slot (X2 lanes) | DVI-D | DVI-D | 73 mm | Industrial Box PC with Intel® Celeron® 3965U, 8 GB DDR4 RAM (non-ECC), 320 GB HDD, WIN 10 IoT Ent. (64-bit), PCIe slot, extra DVI-D |
| | Intel® Celeron® | 3965U (2.2 GHz) | Passive cooling (fanless) | 8 GB RAM (non ECC) | 320 GB HDD | Windows 10 (64 bits) | 1 x PCIe slot (X2 lanes) | NYML | DVI-D | 73 mm | Industrial Box PC with Intel® Celeron® 3965U, 8 GB DDR4 RAM (non-ECC), 320 GB HDD, WIN 10 IoT Ent. (64-bit), PCIe slot, NYML port |
| | Intel® Celeron® | 3965U (2.2 GHz) | Passive cooling (fanless) | 8 GB RAM (non ECC) | 128 GB SSD | Windows 10 (64 bits) | 1 x PCIe slot (X2 lanes) | RS-232 | DVI-D | 73 mm | Industrial Box PC with Intel® Celeron® 3965U, 8 GB DDR4 RAM (non-ECC), 128 GB SSD-iMLC, WIN 10 IoT Ent. (64-bit), PCIe slot, RS-232 |
| | Intel® Celeron® | 3965U (2.2 GHz) | Passive cooling (fanless) | 8 GB RAM (non ECC) | 128 GB SSD | Windows 10 (64 bits) | 1 x PCIe slot (X2 lanes) | DVI-D | DVI-D | 73 mm | Industrial Box PC with Intel® Celeron® 3965U, 8 GB DDR4 RAM (non-ECC), 128 GB SSD-iMLC, WIN 10 IoT Ent. (64-bit), PCIe slot, extra DVI-D |
| | Intel® Celeron® | 3965U (2.2 GHz) | Passive cooling (fanless) | 8 GB RAM (non ECC) | 128 GB SSD | Windows 10 (64 bits) | 1 x PCIe slot (X2 lanes) | NYML | DVI-D | 73 mm | Industrial Box PC with Intel® Celeron® 3965U, 8 GB DDR4 RAM (non-ECC), 128 GB SSD-iMLC, WIN 10 IoT Ent. (64-bit), PCIe slot, NYML port |
| | Intel® Core™ i5 | 7300U (2.6 GHz) | Passive cooling (fanless) | 4 GB RAM (non ECC) | No Storage | No OS | 1 x PCIe slot (X2 lanes) | RS-232 | DVI-D | 73 mm | Industrial Box PC with Intel® Core™ i5-7300U, 4 GB DDR4 RAM (non-ECC), No storage, No OS, PCIe slot, RS-232 |
| | Intel® Core™ i5 | 7300U (2.6 GHz) | Passive cooling (fanless) | 4 GB RAM (non ECC) | No Storage | No OS | 1 x PCIe slot (X2 lanes) | DVI-D | DVI-D | 73 mm | Industrial Box PC with Intel® Core™ i5-7300U, 4 GB DDR4 RAM (non-ECC), No storage, No OS, PCIe slot, extra DVI-D |
| | Intel® Core™ i5 | 7300U (2.6 GHz) | Passive cooling (fanless) | 4 GB RAM (non ECC) | No Storage | No OS | 1 x PCIe slot (X2 lanes) | NYML | DVI-D | 73 mm | Industrial Box PC with Intel® Core™ i5-7300U, 4 GB DDR4 RAM (non-ECC), No storage, No OS, PCIe slot, NYML port |
| | Intel® Core™ i5 | 7300U (2.6 GHz) | Passive cooling (fanless) | 4 GB RAM (non ECC) | 64 GB SSD | Windows 10 (64 bits) | 1 x PCIe slot (X2 lanes) | RS-232 | DVI-D | 73 mm | Industrial Box PC with Intel® Core™ i5-7300U, 4 GB DDR4 RAM (non-ECC), 64 GB SSD-SLC, WIN 10 IoT Ent. (64-bit), PCIe slot, RS-232 |
| | Intel® Core™ i5 | 7300U (2.6 GHz) | Passive cooling (fanless) | 4 GB RAM (non ECC) | 64 GB SSD | Windows 10 (64 bits) | 1 x PCIe slot (X2 lanes) | DVI-D | DVI-D | 73 mm | Industrial Box PC with Intel® Core™ i5-7300U, 4 GB DDR4 RAM (non-ECC), 64 GB SSD-SLC, WIN 10 IoT Ent. (64-bit), PCIe slot, extra DVI-D |
| | Intel® Core™ i5 | 7300U (2.6 GHz) | Passive cooling (fanless) | 4 GB RAM (non ECC) | 64 GB SSD | Windows 10 (64 bits) | 1 x PCIe slot (X2 lanes) | NYML | DVI-D | 73 mm | Industrial Box PC with Intel® Core™ i5-7300U, 4 GB DDR4 RAM (non-ECC), 64 GB SSD-SLC, WIN 10 IoT Ent. (64-bit), PCIe slot, NYML port |
| | Intel® Core™ i5 | 7300U (2.6 GHz) | Passive cooling (fanless) | 4 GB RAM (non ECC) | 320 GB HDD | Windows 10 (64 bits) | 1 x PCIe slot (X2 lanes) | RS-232 | DVI-D | 73 mm | Industrial Box PC with Intel® Core™ i5-7300U, 4 GB DDR4 RAM (non-ECC), 320 GB HDD, WIN 10 IoT Ent. (64-bit), PCIe slot, RS-232 |
| | Intel® Core™ i5 | 7300U (2.6 GHz) | Passive cooling (fanless) | 4 GB RAM (non ECC) | 320 GB HDD | Windows 10 (64 bits) | 1 x PCIe slot (X2 lanes) | DVI-D | DVI-D | 73 mm | Industrial Box PC with Intel® Core™ i5-7300U, 4 GB DDR4 RAM (non-ECC), 320 GB HDD, WIN 10 IoT Ent. (64-bit), PCIe slot, extra DVI-D |
| | Intel® Core™ i5 | 7300U (2.6 GHz) | Passive cooling (fanless) | 4 GB RAM (non ECC) | 320 GB HDD | Windows 10 (64 bits) | 1 x PCIe slot (X2 lanes) | NYML | DVI-D | 73 mm | Industrial Box PC with Intel® Core™ i5-7300U, 4 GB DDR4 RAM (non-ECC), 320 GB HDD, WIN 10 IoT Ent. (64-bit), PCIe slot, NYML port |
| | Intel® Core™ i5 | 7300U (2.6 GHz) | Passive cooling (fanless) | 4 GB RAM (non ECC) | 128 GB SSD | Windows 10 (64 bits) | 1 x PCIe slot (X2 lanes) | RS-232 | DVI-D | 73 mm | Industrial Box PC with Intel® Core™ i5-7300U, 4 GB DDR4 RAM (non-ECC), 128 GB SSD-iMLC, WIN 10 IoT Ent. (64-bit), PCIe slot, RS-232 |
| | Intel® Core™ i5 | 7300U (2.6 GHz) | Passive cooling (fanless) | 4 GB RAM (non ECC) | 128 GB SSD | Windows 10 (64 bits) | 1 x PCIe slot (X2 lanes) | DVI-D | DVI-D | 73 mm | Industrial Box PC with Intel® Core™ i5-7300U, 4 GB DDR4 RAM (non-ECC), 128 GB SSD-iMLC, WIN 10 IoT Ent. (64-bit), PCIe slot, extra DVI-D |
| | Intel® Core™ i5 | 7300U (2.6 GHz) | Passive cooling (fanless) | 4 GB RAM (non ECC) | 128 GB SSD | Windows 10 (64 bits) | 1 x PCIe slot (X2 lanes) | NYML | DVI-D | 73 mm | Industrial Box PC with Intel® Core™ i5-7300U, 4 GB DDR4 RAM (non-ECC), 128 GB SSD-iMLC, WIN 10 IoT Ent. (64-bit), PCIe slot, NYML port |
| | Intel® Core™ i5 | 7300U (2.6 GHz) | Passive cooling (fanless) | 8 GB RAM (non ECC) | No Storage | No OS | No Expansion | No Port | DVI-D | 41 mm | Industrial Box PC with Intel® Core™ i5-7300U, 8 GB DDR4 RAM (non-ECC), No storage, No OS, no PCIe slot, no option port |
| | Intel® Core™ i5 | 7300U (2.6 GHz) | Passive cooling (fanless) | 8 GB RAM (non ECC) | No Storage | No OS | No Expansion | NYML | DVI-D | 41 mm | Industrial Box PC with Intel® Core™ i5-7300U, 8 GB DDR4 RAM (non-ECC), No storage, No OS, no PCIe slot, NYML port |
| | Intel® Core™ i5 | 7300U (2.6 GHz) | Passive cooling (fanless) | 8 GB RAM (non ECC) | 64 GB CFast | Windows 10 (64 bits) | No Expansion | No Port | DVI-D | 41 mm | Industrial Box PC with Intel® Core™ i5-7300U, 8 GB DDR4 RAM (non-ECC), 64 GB CFast iMLC, WIN 10 IoT Ent. (64-bit), no PCIe slot, no option port |
| | Intel® Core™ i5 | 7300U (2.6 GHz) | Passive cooling (fanless) | 8 GB RAM (non ECC) | 64 GB CFast | Windows 10 (64 bits) | No Expansion | NYML | DVI-D | 41 mm | Industrial Box PC with Intel® Core™ i5-7300U, 8 GB DDR4 RAM (non-ECC), 64 GB CFast iMLC, WIN 10 IoT Ent. (64-bit), no PCIe slot, NYML port |
| | Intel® Core™ i5 | 7300U (2.6 GHz) | Passive cooling (fanless) | 8 GB RAM (non ECC) | 128 GB CFast | Windows 10 (64 bits) | No Expansion | No Port | DVI-D | 41 mm | Industrial Box PC with Intel® Core™ i5-7300U, 8 GB DDR4 RAM (non-ECC), 128 GB CFast iMLC, WIN 10 IoT Ent. (64-bit), no PCIe slot, no option port |
| | Intel® Core™ i5 | 7300U (2.6 GHz) | Passive cooling (fanless) | 8 GB RAM (non ECC) | 128 GB CFast | Windows 10 (64 bits) | No Expansion | NYML | DVI-D | 41 mm | Industrial Box PC with Intel® Core™ i5-7300U, 8 GB DDR4 RAM (non-ECC), 128 GB CFast iMLC, WIN 10 IoT Ent. (64-bit), no PCIe slot, NYML port |
| | Intel® Core™ i5 | 7300U (2.6 GHz) | Passive cooling (fanless) | 8 GB RAM (non ECC) | 256 GB CFast | Windows 10 (64 bits) | No Expansion | No Port | DVI-D | 41 mm | Industrial Box PC with Intel® Core™ i5-7300U, 8 GB DDR4 RAM (non-ECC), 256 GB CFast iMLC, WIN 10 IoT Ent. (64-bit), no PCIe slot, no option port |
| | Intel® Core™ i5 | 7300U (2.6 GHz) | Passive cooling (fanless) | 8 GB RAM (non ECC) | 256 GB CFast | Windows 10 (64 bits) | No Expansion | NYML | DVI-D | 41 mm | Industrial Box PC with Intel® Core™ i5-7300U, 8 GB DDR4 RAM (non-ECC), 256 GB CFast iMLC, WIN 10 IoT Ent. (64-bit), no PCIe slot, NYML port |
| | Intel® Core™ i5 | 7300U (2.6 GHz) | Passive cooling (fanless) | 8 GB RAM (non ECC) | No Storage | No OS | 1 x PCIe slot (X2 lanes) | RS-232 | DVI-D | 73 mm | Industrial Box PC with Intel® Core™ i5-7300U, 8 GB DDR4 RAM (non-ECC), No storage, No OS, PCIe slot, RS-232 |
| | Intel® Core™ i5 | 7300U (2.6 GHz) | Passive cooling (fanless) | 8 GB RAM (non ECC) | No Storage | No OS | 1 x PCIe slot (X2 lanes) | DVI-D | DVI-D | 73 mm | Industrial Box PC with Intel® Core™ i5-7300U, 8 GB DDR4 RAM (non-ECC), No storage, No OS, PCIe slot, extra DVI-D |
| | Intel® Core™ i5 | 7300U (2.6 GHz) | Passive cooling (fanless) | 8 GB RAM (non ECC) | No Storage | No OS | 1 x PCIe slot (X2 lanes) | NYML | DVI-D | 73 mm | Industrial Box PC with Intel® Core™ i5-7300U, 8 GB DDR4 RAM (non-ECC), No storage, No OS, PCIe slot, NYML port |
| | Intel® Core™ i5 | 7300U (2.6 GHz) | Passive cooling (fanless) | 8 GB RAM (non ECC) | 64 GB SSD | Windows 10 (64 bits) | 1 x PCIe slot (X2 lanes) | RS-232 | DVI-D | 73 mm | Industrial Box PC with Intel® Core™ i5-7300U, 8 GB DDR4 RAM (non-ECC), 64 GB SSD-SLC, WIN 10 IoT Ent. (64-bit), PCIe slot, RS-232 |
| | Intel® Core™ i5 | 7300U (2.6 GHz) | Passive cooling (fanless) | 8 GB RAM (non ECC) | 64 GB SSD | Windows 10 (64 bits) | 1 x PCIe slot (X2 lanes) | DVI-D | DVI-D | 73 mm | Industrial Box PC with Intel® Core™ i5-7300U, 8 GB DDR4 RAM (non-ECC), 64 GB SSD-SLC, WIN 10 IoT Ent. (64-bit), PCIe slot, extra DVI-D |
| | Intel® Core™ i5 | 7300U (2.6 GHz) | Passive cooling (fanless) | 8 GB RAM (non ECC) | 64 GB SSD | Windows 10 (64 bits) | 1 x PCIe slot (X2 lanes) | NYML | DVI-D | 73 mm | Industrial Box PC with Intel® Core™ i5-7300U, 8 GB DDR4 RAM (non-ECC), 64 GB SSD-SLC, WIN 10 IoT Ent. (64-bit), PCIe slot, NYML port |
| | Intel® Core™ i5 | 7300U (2.6 GHz) | Passive cooling (fanless) | 8 GB RAM (non ECC) | 320 GB HDD | Windows 10 (64 bits) | 1 x PCIe slot (X2 lanes) | RS-232 | DVI-D | 73 mm | Industrial Box PC with Intel® Core™ i5-7300U, 8 GB DDR4 RAM (non-ECC), 320 GB HDD, WIN 10 IoT Ent. (64-bit), PCIe slot, RS-232 |
| | Intel® Core™ i5 | 7300U (2.6 GHz) | Passive cooling (fanless) | 8 GB RAM (non ECC) | 320 GB HDD | Windows 10 (64 bits) | 1 x PCIe slot (X2 lanes) | DVI-D | DVI-D | 73 mm | Industrial Box PC with Intel® Core™ i5-7300U, 8 GB DDR4 RAM (non-ECC), 320 GB HDD, WIN 10 IoT Ent. (64-bit), PCIe slot, extra DVI-D |
| | Intel® Core™ i5 | 7300U (2.6 GHz) | Passive cooling (fanless) | 8 GB RAM (non ECC) | 320 GB HDD | Windows 10 (64 bits) | 1 x PCIe slot (X2 lanes) | NYML | DVI-D | 73 mm | Industrial Box PC with Intel® Core™ i5-7300U, 8 GB DDR4 RAM (non-ECC), 320 GB HDD, WIN 10 IoT Ent. (64-bit), PCIe slot, NYML port |
| | Intel® Core™ i5 | 7300U (2.6 GHz) | Passive cooling (fanless) | 8 GB RAM (non ECC) | 128 GB SSD | Windows 10 (64 bits) | 1 x PCIe slot (X2 lanes) | RS-232 | DVI-D | 73 mm | Industrial Box PC with Intel® Core™ i5-7300U, 8 GB DDR4 RAM (non-ECC), 128 GB SSD-iMLC, WIN 10 IoT Ent. (64-bit), PCIe slot, RS-232 |
| | Intel® Core™ i5 | 7300U (2.6 GHz) | Passive cooling (fanless) | 8 GB RAM (non ECC) | 128 GB SSD | Windows 10 (64 bits) | 1 x PCIe slot (X2 lanes) | DVI-D | DVI-D | 73 mm | Industrial Box PC with Intel® Core™ i5-7300U, 8 GB DDR4 RAM (non-ECC), 128 GB SSD-iMLC, WIN 10 IoT Ent. (64-bit), PCIe slot, extra DVI-D |
| | Intel® Core™ i5 | 7300U (2.6 GHz) | Passive cooling (fanless) | 8 GB RAM (non ECC) | 128 GB SSD | Windows 10 (64 bits) | 1 x PCIe slot (X2 lanes) | NYML | DVI-D | 73 mm | Industrial Box PC with Intel® Core™ i5-7300U, 8 GB DDR4 RAM (non-ECC), 128 GB SSD-iMLC, WIN 10 IoT Ent. (64-bit), PCIe slot, NYML port |
| | Intel® Core™ i5 | 7300U (2.6 GHz) | Passive cooling (fanless) | 16 GB RAM (non ECC) | No Storage | No OS | No Expansion | No Port | DVI-D | 41 mm | Industrial Box PC with Intel® Core™ i5-7300U, 16 GB DDR4 RAM (non-ECC), No storage, No OS, no PCIe slot, no option port |
| | Intel® Core™ i5 | 7300U (2.6 GHz) | Passive cooling (fanless) | 16 GB RAM (non ECC) | No Storage | No OS | No Expansion | NYML | DVI-D | 41 mm | Industrial Box PC with Intel® Core™ i5-7300U, 16 GB DDR4 RAM (non-ECC), No storage, No OS, no PCIe slot, NYML port |
| | Intel® Core™ i5 | 7300U (2.6 GHz) | Passive cooling (fanless) | 16 GB RAM (non ECC) | 64 GB CFast | Windows 10 (64 bits) | No Expansion | No Port | DVI-D | 41 mm | Industrial Box PC with Intel® Core™ i5-7300U, 16 GB DDR4 RAM (non-ECC), 64 GB CFast iMLC, WIN 10 IoT Ent. (64-bit), no PCIe slot, no option port |
| | Intel® Core™ i5 | 7300U (2.6 GHz) | Passive cooling (fanless) | 16 GB RAM (non ECC) | 64 GB CFast | Windows 10 (64 bits) | No Expansion | NYML | DVI-D | 41 mm | Industrial Box PC with Intel® Core™ i5-7300U, 16 GB DDR4 RAM (non-ECC), 64 GB CFast iMLC, WIN 10 IoT Ent. (64-bit), no PCIe slot, NYML port |
| | Intel® Core™ i5 | 7300U (2.6 GHz) | Passive cooling (fanless) | 16 GB RAM (non ECC) | 128 GB CFast | Windows 10 (64 bits) | No Expansion | No Port | DVI-D | 41 mm | Industrial Box PC with Intel® Core™ i5-7300U, 16 GB DDR4 RAM (non-ECC), 128 GB CFast iMLC, WIN 10 IoT Ent. (64-bit), no PCIe slot, no option port |
| | Intel® Core™ i5 | 7300U (2.6 GHz) | Passive cooling (fanless) | 16 GB RAM (non ECC) | 128 GB CFast | Windows 10 (64 bits) | No Expansion | NYML | DVI-D | 41 mm | Industrial Box PC with Intel® Core™ i5-7300U, 16 GB DDR4 RAM (non-ECC), 128 GB CFast iMLC, WIN 10 IoT Ent. (64-bit), no PCIe slot, NYML port |
| | Intel® Core™ i5 | 7300U (2.6 GHz) | Passive cooling (fanless) | 16 GB RAM (non ECC) | 256 GB CFast | Windows 10 (64 bits) | No Expansion | No Port | DVI-D | 41 mm | Industrial Box PC with Intel® Core™ i5-7300U, 16 GB DDR4 RAM (non-ECC), 256 GB CFast iMLC, WIN 10 IoT Ent. (64-bit), no PCIe slot, no option port |
| | Intel® Core™ i5 | 7300U (2.6 GHz) | Passive cooling (fanless) | 16 GB RAM (non ECC) | 256 GB CFast | Windows 10 (64 bits) | No Expansion | NYML | DVI-D | 41 mm | Industrial Box PC with Intel® Core™ i5-7300U, 16 GB DDR4 RAM (non-ECC), 256 GB CFast iMLC, WIN 10 IoT Ent. (64-bit), no PCIe slot, NYML port |
| | Intel® Core™ i5 | 7300U (2.6 GHz) | Passive cooling (fanless) | 16 GB RAM (non ECC) | 500 GB SSD | Windows 10 (64 bits) | 1 x PCIe slot (X2 lanes) | RS-232 | DVI-D | 73 mm | Industrial Box PC with Intel® Core™ i5-7300U, 16 GB DRAM (non-ECC), 500 GB SSD iMLC, WIN 10 IoT Ent. (64-bit), 1 PCIe + 2 drive slots, RS-232C |
| | Intel® Core™ i5 | 7300U (2.6 GHz) | Passive cooling (fanless) | 16 GB RAM (non ECC) | 500 GB SSD | Windows 10 (64 bits) | 1 x PCIe slot (X2 lanes) | DVI-D | DVI-D | 73 mm | Industrial Box PC with Intel® Core™ i5-7300U, 16 GB DRAM (non-ECC), 500 GB SSD iMLC, WIN 10 IoT Ent. (64-bit), 1 PCIe + 2 drive slots, extra DVI-D |
| | Intel® Core™ i5 | 7300U (2.6 GHz) | Passive cooling (fanless) | 16 GB RAM (non ECC) | 500 GB SSD | Windows 10 (64 bits) | 1 x PCIe slot (X2 lanes) | NYML | DVI-D | 73 mm | Industrial Box PC with Intel® Core™ i5-7300U, 16 GB DRAM (non-ECC), 500 GB SSD iMLC, WIN 10 IoT Ent. (64-bit), 1 PCIe + 2 drive slots, NY Monitor Link |
Confronta prodotti
Mostra altri prodotti
Come possiamo aiutarti?
Se hai domande o desideri richiedere un preventivo, contattaci o inviaci una richiesta.
Caratteristiche
NY Monitor Link

Connessione tra IPC e display fino a 100 m
Cavo Ethernet standard
Tempo di risposta del monitor ottimale
Predisposto per 4K
Connections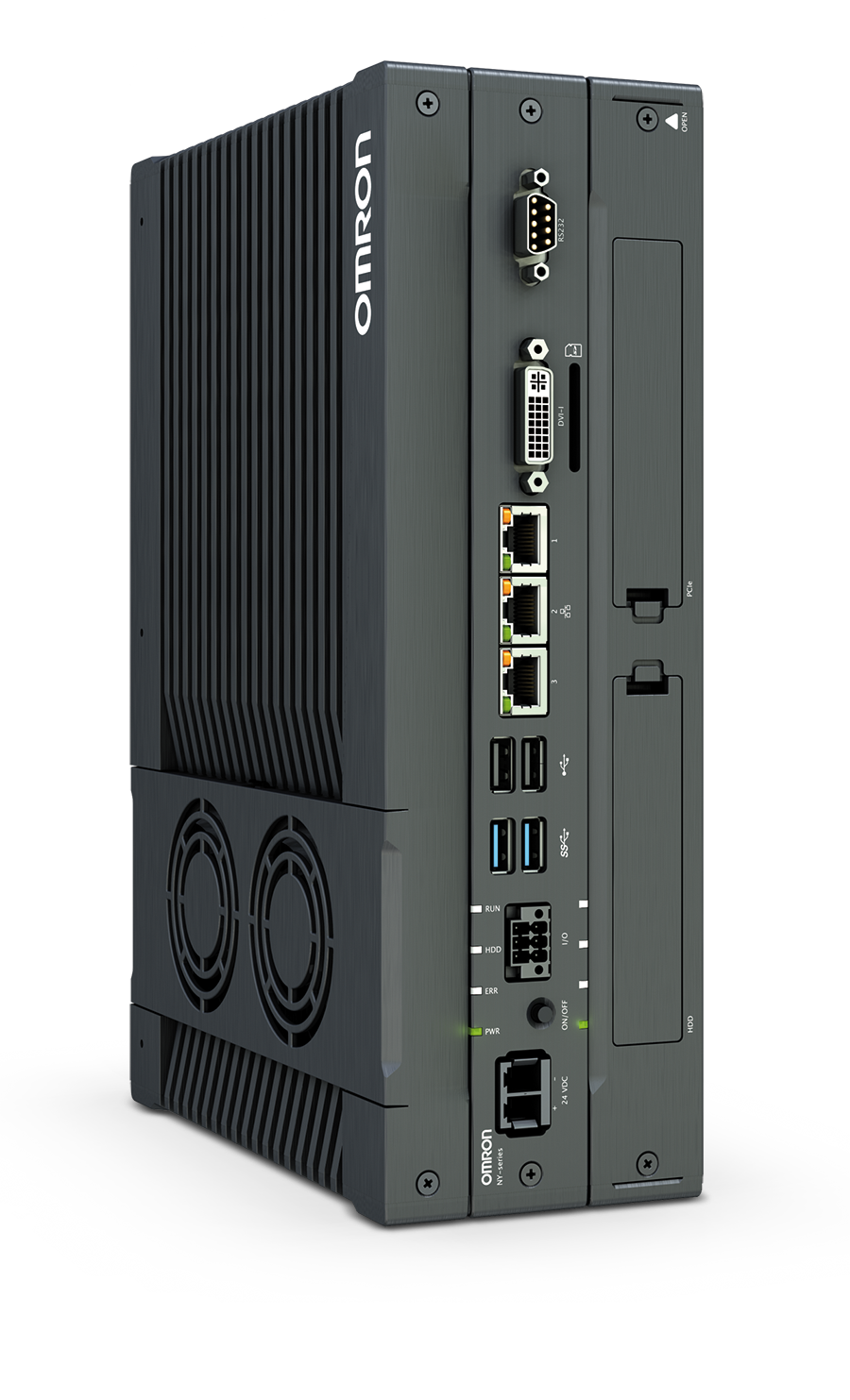 Opzioni: RS-232C o DVI-D aggiuntivo per doppio monitor 
DVI - 3 porte RJ45 Gigabit Ethernet - 2 USB 2.0, 2 USB 3.0 
Scelta di dispositivi di archiviazione: HDD o SSD (tipi MLC e SLC a lunga durata) Possibilità di aggiungere una seconda unità
Connessione I/O predisposta per il collegamento UPS - Alimentatore: 24 Vc.c. non isolato
Industrial Box PC – versatile installation
Tecnologia
Performance
Basato su processori da Intel® Atom® a Intel® Xeon® 
Supporta fino a 32 GB ECC (DDR4 SDRAM)
Grafica Intel® Iris™ Pro o Intel® HD
Dissipatore di calore altamente efficace
Direttiva RoHS (2002/95/CE), Direttive UE, registrazione KC, RCM, cULus, EAC
Simplicity improves reliability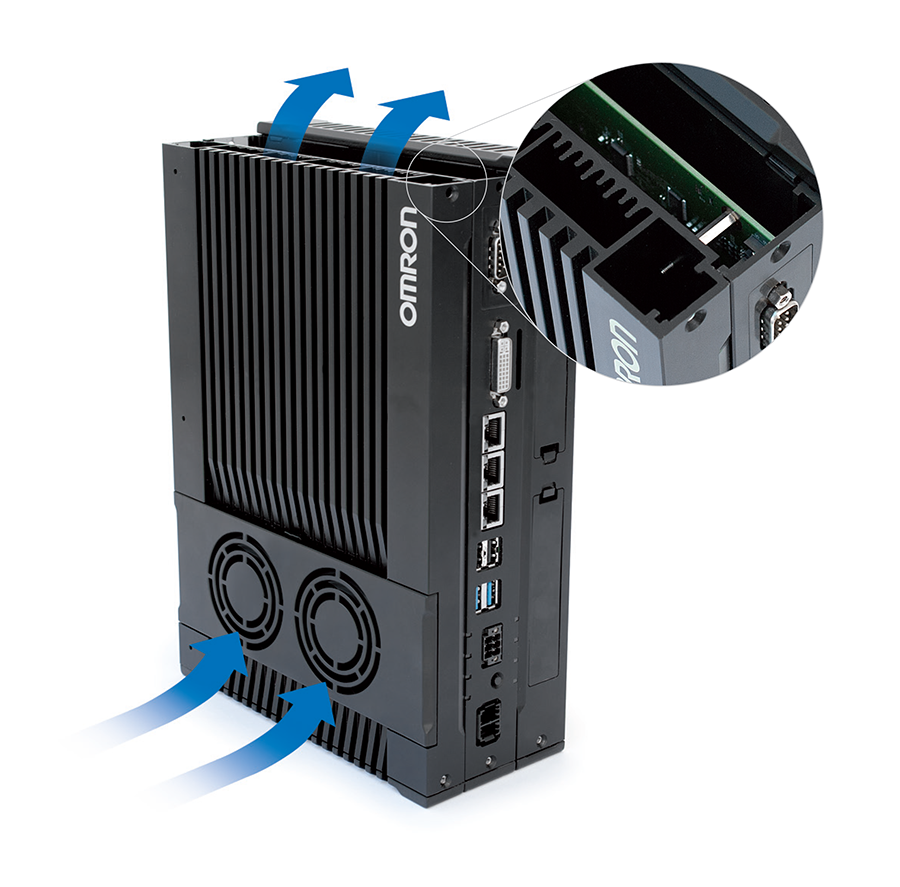 Partendo dal presupposto che la complessità superflua provoca problemi, abbiamo eliminato completamente tale aspetto, al fine di migliorare l'affidabilità e ottimizzare le prestazioni.
Nessun cavo interno
Nessun condotto termico complesso
Meccanica uniforme dal punto di vista strutturale per consentire le espansioni future
Riduzione dei costi di assemblaggio, manutenzione e manodopera
Architettura estremamente resistente. Telaio in alluminio pressofuso
Raffreddamento forzato e flusso dell'aria isolato dai componenti elettronici
Video
Engineering video - How Omron keeps Industrial PC's cool
Omron engineers explain what choices they made during the development of the NY Industrial PC platform. In this episode R&D engineer Santiago Figueira talks about the challenge of making heat transfer more efficient. He describes how he worked with colleagues to create an entirely new concept, which was tested using simulations and prototypes until the ideal solution was developed.